News > Nation/World
Relief chopper crashes
Mon., Jan. 10, 2005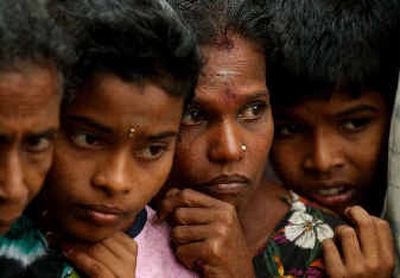 BANDA ACEH, Indonesia – A U.S. Seahawk helicopter on a relief operation crashed in a rice paddy near Banda Aceh's airport, injuring all 10 aboard and causing the military to briefly suspend flights today. A new tsunami videotape showed roiling brown water engulfing everything in its path on a busy Indonesian street.
Capt. Kendall L. Card, the commander of the USS Abraham Lincoln aircraft carrier, which is stationed off the coast of Sumatra island, said over the ship's loudspeakers that six of the servicemen aboard the aircraft had been hurt seriously and four had minor injuries. The worst injury was a dislocated pelvis, he said.
Lt. Cmdr. John M. Daniels blamed the crash, which happened just after 7:30 a.m. local time, on a "possible mechanical failure" and said it was being investigated. Fifteen Seahawk helicopters from the Lincoln group have been flying up to nine hours a day on aid missions. Normally they fly a maximum of three to four hours a day.
The SH60 helicopter crashed in a rice paddy about 500 yards from the airport in Banda Aceh, the main city on Indonesia's tsunami-battered Sumatra island, as it was trying to land, he said.
"There was no fire ball but a little smoke. It landed on its side," said Capt. Joe Plenzler, adding that the helicopter's propeller was twisted from the impact.
U.S. authorities said there was no indication the helicopter had been shot down. The military said the helicopter experienced an "in-flight emergency" and then "executed a hard landing." Photos from the scene showed the Seahawk lying on its side in the paddy, it's main rotor crumpled.
The crash came a day after Indonesia warned aid workers that separatist rebels have taken shelter in camps for survivors, although it appeared todayto back away from the claim, which followed a shooting on the streets of Banda Aceh. A burst of violence also hit Sri Lanka on Sunday, signaling a potential resurgence of long-simmering rebellions in both tsunami-hit countries that could hamper help for victims of the Dec. 26 disaster.
Relief workers straining to help survivors of the earthquake and tsunami that has killed more than 150,000 people across 11 countries and left millions homeless and threatened by disease said they were being cautious but won't let concerns about the rebellions slow the flow of aid.
"We don't believe that aid workers are targets," said Joel Boutroue, head of the U.N. relief effort in Indonesia's troubled Aceh province.
Aftershocks from the massive earthquake that spawned the killer waves, meanwhile, continued to rattle residents in the hardest-hit countries. A 6.2-magnitude temblor sent people scrambling from their homes early Monday in Banda Aceh, but no injuries or damage were reported.
In a hopeful sign, however, officials announced today that an Indonesian tsunami victim had been plucked out of choppy waters by a passing cargo ship after surviving nearly two weeks at sea, officials.
Ari Afrizal, 22, was rescued late last week by the United Arab Emirates-registered AL Yamamah, said Sasheila Paramsothy, a spokeswoman for the shipping harbor Westport Malaysia. An exact date for the rescue was not available, she said.
A videotape shot as a tsunami swept through the Indonesian province of Aceh aired for the first time Sunday and showed a roiling torrent of dark brown water engulfing a busy street, picking up cars and minivans and sending people scrambling up the sides of buildings.
The Indonesian government warning on Sunday offered no details about the infiltration into survivor camps. Local military spokesman Ahmad Yani Basuki told the state-run Antara news agency that volunteers must understand that "this is still a conflict-torn region."
Welfare Minister Alwi Shihab, who is heading the country's relief effort, dismissed the claim on Monday and said a troubled Indonesian soldier, not a rebel gunman, was responsible for the shooting Sunday near the U.N. headquarters. The soldier was in custody, Shihab said.
"I have a report from the (military) that a soldier was in a stressful condition and opened fire," Shihab said. "GAM (the rebel group) was not involved in this."
Rebels have waged a separatist war in Aceh for nearly three decades in a conflict that has killed thousands. An unofficial truce settled in after the Dec. 26 disaster, but recent skirmishes have prompted Indonesia's military to step up patrols for the guerrillas.
Security concerns have also been heightened by the appearance of Laskar Mujahidin, an extremist group with alleged links to al Qaeda. The group has set up an aid camp, but says it only wants to help and won't target foreigners.
Still, the aid effort continued, with the World Food Program sending 170 staffers. Other agencies have similar numbers.
The U.S. military, with hundreds of personnel on ships near Sumatra and in Sri Lanka, said aid workers must be on guard in restive areas.
"Security is a constant planning factor in all that we do," U.S. Army aid coordinator Maj. Nelson Chang said.
Refugee camps are being built on Sumatra to house and feed half a million homeless people. Bodies are still being pulled from the rubble and buried in mass graves.
Rain pounded relief workers Sunday, turning Banda Aceh airport – the hub for aid supplies – into a muddy mess and soaking piles of cardboard boxes of supplies sitting on the tarmac. Scores of tents where aid workers and soldiers camped became a quagmire.
Despite the troubles, Mike Huggins, a World Food Program spokesman said help was getting to people in need.
"We are moving more food now than ever before and we're getting it further afield," he said. Aid officials said they may have to feed as many as 2 million survivors a day for six months.
Australia and Germany, among other countries, have led the way in pledging nearly $4 billion in aid – the biggest relief package ever. President Bush called America's $350 million only an "initial commitment" and essentially a line of credit that can be spent as aid officials identify needs.
Local journalism is essential.
Give directly to The Spokesman-Review's Northwest Passages community forums series -- which helps to offset the costs of several reporter and editor positions at the newspaper -- by using the easy options below. Gifts processed in this system are not tax deductible, but are predominately used to help meet the local financial requirements needed to receive national matching-grant funds.
Subscribe now to get breaking news alerts in your email inbox
Get breaking news delivered to your inbox as it happens.
---