News > Spokane
Thousands start trip down bridal path
Mon., Jan. 10, 2005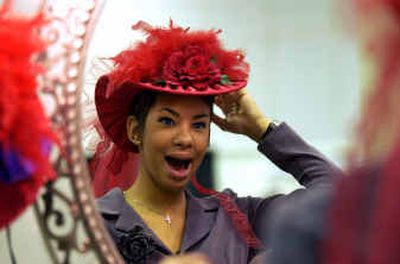 If it's January, it must be time to start planning a wedding.
Thousands of people turned out over the weekend for a pair of bridal shows in downtown Spokane.
Holly Anderson was one of the brides-to-be on Sunday, and she took advantage of a show to choose her wedding dress.
"Honey, that train is beautiful," said her mother, Peggy Keough.
Anderson, of Spokane, selected an ivory-colored gown with a classic sweetheart neckline and off-the-shoulder straps from the collection of Art of Weddings Bridal Salon. The salon produced the weekend Bridal Exhibition and Fashion Show at the Red Lion Hotel at the Park.
At the Spokane Convention Center, the other bridal fair drew hundreds of people for an afternoon fashion show. The 25th Annual Northwest's Premier Bridal Festival sold about 3,000 tickets over its two-day run, said Tammy Schneider, the show organizer.
Early January is seen as the best time for bridal shows because a lot of couples get engaged during the holidays, and the excitement spills over into the need to start planning. Weddings are complicated, often requiring months of preparation. The shows help by bringing together the various services and products needed.
"It's a really exciting time," Schneider said.
"The minute Christmas is over the brides are thinking wedding," said Mary Ann Slade, owner of the Art of Weddings Bridal Salon on North Argonne Road and producer of the show at the Red Lion.
Nuptials can be expensive. Bride's Magazine found the average cost for a wedding with 200 guests and five bridal attendants is about $19,000, not counting the honeymoon.
Slade recommended that brides keep their costs down by first deciding what they want most and setting priorities. If the reception is the most important part of the wedding, then spend money on the reception – likewise with the gown, cake, ring or honeymoon. Bride's Magazine said the reception is the single greatest cost in a wedding, at an average of $7,600.
Slade said it's also important to tell sales people and other vendors how much money you are willing to spend on each item or service.
"Everybody has a budget," Slade said. In Spokane, many weddings veer from tradition, so it's acceptable to put on a wedding that's not too costly, she said.
Keough said she and her daughter plan to keep the cost considerably below the $19,000 average by holding it outdoors at a family member's home in North Idaho, and by letting members of the family help out with the reception.
Lorena Wright, a part-time employee with Art of Weddings salon, said that when she got married more than a year ago she planned her wedding around the style of her dress. Once she chose a dress, she used it to match table decorations, invitations, bridesmaid dresses, jewelry, candles and lighting.
"It's the whole wedding," she said of the importance of the gown.
The two bridal shows drew scores of exhibitors ranging from wedding venues and limousine rentals to caterers and legal services. One show even had a Spokane dentist offering his white-smile services.
Next Step Entertainment of Coeur d'Alene has possibly the tastiest services – it rents chocolate fountains. The larger of their two fountains rents for $400 and comes with enough chocolate for 200 guests. The fountains come with an attendant to set it up and to keep an eye out for champagne-tipsy guests, said Trevor Smith.
The fountains work by circulating a continuous cascade of chocolate down their sides. Guests use wooden picks to stab pieces of fruit or cake and then drizzle them with the cascade of melted chocolate.
"It's got the awe factor to it," Smith said.
Local journalism is essential.
Give directly to The Spokesman-Review's Northwest Passages community forums series -- which helps to offset the costs of several reporter and editor positions at the newspaper -- by using the easy options below. Gifts processed in this system are not tax deductible, but are predominately used to help meet the local financial requirements needed to receive national matching-grant funds.
Subscribe now to get breaking news alerts in your email inbox
Get breaking news delivered to your inbox as it happens.
---