Sports
Knight should be OK after back-flop
Tue., Jan. 11, 2005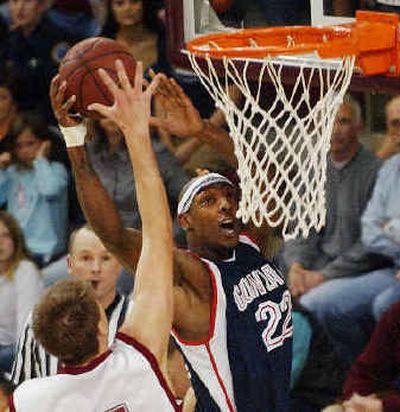 If there is one positive the Gonzaga Bulldogs can take from Saturday night's 89-81 upset loss to Saint Mary's, it's Erroll Knight's health status.
Knight took a horrific fall about 11 minutes into the game, landing hard on his back after violently throwing down a two-handed breakaway dunk. He bounced up quickly from his spectacular crash landing, however, and then pumped his fist in celebration as he sprinted back down the floor.
The 6-foot-7 junior guard practiced Monday for the first time since the incident and was obviously hurting. But it could have been much worse.
"He's really, really lucky – after watching it again on film – that he didn't break both of his wrists," GU coach Mark Few said of Knight, who put both arms down to help break his 9-foot fall. "It was scary."
Bulldogs point guard Derek Raivio was running up behind Knight when he landed with a loud thud that brought a collective gasp from the mostly hostile crowd of over 3,500 that had packed into Saint Mary's McKeon Pavilion.
"He jumped right up and tried to play through it," recalled Raivio, who knew Knight was just trying to act like the fall didn't hurt. "I went up and said, 'C'mon, Erroll, you're back is really hurtin', isn't it?' And he just groaned."
When asked about Knight's fall, freshman forward David Pendergraft said, "It definitely was an ESPN Not-Top 10."
Knight went straight to the training room following Monday's practice and was holding his back, but Few said he expects him to be ready for Thursday's 7 p.m. West Coast Conference home matchup against Loyola Marymount.
"He practiced today, but he's really, really sore," Few added. "He's a tough kid."
Righting Ronny
Ronny Turiaf, who has been in a major funk the past few games, showed signs of finding himself again during Saturday's loss to Saint Mary's.
The Bulldogs' 6-10 senior forward and co-captain made four of nine field goals and finished with 10 points and a team-high nine rebounds. But he is still a paltry 7-for-30 from the field in his last three games, having scored just 20 points while watching his average dip from over 20 per game to 16.9.
Few said he sees no quick fix for Turiaf's problems.
"He just needs to fight his way through it – mentally more than anything; just figure it out," Few said. "He's got to battle his way through it, stay aggressive and stay positive."
When asked if it might help if Turiaf started taking the ball to basket more instead of settling for the fall-away jump shot that has been relatively ineffective of late, Few said: "That's kind of simplistic, I think. I can't just say that when there are three guys standing in his way on the way to the basket. It's more of an approach thing. He has to be more aggressive going into these games – wanting the ball, demanding it; having that same approach on offense and defense."
Finally, a homecoming
When GU entertains WCC rival Loyola Marymount in the McCarthey Athletic Center on Thursday night, it was will mark the Bulldogs' first home game since Dec. 11, when they romped past Saint Louis 75-45.
Since then, the Zags have played games in Las Vegas, Oklahoma City, Columbia, Mo., Santa Clara, Calif., and Moraga, Calif. And the plane ride home following Saturday's loss to Saint Mary's included stops in Reno, Boise and Portland – courtesy of a classic Southwest Airlines milk run.
"It does feel good," GU coach Mark Few said of being back in Spokane. "It just feels good to get in your normal routine. But the best thing will be to be back in front of your home fans. We haven't played in front of them forever."
Few said he can't think of any other team ranked in the Associated Press Top 25 poll that has spent as much time on the road as his Zags, who fell five spots to No. 16 in the Monday's poll.
"It's just the way the schedule shaped up," he explained. "We happened to have a lot of home games early, and then we had this stretch we knew was coming down the pipe at us. It's been tough. Hopefully, we'll play like we're excited to be back home."
Pride in the streak
Few admitted Saturday's loss to Saint Mary's came as a major disappointment to his players, but insisted they should take pride in having won a remarkable 17 straight regular-season WCC games prior to the defeat.
"I don't know that we were aware of the streak or anything," Few said, "but it was an amazing streak."
He also warned GU fans there could be a few more struggles on the horizon, with the WCC supposedly as strong from top to bottom as its has been in recent memory.
"It's going to be tough every night out in league," Few explained. "It's going to be tough at home and it's going to be tough on the road, and people need to get used to it.
"You can't say, on one hand, it's the best the WCC has ever been and then think you're going to roll everybody by 25. It's just not going to happen."
Local journalism is essential.
Give directly to The Spokesman-Review's Northwest Passages community forums series -- which helps to offset the costs of several reporter and editor positions at the newspaper -- by using the easy options below. Gifts processed in this system are not tax deductible, but are predominately used to help meet the local financial requirements needed to receive national matching-grant funds.
Subscribe to the sports newsletter
Get the day's top sports headlines and breaking news delivered to your inbox by subscribing here.
---