News > Spokane
Temperature may hit 14 below
Tue., Jan. 11, 2005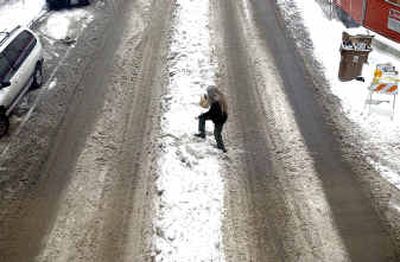 The temperature in the Spokane and Coeur d'Alene area is forecasted to drop to minus-14 overnight Thursday, prompting officials to warn residents to protect their water pipes from freezing and to give shelter to pets and other animals.
Meanwhile, Spokane city street crews on Monday got a major start on clearing residential streets clogged from four days of snow that started falling Thursday.
City officials said they've been running into problems with private plow drivers pushing snow into streets, as well as homeowners blowing snow onto streets and alleys. The practice is against city ordinance, said street Director Scott Egger. Snow should be put in a place where it doesn't obstruct traffic or block the views of drivers, he said.
An arctic front was dropping south out of Canada on Monday and was expected to reach northeast Washington and North Idaho by Wednesday. Light snowfall and gusty winds are expected later today in advance of the front's arrival.
"On Wednesday, temperatures will plummet dramatically as an arctic air mass barrels into the region," forecasters said Monday on a National Weather Service Web site for Spokane.
The low is forecasted to drop to minus-5 to minus-10 on Wednesday night and Thursday morning in Spokane and Coeur d'Alene, while the high on Thursday is expected to reach only 8 degrees. The good news: it's likely to be sunny on Thursday. After the low drops to minus-14 Thursday night and Friday morning, temperatures are expected to climb to between 8 and 13 degrees during the day Friday.
Matt Fugazzi, one of the forecasters, said the region's snow pack likely will aggravate the cold, making the temperature drop even further than it might if the ground were bare.
He said if skies clear off, the region could see what meteorologists term "explosive radiational cooling." That means any warmth held near the ground will dissipate into space during the night, allowing the mercury to free-fall.
"We are going to get bitter cold. Whether it's 8 below zero or 15 below zero is the question now," Fugazzi said.
Gusty winds of 15 to 30 mph out of the northwest are expected in conjunction with the arctic front on Wednesday and Wednesday evening. Northern counties in Washington and Idaho could see gusts up to 35 mph on Wednesday, with temperatures a few degrees colder than those predicted in Spokane and Coeur d'Alene. Slightly warmer temperatures are forecasted for the Palouse and Columbia Basin.
Fugazzi said such severe cold often leads to freezing pipes and dead batteries. "I think most people are reasonably aware of the risk of frostbite and hypothermia," he said.
Temperatures are expected to moderate several degrees over the weekend. Highs could reach back into the 20s with lows in the single digits Sunday and Monday, forecasters said.
On Monday, Spokane City Council members received a briefing on the progress of street crews, who started clearing hilly neighborhoods on Sunday and are now moving to areas with flatter terrain.
The plan called for plowing from west to east. It normally takes about 72 hours to complete a full residential plowing, Egger said, meaning most streets should be plowed by Wednesday.
Egger said he has 31 trucks working during the day and 18 to 20 at night.
Mayor Jim West asked him during a separate conversation to try to remove the snow berms left in the middle of downtown streets. Egger said he would try to get that done later in the week.
The snow berms were created by plows seeking to open up parking areas along the curb to help businesses, Egger told the council.
During the 1990s, the city switched from using road graders to truck plows to clear streets. The trucks can cover about two to three times as much ground because they go 10 to 15 mph compared with graders at 3 to 5 mph.
But trucks are not equipped with gates at the ends of their blades like graders are. Those gates prevented plowed snow from spilling into driveways and alley entrances. Residents now are forced to hand shovel those berms of plowed snow, or drive over them.
"If it is any consolation, our plow drivers when they go home after shift get to shovel berms from their driveways, too," Egger told the council.
He said snow removal is a relatively inexpensive service. All of the deicing, plowing and sanding the city does during the winter costs each resident $7 a year.
Councilwoman Mary Verner asked residents to clear walkways and entrances to streets, noting that people who use wheelchairs and bikes still need to be able to move about the city.
Elderly people might need help from younger residents to remove snow and ice, Egger said.
Property owners are responsible for keeping sidewalks cleared of snow. Mail carriers and garbage collectors also appreciate it when residents clear snow so they can do their jobs more safely, and that includes keeping porch steps free of ice buildups and areas around garbage containers cleared, officials have said.
Local journalism is essential.
Give directly to The Spokesman-Review's Northwest Passages community forums series -- which helps to offset the costs of several reporter and editor positions at the newspaper -- by using the easy options below. Gifts processed in this system are not tax deductible, but are predominately used to help meet the local financial requirements needed to receive national matching-grant funds.
Subscribe now to get breaking news alerts in your email inbox
Get breaking news delivered to your inbox as it happens.
---