News > Spokane
Praise and protests greet Gregoire during first day as governor
Fri., Jan. 14, 2005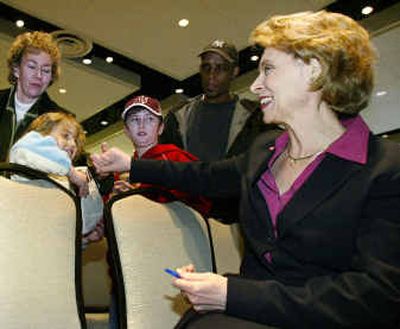 EVERETT – On her first day as Washington state governor, Christine Gregoire signed autographs for her admirers and walked past demonstrators demanding a new election.
She lunched with civil-rights crusader Morris Dees and discussed possible military base closures with Snohomish County leaders.
But after winning the closest and most contentious election in Washington state history, reality sunk in when she called her own office Thursday morning.
"They answered, 'Governor Gregoire's office,' " Gregoire said. "That really kind of hit me. That was an exciting moment, I have to say."
In November it looked like that moment might never happen. Gregoire lost the first vote count to Republican Dino Rossi by 261 votes. A machine recount narrowed the margin to 42, and then a hand recount of 2.9 million ballots made Gregoire governor by a mere 129 votes.
Rossi has filed an election challenge in Chelan County Superior Court, and a hearing is scheduled for next Thursday. Republicans say the election results were tainted by a host of documented problems, from felons voting to a mismatch between ballots cast and voter names recorded. They're asking for a revote.
Democrats argue the election results were valid, and say there's no legal basis for a revote.
Though she was surrounded by well-wishers Thursday, Gregoire could not escape reminders of how tenuous her victory was. At both of her public stops, protesters stood outside in the cold holding signs demanding a revote.
"We feel the election was stolen, quite simply, and we don't want the results to stand," said Audrey McKee, of Lynnwood, who protested outside the Everett Events Center. "We will fight her every step of the way if necessary."
But Gregoire said she's not interested in investigating the 2004 election.
"There is no question in my mind that the hand recount gave us the best count that has ever been done, with a Republican and a Democrat watching every vote," Gregoire told reporters.
She said her election reform task force will concentrate instead on the future: "What lessons did we learn, what improvements can be made? It's not to look back and find fault where I don't think fault should justly be put."
A crowd of about 800 gave Gregoire a warm standing ovation welcome at Snohomish County's annual Dr. Martin Luther King Jr. community celebration on Thursday.
She urged the audience members, many of them students, to remember King's vision and to give back to their communities.
"I think we have work to do," she said, echoing a refrain from her inaugural address. "Is it true we are free of injustice, free of hatred, free of discrimination? It is not. We have work to do."
Gregoire lunched with Dees, the other keynote speaker at the event. As chief trial counsel for the Southern Poverty Law Center, Dees pursued a lawsuit that forced the sale of the Aryan Nations compound in Idaho.
Later Thursday afternoon, Gregoire met with Snohomish County Executive Aaron Reardon and Everett Mayor Ray Stephanson to discuss strategies for protecting Washingtons military bases from closure, specifically Naval Station Everett.
Gregoire said she doesn't know that any Washington bases are targeted for closure, but said, "I really want to make sure were fighting to keep every one of them."
She said she or her husband, Mike Gregoire, will visit every military base in the state "to make sure were ready to withstand the BRAC (Base Realignment and Closure Commission) process."
Gregoire said she planned to spend today interviewing job candidates. She hopes to have key positions in her office filled by next week, and said hiring for cabinet-level positions will likely take a few months.
Local journalism is essential.
Give directly to The Spokesman-Review's Northwest Passages community forums series -- which helps to offset the costs of several reporter and editor positions at the newspaper -- by using the easy options below. Gifts processed in this system are not tax deductible, but are predominately used to help meet the local financial requirements needed to receive national matching-grant funds.
Subscribe now to get breaking news alerts in your email inbox
Get breaking news delivered to your inbox as it happens.
---