News > Nation/World
Thatcher to plead guilty to financing coup plot
Fri., Jan. 14, 2005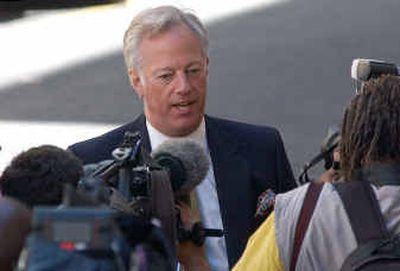 CAPE TOWN, South Africa – Sir Mark Thatcher will plead guilty to unwittingly bankrolling an alleged coup plot in oil-rich Equatorial Guinea, a person close to the family said Wednesday.
Thatcher, the son of former British Prime Minister Margaret Thatcher, will admit in court Thursday that he paid for air ambulance services used by the mercenaries but will maintain that he believed it was for humanitarian purposes, the person said.
Mark Thatcher will pay a $563,000 fine in a deal that lets him leave South Africa to rejoin his family in the United States. If Mark Thatcher does not pay the fine, he faces a five-year prison sentence, the person said.
A spokesman for Lady Thatcher's office said: "She is very relieved that matters have now been settled and that the worry of these last few months is now over."
Sipho Ngwema, spokesman for the national prosecuting authority, and George van Niekerk, a member of Mark Thatcher's legal team, refused to disclose the reason for Thatcher's scheduled appearance Thursday in the Cape High Court.
Thatcher, who has lived in South Africa since 1995, was arrested at his suburban Cape Town home on Aug. 25 and charged with violating this country's anti-mercenary laws.
He also faces charges in Equatorial Guinea, where 19 other defendants are being tried in connection with an alleged plot last year to overthrow President Teodoro Obiang Nguema, who has ruled Africa's third-largest oil producer for the past 25 years. Officials there have said they will seek Thatcher's extradition from South Africa.
Equatorial Guinea alleges Thatcher and other mainly British financiers worked with the tiny country's opposition figures, scores of African mercenaries and six Armenian pilots in a takeover attempt foiled in March. Thatcher maintains he played no part in the alleged conspiracy.
Local journalism is essential.
Give directly to The Spokesman-Review's Northwest Passages community forums series -- which helps to offset the costs of several reporter and editor positions at the newspaper -- by using the easy options below. Gifts processed in this system are not tax deductible, but are predominately used to help meet the local financial requirements needed to receive national matching-grant funds.
Subscribe now to get breaking news alerts in your email inbox
Get breaking news delivered to your inbox as it happens.
---