News > Business
The anti-Starbucks
Fri., Jan. 14, 2005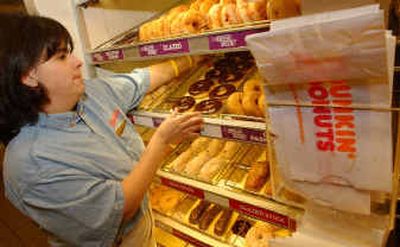 BOSTON — With the addition of more espresso drinks to its menu, Dunkin' Donuts might look like it's trying to be another Starbucks Corp.
Well, it's true that Dunkin' Donuts is experimenting with WiFi access in a few Chicago shops and considering music in more of its stores — two features of Starbucks outlets. But although its espresso launch has boosted its competitive position against Starbucks, Dunkin' Donuts says it is content to maintain its distance from the upscale Seattle coffee giant and stick to its workaday, on-the-go niche.
There's no broad campaign encouraging customers to linger awhile at Dunkin' Donuts' pink and orange-themed shops — and there are no plans to switch from Dunkin Donuts' "small-medium-large" cup size hierarchy to something akin to Starbucks' oft-mocked sizes of tall, grande and venti.
"People say you're taking on Starbucks, but we're really not," CEO Jon Luther told The Associated Press in a recent interview. "All we want to do is share some space with the coffee consumer."
What the franchise chain is planning is to share that space by expanding westward — only 70 of its stores are currently located west of the Mississippi River.
And it's changing its menu again, planning to add iced beverages to its year-old line of espresso drinks, and broadening its small line of sandwiches with a new sirloin steak, scrambled eggs and cheese on a bagel. The sandwich, to be offered through May at selected outlets, is an upscale version of the breakfast sandwich Dunkin' Donuts now offers with a choice of bacon, ham or sausage.
The move comes as both Dunkin' Donuts and Starbucks put greater emphasis on sandwiches to draw more afternoon customers and respond to moves by fast-food giants such as McDonald's Corp. that now sell more premium coffees.
Starbucks doesn't appear to be worried: "Starbucks believes there is room for many coffeehouses in the marketplace that can meet different customer needs," spokeswoman Valerie Hwang said.
And an industry analyst said it would be a stretch to suggest Dunkin' Donuts will pose a big challenge to Starbucks.
"Starbucks has spent more time working on the coffee shop experience, and when you compare that to Dunkin' Donuts they don't even seem to be in the same game together," said Carl Sibilski of Morningstar Inc.
Local journalism is essential.
Give directly to The Spokesman-Review's Northwest Passages community forums series -- which helps to offset the costs of several reporter and editor positions at the newspaper -- by using the easy options below. Gifts processed in this system are not tax deductible, but are predominately used to help meet the local financial requirements needed to receive national matching-grant funds.
Subscribe now to get breaking news alerts in your email inbox
Get breaking news delivered to your inbox as it happens.
---