News > Spokane
Group: Bull trout haven't hit bottom
Fri., Jan. 21, 2005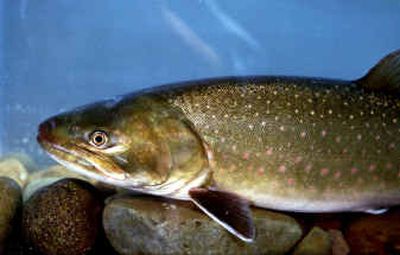 HELENA – Bull trout remain in peril five years after gaining federal classification as a threatened species, and in some places their plight may be serious enough to merit reclassifying them as endangered, an environmental group contends.
The fish faces serious threats throughout its range in the Northern Rockies and the Northwest states, the Alliance for the Wild Rockies said Thursday.
"Bull trout haven't hit bottom," said Mike Bader, the group's former director whose consulting firm prepared a report on the species. "We can't honestly say the trend is positive and that bull trout are on the road to recovery."
The Missoula-based alliance, a key group in placing bull trout under Endangered Species Act protection, sent the report to the U.S. Fish and Wildlife Service, which had requested public comment as part of its five-year review of bull trout's status.
The report was sent by the Jan. 3 deadline, but the group did not release information about it widely until Thursday to allow Fish and Wildlife time to read it first, Bader said.
David Patte, a spokesman at the agency's Portland office, did not comment on specifics of the report. He said it will be added to materials that are part of the review.
The report is based on "the best scientific and commercial information available," the alliance said in a news release.
Harm to bull trout results from a variety of factors, including dams, ski resort expansion, nonnative predator fish and the subdivision of land for homes, according to the report.
It said Plum Creek Timber Co., in particular, has undertaken damaging sales of land for home sites. But a company executive said Plum Creek is "doing everything possible on our end to conserve bull trout."
An agreement between the company and the federal government is "loaded" with provisions to help the fish, said Tom Ray, general manager for resources at Plum Creek's Columbia Falls office.
Ray also cited a conservation plan under which Plum Creek attaches covenants to lands that border bull-trout streams and are sold.
In one of the few positive findings, the group's report said spawning for migratory bull trout opened with the installation of fish ladders at Atlanta Dam in Idaho and a dam on Rattlesnake Creek in Montana. The report also notes potential benefits from the planned removal of Milltown Dam on the Clark Fork River in Montana.
The alliance's report follows a lawsuit it filed against the Fish and Wildlife Service challenging as arbitrary the federal decision to remove a critical-habitat designation for bull trout in 90 percent of the Columbia and Klamath river basins. Critical habitat refers to geographic areas that are essential for conservation of threatened or endangered species and may require special management.
Local journalism is essential.
Give directly to The Spokesman-Review's Northwest Passages community forums series -- which helps to offset the costs of several reporter and editor positions at the newspaper -- by using the easy options below. Gifts processed in this system are not tax deductible, but are predominately used to help meet the local financial requirements needed to receive national matching-grant funds.
Subscribe now to get breaking news alerts in your email inbox
Get breaking news delivered to your inbox as it happens.
---