News > Spokane
A family torn
Sun., Jan. 23, 2005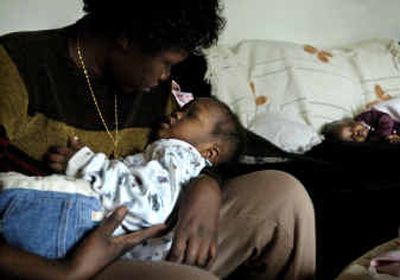 The plane landed around midnight at the Spokane International Airport, and out staggered the family from Sudan – dazed, bewildered and sleep-deprived after traveling for more than a day.
Georges Eliow appeared anxious when he stepped off the plane. In broken English he said, "Help us get our son."
Jack and Cheryl Lewis, of Spokane, who came to pick up the refugees when they arrived almost two years ago, could hardly understand what he was trying to say. "Son? What son?" Jack Lewis asked. The paperwork indicated they were a family of four: a couple with two young daughters.
But over the next few days, as communication improved between them and the Sudanese family, Jack and Cheryl Lewis finally figured out the problem: Left behind in war-torn Sudan was their eldest son, an 8-year-old boy whose name is also Eliow.
Separated by a civil war that has displaced millions of Sudanese, Georges and his son haven't seen each other since the boy was a little more than 1 year old.
When he fled to Lebanon in 1996, Georges couldn't take him along. Nor could he bring his wife, Akout Agang. Akout eventually joined her husband in the Middle East after two years, but it was too dangerous at the time to bring a toddler, as she made the long journey from their hometown of Aweil in southern Sudan to the capital Khartoum and eventually Beirut. Eliow stayed behind with Akout's mother, who promised to care for the boy until they could figure out a way to bring him to his parents.
Like many refugees, Georges and Akout have a complicated story to tell. Both members of the Dinka tribe in southern Sudan, their life together began more than a decade ago in a crowded camp outside Khartoum. Fleeing poverty and persecution – their fellow Dinkas and other Sudanese faced abduction, enslavement, torture and killings – they traveled separately to Syria and then into Lebanon, where, two years ago, the United Nations gave them the chance to seek asylum in the United States.
Besides Eliow, the couple now have three more children – 4-year-old Akone and 2-year-old Nebol were born in Beirut; their youngest, daughter, Adio, was born 5 months ago at Deaconess Medical Center.
After living with the Lewises for a few months since they arrived in February 2003, the family moved to a small apartment on the lower South Hill.
Akout stays home to take care of the children. Georges holds down two janitorial jobs. With help from World Relief, the organization that helped resettle them in Spokane, Georges and Akout now can speak English.
Although they're grateful to be in Spokane, sadness and anxiety pervade their lives. They long for Eliow, now 10 but still unable to read and write because he doesn't have access to a school. So there are no letters. The only communication they have with their son is an occasional phone call.
In the chaos that arises when people flee a disaster, it's not unheard of for families to be separated. In most cases, youths under 21 with proof of identification can join their parents in the United States within six to nine months, according to David Holter, executive director of World Relief's Spokane office.
But Eliow, like many from the Dinka tribe, wasn't born in a hospital and has no birth certificate. Georges and Akout had only vaccination records, but those got lost along with one of the suitcases they brought to America.
Georges didn't understand all the paperwork he filled out while he was still in Lebanon. He wrote down "four" when asked about his family, thinking that only the four of them were flying together and that Eliow would travel by himself from Sudan.
As they attempt to bring their son to America, Georges and Akout have received tremendous support from the Spokane community. The Lewis family has made numerous inquiries and phone calls to the U.S. State Department. The church they attend, Valley Fourth Memorial, has also raised more than $5,000 to help pay for the costs of reuniting this family.
Together, they all have grown frustrated with the bureaucracy. Some of the red tape could be due to the reality of post-Sept. 11 immigration, but the complications of this case may be a result of a number of factors – from having to prove that Eliow is Georges and Akout's son to dealing with Sudan, a country where the United States' consular services, including emergency assistance, are severely limited.
Jack and Cheryl Lewis have tried every avenue – they've met with government officials, including former Rep. George Nethercutt, written letters, even considered adopting Eliow if that could facilitate bringing the boy to the United States.
"We've had to jump through so many hoops," Cheryl Lewis said. "Why are they trying to keep this 10-year-old out of the country?"
The U.S. Citizenship and Immigration Services, formerly known as the INS, can't comment on specific cases, according to Sharon Rummery, director of public affairs for the USCIS' Northwest regional office in San Francisco.
In the absence of documents, Georges and Akout have been forced to use DNA testing to prove that they are Eliow's parents. Valley Fourth Memorial Church paid for the expensive blood kits that were sent from Spokane.
The first kit made its way to the U.S. embassy in Cairo, where it sat for months before it was finally sent to Khartoum.
Unfortunately, even after Eliow submitted his blood test, the State Department pouch containing the blood sample got lost on its way to a lab in Seattle.
Last summer, while they were still trying to locate the first DNA kit, Jack and Cheryl Lewis flew to Sudan and met Eliow. Jack Lewis, who teaches at the Moody Bible Institute and travels all over the world to train pastors, attended a pastors' conference in Khartoum, so the Spokane couple took the opportunity to visit Eliow and his relatives and to get the boy's passport ready.
"We were hoping we could bring him back," said Cheryl Lewis, but the DNA kit was nowhere to be found.
A second DNA kit was sent to Sudan this fall and was successfully returned to the U.S. State Department.
In late December, the test came back positive – a huge step in the family's attempt at reunification. But according to information from the U.S. Citizenship and Immigration Services' Web site, it may take another 450 to 480 days before the case is resolved.
A legal advocate for the family has indicated to them that they may receive word sooner.
In their darkest moments, Georges and Akout contemplate moving back to Sudan – risking their lives and their children's future so that they can all be together.
It would be foolish, Georges acknowledged, but "Eliow will hate me" if they never see him again. Losing a son's love would be too high a price to pay for freedom.
Georges and Akout can make long-distance calls to Sudan, to a phone in a Khartoum factory where a relative works. Once in a while, Eliow can schedule to be there when the phone rings so he can talk to his parents.
It hurts to hear the anguish in his voice, said Akout, but she tries to console the boy.
"I tell him, 'Don't cry. You can come soon.' "
But she, too, starts to weep. She doesn't know what will happen. She isn't sure she's telling the truth.
Local journalism is essential.
Give directly to The Spokesman-Review's Northwest Passages community forums series -- which helps to offset the costs of several reporter and editor positions at the newspaper -- by using the easy options below. Gifts processed in this system are not tax deductible, but are predominately used to help meet the local financial requirements needed to receive national matching-grant funds.
Subscribe now to get breaking news alerts in your email inbox
Get breaking news delivered to your inbox as it happens.
---