Sports
McNabb, Eagles on brink again
Sun., Jan. 23, 2005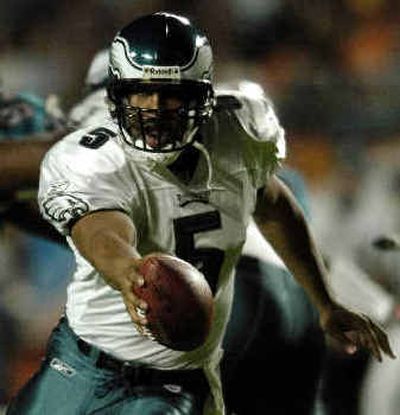 ST. LOUIS – Donovan McNabb has watched someone else celebrate an NFC title. He has even visualized himself in the midst of such a celebration.
"Holding up the trophy, and getting hit by confetti, and having all our fans getting excited," McNabb said.
But is this the year he actually takes part in such a celebration?
After losing the past three NFC title games, McNabb and the Philadelphia Eagles get yet another shot Sunday at Lincoln Financial Field. With a victory over Atlanta, the Eagles will be in the Super Bowl for only the second time in franchise history, and the first time since the 1980 season.
Lose, and they will become the first team to lose four consecutive conference championships. They will be to conference title games what the Buffalo Bills were to Super Bowls in the early `90s. Namely, four-time losers.
"It's unfortunate what happened to us the last three years, but it's just a different feeling this year," McNabb told reporters in Philadelphia earlier this week. "We've had a special season, things have really been moving in a positive direction, and guys have been stepping up and making big plays for us.
"So the confidence level is definitely there. But most importantly, the energy level is there. We're a fresher team."
The word out of Philly is that this is a looser Eagles team, with more confidence than its immediate predecessors. They've played tight in past NFC title games, but that won't be the case this year. We'll see.
"Right now, we have a pretty good swagger going on," said defensive end Jevon Kearse, the ex-Tennessee Titan who's in his first year with Philly. "Just being around the locker room, and the other players, and the coaches, you would never know that they lost the last three NFC Championship games."
Yeah, but those frenzied Philadelphia fans know.
"We've already felt the wrath of the city," running back Brian Westbrook said. "Everyone in the city has already been mad at us. And now we're going out to win a ballgame."
Of course, this mad journey began in St. Louis three years ago. The upstart Eagles, just two seasons removed from a 5-11 finish, had the ball and a chance to upset the Rams in the 2001 season's NFC championship game.
But with 1 minute 47 seconds to play, Rams cornerback Aeneas Williams stepped in front of a McNabb pass intended for rookie wide receiver Freddie Mitchell. The interception sealed a 29-24 St. Louis victory at what was then known as the Dome at America's Center.
Instead of heading to the visitor's locker room, McNabb stayed around for the postgame celebration that day, watching the Rams pass around the Halas Trophy, which goes to the winner of the NFC title game. He wanted to experience what it was like to reach the Super Bowl, even if it was vicariously.
The following season, McNabb was on the outside looking in once again. This time, Tampa Bay cornerback Ronde Barber ruined McNabb's day. Barber forced a McNabb fumble with a sack on a blitz, broke up four passes, and returned an interception 92 yards for a TD. The Bucs won 27-10, and McNabb's passer rating was 58.5.
Things went from bad to worse last season. Carolina's Ricky Manning Jr. became the latest cornerback to torment McNabb in an NFC title game, intercepting three passes in a 14-3 Panthers victory.
McNabb suffered separated rib cartilage late in the second quarter, and eventually was replaced by Koy Detmer in the fourth quarter.
When asked how he handled those NFC title game defeats, McNabb said, "I just kind of gathered my two dogs, and we just sat in a dark room, rolled the film, and just sat there and watched it together," McNabb said. "My dogs talked to me, and told me to keep my head up, and I think I was all right."
Local journalism is essential.
Give directly to The Spokesman-Review's Northwest Passages community forums series -- which helps to offset the costs of several reporter and editor positions at the newspaper -- by using the easy options below. Gifts processed in this system are not tax deductible, but are predominately used to help meet the local financial requirements needed to receive national matching-grant funds.
Subscribe to the sports newsletter
Get the day's top sports headlines and breaking news delivered to your inbox by subscribing here.
---