Sports
NMSU's Henson steps down
Sun., Jan. 23, 2005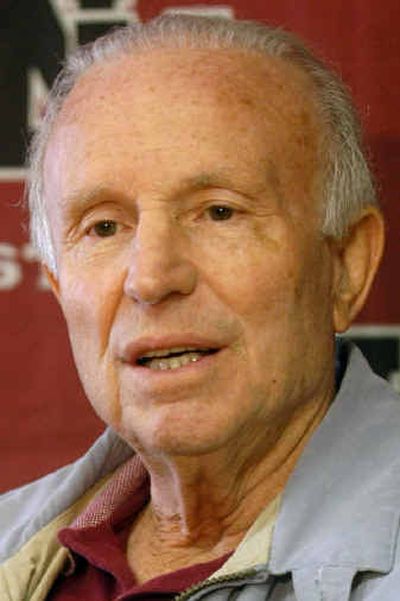 LAS CRUCES, N.M. – Frail but smiling, New Mexico State coach Lou Henson pulled himself up from his wheelchair, his focus no longer on winning basketball games, but merely to walk again.
Henson, who began his coaching career at nearby Las Cruces High School in 1957, retired Saturday, 21 wins shy of becoming only the fifth coach in Division I history to win 800 games.
The coach known for his "Lou Do" hairstyle, his sometimes fiery courtside manner and ability to consistently turn out winning teams found his ongoing health problems too tough an opponent.
"I have always been a very demanding coach. I expect my players to give 100 percent or they come out of the game," the 73-year-old Henson said. "I can expect no less of myself. So because I am physically unable to give my all, I am taking myself out of the game."
Henson was not able to coach this season, but received credit for the Aggies' four wins to date. Under interim coach Tony Stubblefield, the Aggies are 4-13.
Henson retires with a career record of 779-413, the sixth-winningest in Division I history. Among active coaches, only Bob Knight has more victories.
Henson was diagnosed with non-Hodgkin's lymphoma, a form of cancer, two years ago.
The cancer is now in remission and he was able to coach last season, but in September was hospitalized with viral encephalitis, a disease which left his right leg paralyzed.
Local journalism is essential.
Give directly to The Spokesman-Review's Northwest Passages community forums series -- which helps to offset the costs of several reporter and editor positions at the newspaper -- by using the easy options below. Gifts processed in this system are not tax deductible, but are predominately used to help meet the local financial requirements needed to receive national matching-grant funds.
Subscribe to the sports newsletter
Get the day's top sports headlines and breaking news delivered to your inbox by subscribing here.
---