News > Nation/World
Northeast braces for blizzard
Sun., Jan. 23, 2005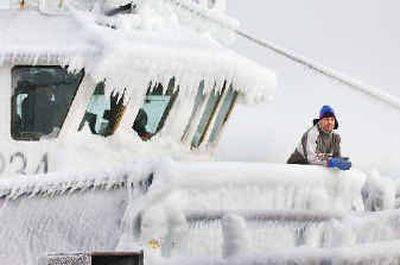 NEW YORK – Hundreds of airline flights were canceled Saturday and fleets of road plows were warmed up as a paralyzing snowstorm barreled out of the Midwest and spread across the Northeast with a potential for up to 20 inches of snow driven by 50 mph wind.
Storm warnings were posted from Wisconsin to New England, where the National Weather Service posted blizzard warnings in effect through today. By afternoon, snow was falling across a region stretching from Wisconsin and Illinois to Virginia and the New England states.
One man died after falling through ice on a pond in Ohio, where two others died of apparent heart attacks while removing snow, authorities said.
Temperatures in Maine fell to 36 below zero at Masardis, and Bangor dropped to a record low of 29 below. Meteorologists predicted wind up to 50 mph would push wind chill readings to 8 below zero in New York and New Jersey.
In New York, residents were advised to keep their cars off the road for the weekend as snow removers tried to clear 6,300 miles of roadway.
The snow wasn't a problem for 29-year-old college student Maya Tudor.
"I like the snow. It slows down the city and blankets a lot of the unpleasantness," she said. "You never see New York this calm. It's an event."
Many people rushed out to stock up on supplies to ride out the storm at home.
"I got a couple steaks, a couple jugs of wine and a couple good books," Walter Trogdash said as he left a convenience store in Toms River, N.J. "I think I'm all set."
North of New York City in Mamaroneck, shoppers stripped the shelves at a Super Stop&Shop of soda, meat, potatoes and beer and the checkout line stretched the length of the store.
"It's awesome," store manager Louis Spinola said of the mob scene.
Up to a foot of snow had fallen in Wisconsin and Michigan, and wind gusted to more than 60 mph across Iowa. As much as 18 inches of snow was forecast in northern New Jersey and accumulations of up to 20 inches were possible in parts of New England and the New York City area, the weather service said. A foot was likely in northern sections of Ohio and Pennsylvania.
While crews in the Midwest labored to remove what already had fallen, highway departments in the Northeast readied hundreds of plows and salt-spreading trucks. New York City canceled all vacations for its sanitation workers and called people in on their days off to handle the snow. Kennedy International Airport had machines capable of melting 500 tons of snow an hour.
If 20 inches of snow fell in New York, the cost of cleanup could hit $20 million, but Mayor Michael Bloomberg said that was a problem for another day.
"The first thing is we're going to take care of the city," Bloomberg said. "And then Monday morning, I'll have to worry about how to pay for it."
"This is our Super Bowl. It's the public servants versus the elements, and we hope to win," said Philadelphia Managing Director Phil Goldsmith.
The blowing snow caused frustrating delays as airlines called off flights.
About 400 flights were canceled Saturday at Chicago's O'Hare International Airport and dozens more were called off at the city's Midway Airport. More than 200 people stayed the night at the two airports because of flights canceled the night before.
Even more chain-reaction cancellations were expected at Chicago and elsewhere as the storm clamped down on airports on the East Coast, said Chicago Department of Aviation spokeswoman Annette Martinez.
The New York metropolitan area's Kennedy and Newark airports had dozens of cancellations as the storm arrived Saturday afternoon, said Port Authority spokesman Alan Hicks. LaGuardia had nearly 200 cancellations by 2 p.m.
At Pittsburgh International Airport, two airplanes slid off a taxiway while trying to take off Saturday morning. Airport officials said no one on the private jet or the commuter plane was injured.
Local journalism is essential.
Give directly to The Spokesman-Review's Northwest Passages community forums series -- which helps to offset the costs of several reporter and editor positions at the newspaper -- by using the easy options below. Gifts processed in this system are not tax deductible, but are predominately used to help meet the local financial requirements needed to receive national matching-grant funds.
Subscribe now to get breaking news alerts in your email inbox
Get breaking news delivered to your inbox as it happens.
---