News > Spokane
Expats worry about Iraq
Fri., Jan. 28, 2005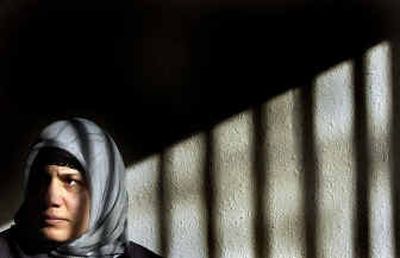 As the possibility of violence looms over this weekend's election in Iraq, native Iraqis in Spokane fear for the relatives they've left behind.
Wafa'a Assi called her 70-year-old mother in Baghdad this week and begged her to stay at home. With insurgents expected to target voters on election day, she urged her brother and six sisters in Iraq to remain cautious a they wait in line at the polls.
"They could be risking their lives to vote," said Assi, who fled Saddam Hussein's dictatorship nearly four years ago. "But what can I say? They want freedom. They want democracy. They want a better life for their children."
Assi, her husband, Sattar, and two other couples who live in Spokane are among roughly 1 million Iraqis living outside the country who were eligible to vote in this election.
But in order to participate, Iraqis had to register in recent days at a designated voting facility before returning to that same site this weekend to cast their vote. In the United States, only five cities have polling places, and all are far away from Spokane – in Los Angeles, Washington, D.C., Chicago, Detroit and Nashville, Tenn.
Mail-in ballots are not an option since a list of Iraqi voters and addresses has never existed, according to the Iraq Out-of-Country Voting Program, which is directed by the International Organization for Migration in 14 countries.
The few expatriates in Spokane want to help their fellow Iraqis by casting ballots, said Dalia Hassan, who left Baghdad for Spokane in 2001. They long to be part of this historical event, which will result in a transitional National Assembly responsible for electing a president and drafting a constitution.
But she and the other Iraqi refugees who found asylum here don't have the money to buy plane tickets. Most of them have jobs and young children to care for, which make it impossible to make the long drive to Los Angeles. If a voting facility had opened in Seattle or anywhere else in the Northwest, there was no doubt in their minds that they would have registered to vote, she said.
"It makes me sad," said Hassan, the mother of a 2-year-old girl named Ayat.
At the same time, the election is a mystifying experience for her and other Iraqis. Under Saddam, they never had the chance to pick their own leaders. "It is strange and confusing to finally have a choice," she said.
Even if she isn't familiar with all the candidates, Assi said that if she could, she would vote for those endorsed by Grand Ayatollah Ali al-Sistani, the Shiite religious leader who has millions of followers. Experts and observers of the situation in Iraq say the United Iraqi Alliance, which has received al-Sistani's blessing, will likely emerge as leaders. It would be the first time in the country's history that the majority Shiite population will not be dominated by a Sunni government.
With only two days left until election day, Assi, Hassan and other Iraqis in Spokane continue to call their relatives and watch the news broadcasted by satellite from TV stations in Saudi Arabia, the United Arab Emirates and other places in the Middle East.
It's painful to see all the images from Iraq – the dead, the wounded, women and children in mourning. "We need peace," said Hassan. "I don't want to see more people die. I don't want to see children who have no fathers or mothers."
The persecution they suffered under Saddam's leadership has taught them to never take their freedoms for granted – including the right to vote, said Assi.
Her husband was forced to flee their homeland in the 1990s after he protected a friend who was considered an enemy by Saddam's Baath party. Sattar lived for five years in Jordan, where Wafa'a joined him in 2001. They were married in March of that year. Three months later, the United Nations high commissioner for refugees and world relief helped them and two other Iraqi couples resettle in Spokane.
Now, Wafa'a and Sattar Assi are the parents of 2-year-old Ali, who was born in Spokane. They've bought a small house in north Spokane with a swing set in the front yard. Sattar is an assistant manager in the custodian department at the Davenport Hotel, where he works with Wisam, Dalia Hassan's husband. Wafa'a, who taught English to elementary school kids in Baghdad, is now a teacher's aide at the Institute for Extended Learning, where she works with adults learning English as a Second Language.
Next year, they hope to apply for U.S. citizenship so they can someday vote in an American election.
"My neighbors are kind and nice to me," said Wafa'a. "I'm married. I have a son. I live in America. It's a dream come true."
Local journalism is essential.
Give directly to The Spokesman-Review's Northwest Passages community forums series -- which helps to offset the costs of several reporter and editor positions at the newspaper -- by using the easy options below. Gifts processed in this system are not tax deductible, but are predominately used to help meet the local financial requirements needed to receive national matching-grant funds.
Subscribe now to get breaking news alerts in your email inbox
Get breaking news delivered to your inbox as it happens.
---