Sports
Akers can tackle, too
Sat., Jan. 29, 2005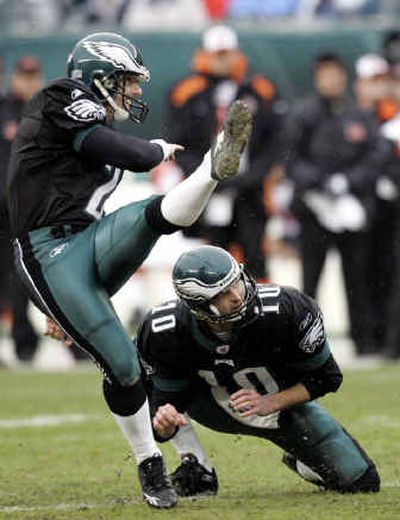 PHILADELPHIA – Once upon a time, NFL kickers were men's men who struck the ball straight-on and primarily earned their roster spots by playing other positions. The best kicker the league had produced through the 1950s, the Cleveland Browns' Lou "The Toe" Groza, was a pretty good offensive lineman when he wasn't nailing field goals. Then Pete Gogolak introduced "soccer-style" kicking to the NFL lexicon in the 1960s and the kicker's role and image radically changed.
In dismissing the utter lack of athleticism and football acumen of kickers such as nerdy, Cyprus-born Garo Yepremian, Detroit Lions defensive tackle Alex Karras once famously derided those kickers as guys who would say, "I keek a touchdown."
David Akers, the Eagles' Pro Bowl kicking specialist who prefers to think of himself as a "linebacker in a kicker's body," probably is more of a kindred spirit to Groza than to Yepremian. But he acknowledged that lingering stereotypes are difficult to erase.
In a television spot for Reebok, part of a series of ads depicting 11 players living in the same house during an NFL season, Akers is the last man standing for a game of pickup football. "You need a kicker," Akers implores Minnesota quarterback Daunte Culpepper, who, looking around, selects a nearby cable installer to round out his team.
"We filmed about five commercials, and that was one of them," Akers said Wednesday at the NovaCare Complex as the countdown continued to the Feb. 6 Super Bowl XXXIX and a date with destiny and the defending champion New England Patriots. "It was all in good fun.
"For the most part that whole stereotype about kickers is beginning to fade. You see more and more kickers putting hits on guys. Kickers like Adam Vinatieri and John Hall, even Darren Bennett, who's a punter, they're running around and making hits. They're running fakes."
Akers talks about the satisfaction he gets from sticking his nose in there, and in Sunday's 27-10 NFC Championship Game victory over the Atlanta Falcons, he gave literal meaning to the familiar phrase. After Akers drilled a 34-yard field goal that boosted the Eagles' lead to 20-10 in the third quarter, the linebacker wannabe was running down the field when he took a shot to the helmet from Atlanta's Siddeeq Shabazz. Akers wobbled off the field like a boxer who had been punched after the bell by Mike Tyson.
"The guy ran up and gave me a cheap shot," Akers said. "Hit me right on the nose between my facemask. I guess he was embarrassed, because I put a legal hit on him earlier in the game and put him down.
"That's the way it goes sometimes. He was a little upset about it. Nobody wants to be knocked down by a kicker. Sometimes you get popped pretty good, but that's part of the game.
"I got a bloody nose, but it didn't break. Everything's cool."
Akers, 30, who "played a little tailback and wide receiver" early in his high school career before concentrating on kicking, enjoys putting the wood to the occasional kickoff returner who breaks containment, but he isn't making his third trip to the Pro Bowl in Honolulu because he doesn't mind getting his uniform dirty. He has been acclaimed as "having a chance to be the best kicker in NFL history" by Eagles special-teams coordinator John Harbaugh because he has a cannon for a left leg and Rick Barry-at-the-free-throw line accuracy, and treats highly pressurized game situations as if they were only minor inconveniences.
Akers, who has been with the Eagles since 1999, had perhaps his finest season as he knocked through 27 of 32 field-goal attempts and led the NFC in scoring with 122 points. Those numbers become even more impressive when you consider that he plays most of his games outdoors, in a stadium where cold and swirling winds (as was the case against the Falcons) can make kicking a dicey proposition. Nor is Akers attempting mostly chip shots; 17 of his field goals were from 40 yards out or longer, an NFL record.
"I think he has the strongest leg in the league, and he is just so mentally tough," Eagles coach Andy Reid said.
Given the number of Akers' long field-goal attempts, more than a few under adverse weather conditions, it's almost incomprehensible that he ranks second all-time with a 83.2 percent conversion rate. Only the Indianapolis Colts' Mike Vanderjagt, who plays more than half of his games in a climate-controlled dome, ranks higher.
When some teams almost exclusively go for pooch punts rather than for long-range field goals, Reid's confidence in Akers' ability to ring up three points from almost anywhere inside midfield provides an added dimension to the team's offensive capabilities.
Tom Dempsey and Jason Elam share the NFL record for the longest field goal, at 63 yards. Akers thinks he can top that, provided the circumstances are just so.
"It would depend on the situation," Akers said, noting that such a kick would have to be attempted right before the end of the half or the end of a game. "I tried a 62-yarder in the Pro Bowl once that I didn't even hit well, and it fell only about a half-foot short.
"If the opportunity arises and the circumstances are right … Hey, why not? Give it a shot."
Akers spent his first season with the Eagles as a kickoff and long-distance field goal specialist, while veteran Norm Johnson handled everything from 40 yards in. But, like the golfer who is long off the tee, Akers also wants credit for his short game and putting touch.
"More important to me would be getting to a point where I almost never miss," Akers said. "I'd much rather be known as an accurate kicker than a long kicker. But those two attributes do kind of intertwine."
Akers attributes much of his success to the work of long snapper Mike Bartrum and holder Koy Detmer.
"It really means a lot for the three of us to have that comfort level," Akers said. "And our line does such a great job of blocking. Sometimes people take all that for granted. Under the conditions we played under last week, though, you can't say enough for what Mike and Koy did."
Akers, as ruthlessly efficient and confident as any kicker in the league, masks that gunslinger's mentality with a natural modesty. Kickers are generally nomadic types, free agents and low-round draft picks who bounce around from one team's training camp to another's. Those who find any measure of job security make sure they don't forget where they came from.
For Akers, that's a Longhorn Steakhouse in Lawrenceville, Ga., outside of Atlanta, where he worked as a waiter. It's a long way from making a living on tips to a seven-year, $6.25 million contract, the fourth season of which is nearing completion.
"I was always confident I could kick in the NFL, but I don't know if I really imagined all this back then," he said. "It's been quite a journey.
"Very few guys come into a situation like (Oakland's Sebastian) Janikowski, who was a first-round draft pick. Most of us go through, um, our different adventures. So, if we make it, I think we appreciate it more. You hold on to (success) a little bit tighter."
Akers said the kicker he most admires is Vinatieri, who went from that football factory at North Dakota State to Super Bowl stardom with New England.
And come Feb. 6, while much of America focuses on the showdown of the superstar quarterbacks, the Eagles' Donovan McNabb, and the Patriots' Tom Brady, Akers relishes the opportunity to match kicks with Vinatieri, his friend and role model.
Local journalism is essential.
Give directly to The Spokesman-Review's Northwest Passages community forums series -- which helps to offset the costs of several reporter and editor positions at the newspaper -- by using the easy options below. Gifts processed in this system are not tax deductible, but are predominately used to help meet the local financial requirements needed to receive national matching-grant funds.
Subscribe to the sports newsletter
Get the day's top sports headlines and breaking news delivered to your inbox by subscribing here.
---