News > Voices
Making a difference
Sat., Jan. 29, 2005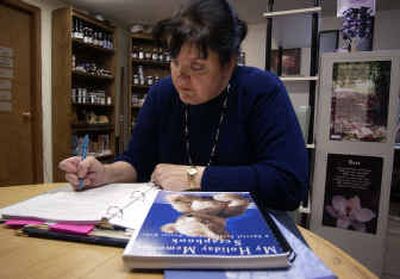 Karen Jean Matsko Hood is devoted to children and not just the dozen who live in her home. She has been a foster parent for several years and has adopted six children. She writes children's books and is working on a Ph.D. in leadership studies with an emphasis on child abuse and neglect. She also volunteers as a court-appointed advocate for children.
"There's a huge need there," she said. "You're their voices and ears in the court."
She also writes cookbooks and poetry. Her poems were published in 65 different journals before she got up the courage to publish her first volume of poetry. She favors nature and social issues, particularly children's issues, as her topics.
"If something's bothering her, she writes a poem about it," said her husband, Jim Hood.
Hood began dreaming about becoming an author when she was in the seventh grade. She pushed the dream aside repeatedly, becoming a school teacher instead.
But after teaching in the Virgin Islands and Iowa and doing substitute teaching in Iowa and Spokane Valley, she had a moment of clarity. "I realized life was going by quickly," said Hood, 52. She knew that if she wanted to write, she had better get started.
She began writing full time in 1999. Since then she has created a book about her family tree and prepared workbooks and activity books for children. She's written about Icelandic horses, which she breeds.
But her devotion is to kids, particularly foster children. "It was something I thought I could never do," she said of becoming a foster parent. "It was only after I had a large family that I felt secure enough as a parent."
There are different kids of foster parents. Some offer short-term care and others provide emergency care, for example, when police bust a methamphetamine lab and need to place the children somewhere immediately.
"We signed up for long-term care because we wanted to make a difference."
The couple has five children of their own and six adopted children. A foster child is also currently staying with them. Originally told they couldn't have children, the couple began looking into adoption. That started them on the road that would lead to being foster parents. "Once you pass that decision that you can adopt, your whole mindset changes," she said.
Her husband, who works as a dentist, shares her passion for foster children. Often the children just want to be hugged and held, he said. "We've got plenty of laps in our family," he said.
Hood's next book will be an introduction to foster care and how people can get involved. She also plans a similar book on adoption. "I'm a child advocate," she said. "Anything regarding children."
She fits her writing in during spare moments in the day, carrying a tablet with her wherever she goes. Her husband said she's often up at 3 a.m. to write in the quiet hours before the kids get up. "Our house is not the quietest house in town," he said.
Hood is discovering that it can be difficult to keep up with so many projects and causes. "When people call, it's hard to say no," she said. "We're at the stage of our life where we need to simplify. I need to focus."
Her husband is in awe of her energy. "She runs on overdrive all the time," he said. "I just kind of follow along in her wake. The more she takes on, the more effective she is."
He does agree that she should scale back a bit. "She can't do all the things she's got planned, I think, unless she lives to be 400 or 500 years old."
"She gets very involved with her interests," said Dan O'Connell, marketing assistant for Hood's publisher, Whispering Pines Press. "She has a need, a drive, to put these ideas down on paper. She is a woman who is driven by her passions."
The one thing she doesn't plan to stop is her work with foster children. As long as she and her husband are healthy enough to do it, they will. "As they (children) go to college, it opens up a bedroom," she said.
Local journalism is essential.
Give directly to The Spokesman-Review's Northwest Passages community forums series -- which helps to offset the costs of several reporter and editor positions at the newspaper -- by using the easy options below. Gifts processed in this system are not tax deductible, but are predominately used to help meet the local financial requirements needed to receive national matching-grant funds.
Subscribe now to get breaking news alerts in your email inbox
Get breaking news delivered to your inbox as it happens.
---