Sports
Serena perseveres to triumph
Sat., Jan. 29, 2005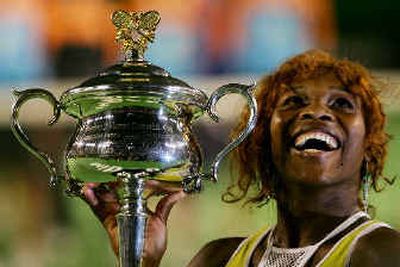 MELBOURNE, Australia – Serena Williams beat top-ranked Lindsay Davenport 2-6, 6-3, 6-0 in the Australian Open final today, making a stirring comeback after injuring her back in the opening game.
Williams stretched her winning streak at Melbourne Park to 14 matches and captured her seventh Grand Slam singles title, ending an 18-month drought without one.
She beat sister Venus to win the final here two years ago – when the Williams sisters were at the top of women's tennis – but couldn't defend the title last year because of a knee injury.
The seventh-seeded Williams, who fended off three match points in her semifinal win over Maria Sharapova on Thursday, made a dramatic comeback after needing a medical timeout in the first set for what a trainer initially described as a rib injury.
"Lindsay had me on the run. My back went out – I'm not as young as I used to be," Williams said. "Eventually I was able to come back."
Coming to grips with a series of injuries and the shooting death of her sister, Yetunde Price, in September 2003, had been hard enough, Williams said, without having to face persistent questions about "What's wrong with the Williams sisters?"
"There's nothing wrong with us," she said Saturday. "We're still players to beat."
Williams said regaining the Australian title was the start of a resurgence: "This gives me confidence."
Davenport, who won the last of her three Grand Slam titles here in 2000 and hadn't been in the final of a major since the 2000 U.S. Open, won only eight points in the third set.
After Davenport's backhand landed long on match point, Williams dropped to one knee and raised both arms in the air.
She held up her index finger, showing she's No. 1, before walking over to her entourage in the crowd and slapping hands with her mother, Oracene, and Australian hitting partner Mark Hlawaty.
Davenport, who lost in the women's double final Friday afternoon, said Williams was too strong in the end.
"She's had a tough couple of years, but she's come back like the champion she is," Davenport said.
Davenport raced to a 4-0 lead after 11 minutes in the first set, breaking Williams' serve in the first and third games.
Williams' serve was well down on her usual speed in the first set and Davenport was making the most of it, smacking some aggressive winners on return.
Williams appeared to be favoring her right side each time she hit the ball and, after holding serve for the first time in the fifth game, called for the trainer.
The trainer gave Williams treatment on her back at the side of the court before the treatment continued outside the arena during an 8-minute break.
Williams had a break point in the sixth game but Davenport held and then served out in the ninth, closing the first set with a service winner. Williams' just got to the serve on her backhand side, screaming "Ouch!" as she missed with a lunging shot.
After fending off six break points to hold the fifth game of the second set, Williams' body language changed.
"I kept thinking 'I'm not losing this game – I don't care if my arm falls off,' " she said.
She twice appeared on the brink of smashing her racket, but held her composure and hung onto the game.
She held her next service game at love, and then converted her first break point of the set – after Davenport had game point at 40-0 – for a 5-3 lead.
That was the game Davenport regretted the most.
"I felt like I was playing well and in control pretty much of the match," she said. "Then I just had that horrible lapse, I think serving up 40-0, and made a few errors and opened up the door for her and she just kept going through it.
"At the end I think I was a little bit fatigued. But she took advantage of it and kept going – she's a great front-runner when she gets going."
Williams won nine consecutive points to end the second set.
She committed just three unforced errors in the deciding set and her first-serve percentage jumped to 80 percent.
Steady morning rain forced the roof at Rod Laver Arena to be closed for the 10th all-American women's final in the Australian Open.
On Friday, Australia's Lleyton Hewitt reached Sunday's men's final with a 3-6, 7-6 (3), 7-6 (4), 6-1 win over second-ranked Andy Roddick.
Hewitt will play Marat Safin, who is in his third final in four years at Melbourne Park but is yet to win one, after the Russian ended Roger Federer's 26-match winning streak in the semifinals.
Roddick was up a break in the third set against Hewitt and eyeing a second Grand Slam singles title.
Distracted by an outburst of singing by a heckler, Roddick gave Hewitt a look at a slower second serve and the Aussie smacked a forehand winner down the line. Roddick lost his rhythm.
Hewitt pulled back the break in that seventh game on Roddick's consecutive double-faults and went on to become the first Australian man into the national championship decider since Pat Cash lost in 1988. An Australian man hasn't won the Open final since Mark Edmondson in 1976.
Local journalism is essential.
Give directly to The Spokesman-Review's Northwest Passages community forums series -- which helps to offset the costs of several reporter and editor positions at the newspaper -- by using the easy options below. Gifts processed in this system are not tax deductible, but are predominately used to help meet the local financial requirements needed to receive national matching-grant funds.
Subscribe to the sports newsletter
Get the day's top sports headlines and breaking news delivered to your inbox by subscribing here.
---