News > Spokane
Three people seriously hurt when car, pickup collide
Sun., Jan. 30, 2005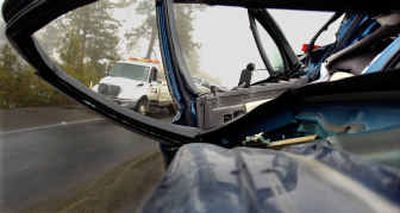 Three people suffered serious injuries Saturday when a driver lost control of her car, which then slid backward into a pickup truck west of Spokane, authorities said.
Cheri K. Johnson, 30, was driving downhill just before 7 a.m. in the 5700 block of West Trails Road when her 1997 Chrysler sedan began to slide on ice, said Spokane County Sheriff's spokesman Cpl. Dave Reagan. The sedan spun around and its rear collided with a pickup that was headed uphill.
Johnson and her two daughters, who live in Davenport, were taken to a downtown hospital with head injuries, Reagan said. Johnson was listed in serious condition Saturday evening. A 10-year-old who was in the front passenger seat was listed in critical condition. She also suffered a broken leg. A 9-year-old who was in the back seat suffered head injuries and was listed in serious condition.
Identities of the injured children were not disclosed by the Sheriff's Office.
The driver of the pickup, Geraldine Bruning, 58, suffered minor injuries. Her passenger, Ronald Bruning, 61, suffered neck and facial injuries. The two, who are married and live in Elk, were taken to a different downtown hospital and treated and released, Reagan said. They were wearing seat belts.
The impact of the crash scrunched the back of the Chrysler almost all the way to the front seats, Reagan said. Johnson and her daughters were trapped in the car and had to be freed by firefighters.
Trails Road was closed more than three hours while sheriff's investigators were at the scene.
Reagan warned that even when temperatures reach above the freezing point, roads in shaded areas can remain icy all day.
Reward offered for information about robbery suspect
A cash reward is being offered for information that leads to the arrest of a man suspected of participating in two robberies on Jan. 21.
Police believe that Andrew Andre Whitehead, 45, is one of three people who robbed two coffee businesses shortly after 7 a.m. on Jan. 21.
The businesses are at 4305 E. Trent Ave. and 3101 S. Grand Blvd.
Whitehead is 6-foot-1 and 175 pounds with black hair and brown eyes.
Anyone with information on the whereabouts of Whitehead is asked to call Secret Witness at 327-3111. Callers do not have to give their name to be eligible for the cash.
Man injured in attempt to stop someone from stealing his car
A Spokane Valley man suffered minor injuries Saturday morning when he tried to stop someone from stealing his car, Spokane Valley Police reported.
The 55-year-old man told police that he was warming his car and was inside his residence in the 7300 block of East Marietta Avenue when his 1989 Grand Prix was stolen, said police spokesman Cpl. Dave Reagan.
The car owner saw it being backed out of the driveway and ran outside to stop the thief. The victim made an unsuccessful attempt at opening the door, Reagan said. Once in the street, the car's front bumper hit the owner, and he was thrown onto the hood and onto the street.
The victim jumped into a van and tried to chase the Grand Prix, but the thief got away, Reagan said. The owner, who suffered minor leg and head injuries, called police about 8:20 a.m.
The Grand Prix is white and has a black car bra. Its license plate number is 821HYA.
Reagan warned that it is illegal in Washington to leave an unattended vehicle running.
Anyone with information about the car or thief is asked to call Spokane Valley Police at 242-8477. If someone sees the car while it is occupied, witnesses should call 911.
Local journalism is essential.
Give directly to The Spokesman-Review's Northwest Passages community forums series -- which helps to offset the costs of several reporter and editor positions at the newspaper -- by using the easy options below. Gifts processed in this system are not tax deductible, but are predominately used to help meet the local financial requirements needed to receive national matching-grant funds.
Subscribe now to get breaking news alerts in your email inbox
Get breaking news delivered to your inbox as it happens.
---