News > Spokane
Remains are Dylan's
Mon., July 11, 2005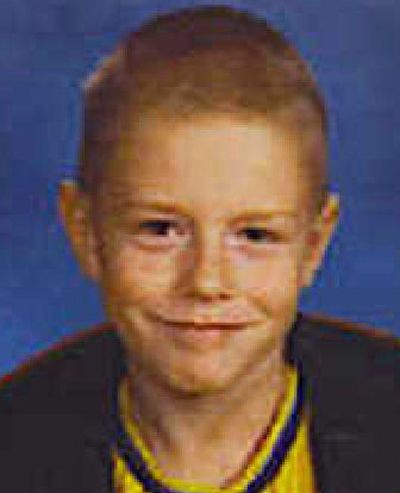 The FBI has identified the human remains found in a rugged area of Western Montana as those of Dylan Groene, the 9-year-old North Idaho boy who had been missing since he and his sister were abducted in May from their home east of Coeur d'Alene.
Eight-year-old Shasta Groene was rescued July 2 at a Denny's restaurant in Coeur d'Alene, and her alleged kidnapper, Joseph E. Duncan III, was taken into custody. Duncan, a registered sex offender, is being held on kidnapping charges in the Kootenai County Jail.
Authorities began searching in Western Montana after talking to Shasta and found human remains at a campsite in the Lolo National Forest west of St. Regis last Monday. The remains were sent to the FBI's lab in Quantico, Va., for DNA analysis.
The Kootenai County Sheriff's Department said Sunday that the FBI had positively identified the remains as those of Dylan.
Dylan's and Shasta's father, Steve Groene, said Shasta did not know the fate of her brother until the family received confirmation over the weekend.
"She asked me last week in the hospital if I knew what had happened to Dylan," Groene said.
Groene said the family will invite the public to a memorial service for Dylan in coming days.
"My family appreciates everybody's thoughts and prayers," Groene said.
Sunday's announcement brought a final accounting of the victims in a horrific crime that has gripped the region since May 16, when the bludgeoned and bound bodies of Brenda Groene, 40; her 13-year-old son, Slade; and her boyfriend, Mark McKenzie, 37, were found in their rural home.
The discovery of the bodies set off a national search for the missing children, Shasta and Dylan, who authorities believe were randomly selected by Duncan. Last week, investigators said Duncan was responsible for the killings as well as the kidnapping of the two children, but he has not been charged in the deaths.
Wendy Price, Dylan's aunt, said Sunday's news brought closure to a family that has spent two months wondering about the fate of the children.
"Steve has some comfort in knowing where all his children are," Price said. "Every parent wants to be able to put their child to rest. In a situation like this, there has to be something to cling on to. We know that Dylan and Slade are with their mother now."
Kootenai County Sheriff's Capt. Ben Wolfinger held a brief news conference Sunday afternoon to announce the FBI results but declined to answer questions. He said he would not confirm media reports that Dylan had been cremated, nor discuss the manner of death.
A preliminary hearing in Duncan's case is scheduled July 19.
Local journalism is essential.
Give directly to The Spokesman-Review's Northwest Passages community forums series -- which helps to offset the costs of several reporter and editor positions at the newspaper -- by using the easy options below. Gifts processed in this system are not tax deductible, but are predominately used to help meet the local financial requirements needed to receive national matching-grant funds.
Subscribe now to get breaking news alerts in your email inbox
Get breaking news delivered to your inbox as it happens.
---