News > Spokane
Driven to help others
Fri., July 15, 2005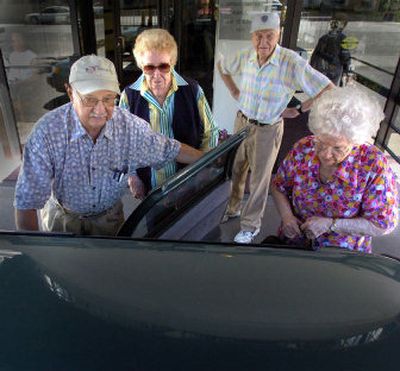 Bruno Costa gets up at 4 a.m. each day, rising in the darkness to pick up day-old doughnuts from a Spokane grocery store.
Long before the coffee gets brewed, he delivers the maple bars, apple fritters and other doughnuts to the House of Charity, where they're served with hot coffee to homeless people in downtown Spokane.
It's one of the many volunteer jobs that the 68-year-old has taken on since he retired more than 20 years ago. After mixing margaritas, gin and tonics and other concoctions for 17 years, the bartender at the now-defunct Flamingo Restaurant on the North Side decided to dedicate his life to "doing good deeds."
"You're supposed to do things for other people," said Costa, who goes to bed at 8 p.m. every night to make sure he gets enough sleep for his duties at dawn. "I really enjoy it. Volunteer work is my hobby."
After his daily doughnut delivery, Costa goes to the 6:30 a.m. Mass at the Cathedral of Our Lady of Lourdes. Then he spends the rest of the day driving his '92 Ford Taurus all over town – accompanying senior citizens to the grocery store or to their doctor appointments, collecting food donations for the House of Charity, dropping off meals to people who can't leave their homes.
Since he started volunteering for Catholic Charities in 1988, Costa has driven more than 75,000 miles – a distance equal to three times around the globe – responding to tens of thousands of requests from people, including many who can't afford a cab or are too frail to ride the bus. Some also are elderly and don't have relatives in town to give them a hand.
"We depend on him," said Laura Faulkner, a resident of the Cathedral Plaza, a downtown apartment complex for seniors. "What would we do without Bruno?"
Like others who have grown to rely on Costa's help, Faulkner has problems getting around. She is in her late 70s, her back often ails her, and she's still recovering from open-heart surgery a year ago. She used to take the bus, but her medication often makes her too light-headed to walk.
Since Faulkner moved to the Cathedral Plaza a few years ago, Costa has taken her and a group of other residents grocery shopping every week. On Thursdays, they pile into his green Taurus and listen to tapes of opera star Mario Lanza on their way to Rosauer's in Browne's Addition. On Fridays, they check out the sales at Safeway. Costa also takes residents from other senior complexes in north Spokane.
Whenever he sees people waiting in the lobby of the apartment complex, Costa asks them if they need a ride, Faulkner said. "He's good-hearted," she said. "He always wants to help."
But he's no saint, insisted Costa, who has been recognized for his community service by Catholic Charities and other local organizations. "I'm not holy. I just enjoy doing this. It fills my time."
Costa, who's also a resident at the Cathedral Apartments, grew up in a devout Roman Catholic family that attended Mass every Sunday at St. Joseph's, an old mission church in Clayton that closed in the late '90s. He was the youngest of three children born to an Italian couple from Bassano, near Venice. Costa's dad got a job at the brick plant in Clayton, just north of Spokane, after immigrating here in 1918. He returned to Bassano, got married, then went back to Clayton to raise a family.
After serving in the U.S. Army for two years, Costa got a job as a bartender in Spokane. He's never been married. When he retired, he wanted "something to do" so Costa started driving seniors on errands through Catholic Charities' Volunteer Chore Service and delivering food bank meals to shut-ins. After a while, he became the volunteer driver of a white Chevrolet van that traveled all over town picking up donations from grocery outlets to the House of Charity.
Although he doesn't discuss religion much, his Roman Catholic faith has been a huge influence on his life. For the last 12 years, Costa has rarely missed early morning Mass at the Cathedral. His own 12th-floor apartment – it's the one with the Italian and American flags waving from the balcony – overlooks the Romanesque structure below, a Spokane landmark with its distinct church towers.
Inside his apartment, which he shares with a medium-haired cat named Blackie, Costa has covered his walls with portraits of the late John Paul II and Pope John XXIII, a painting of Jesus with his disciples, crucifixes and rosaries.
Also on the wall hangs a framed piece of paper with a quote from the late entertainer Danny Thomas, founder of St. Jude Children's Research Hospital in Tennessee.
It's become Costa's mantra: "All of us are born for a reason, but all of us don't discover why. Success in life has nothing to do with what you gain in life or accomplish for yourself. It's what you do for others."
Local journalism is essential.
Give directly to The Spokesman-Review's Northwest Passages community forums series -- which helps to offset the costs of several reporter and editor positions at the newspaper -- by using the easy options below. Gifts processed in this system are not tax deductible, but are predominately used to help meet the local financial requirements needed to receive national matching-grant funds.
Subscribe now to get breaking news alerts in your email inbox
Get breaking news delivered to your inbox as it happens.
---