News > Nation/World
Forces thwart suicide bomber
Fri., July 15, 2005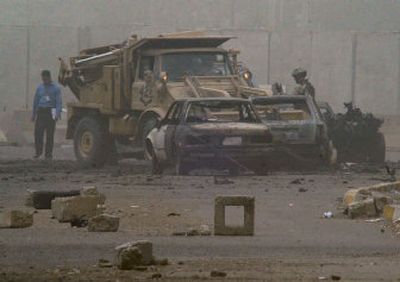 BAGHDAD, Iraq – Iraqi and U.S. forces captured a suicide bomber before he could detonate his explosive belt Thursday, and announced a key suspect in the kidnap-slaying of Egypt's top envoy to Iraq had been arrested in what was hailed as a blow to the terror network.
The thwarted suicide attack – just 150 feet from the Green Zone, the site of the U.S. Embassy and major Iraqi government offices – was intended to be part of coordinated assaults by a suicide car bomber and two pedestrians strapped with explosives.
The attackers apparently planned to detonate the car bomb first. Then the two pedestrians would blow themselves up in the midst of troops, police and rescue workers rushing to the scene, U.S. officials said.
The car bomb exploded successfully. But one pedestrian bomber was killed after an Iraqi policeman shot him, setting off his explosive vest, a U.S. statement said.
The second pedestrian bomber was wounded by shrapnel from the blast before he could detonate his own vest, and was in critical condition at a U.S. military hospital in the Green Zone, the statement said.
Five policemen and four civilians also were wounded by the blasts and gunfire, officials at Yarmouk Hospital said.
There was no word on the identity of the failed bomber, but his arrest could yield valuable intelligence on the shadowy network of Islamic extremists.
In another setback to insurgents, about 30 suspected al Qaeda members were arrested in the past week, including a key suspect in this month's killing of Egyptian envoy Ihab al-Sherif and attacks on senior diplomats from Bahrain and Saudi Arabia, the U.S. command said.
Khamis Abdul-Fahdawi, known as Abu Seba, was captured Saturday after operations in the Ramadi area west of Baghdad, the military said. He is a suspect in the "attacks against diplomats of Bahrain, Pakistan and the recent murder of Egyptian envoy" al-Sherif, the U.S. statement said.
Another top suspect, Abdullah Ibrahim al-Shadad, or Abu Abdul-Aziz, was arrested during a raid Sunday in Baghdad, the statement said. It identified him as the operations officer for al Qaeda in Iraq, led by Jordanian Abu Musab al-Zarqawi. Abu Abdul-Aziz was cooperating with coalition forces, according to the U.S. command.
In an Internet statement Thursday, al Qaeda in Iraq acknowledged that Abu Abdul-Aziz had been apprehended but played down his importance.
Al Qaeda also denied any role in the Baghdad suicide car bombing Wednesday that killed 27 people, including 18 children and teenagers and an American soldier. The bomber detonated his SUV as U.S. troops were distributing candy and toys in a mostly Shiite Muslim area known as New Baghdad.
"Our sheik, Abu Musab al-Zarqawi … is very keen not to attack the rank and file and he himself is the one who directly supervises, plans and direct all the operations," said the statement posted and signed by Abu Maysara al-Iraqi, the al Qaeda spokesman.
The statement – whose authenticity could not be verified – suggests the militant group is aware of the backlash against the insurgency that the killings of so many children could generate.
In other violence late Thursday, gunmen killed an Iraqi soldier in Baghdad and another outside the Taji air base, police said.
Elsewhere, police said gunmen killed five Iraqi employees of an American base in Baqouba, 35 miles northeast of Baghdad, as they were driving outside the base. At least nine other policemen also were killed in separate attacks nationwide.
However, figures obtained Thursday by the Associated Press from Iraqi government ministries show violent deaths among Iraqi civilians far exceeded those of soldiers or police during the first six months of this year.
Between Jan. 1 and June 30, 1,594 civilians were killed, according to the Ministry of Health. By contrast, 895 security forces – 275 Iraqi soldiers and 620 police – were killed in bombings, assassinations or armed clashes with insurgents, according to figures from the interior and defense ministries.
The number of insurgents killed during the six-month period was 781, the government said.
Local journalism is essential.
Give directly to The Spokesman-Review's Northwest Passages community forums series -- which helps to offset the costs of several reporter and editor positions at the newspaper -- by using the easy options below. Gifts processed in this system are not tax deductible, but are predominately used to help meet the local financial requirements needed to receive national matching-grant funds.
Subscribe now to get breaking news alerts in your email inbox
Get breaking news delivered to your inbox as it happens.
---