News > Spokane
A matter of degrees
Thu., July 21, 2005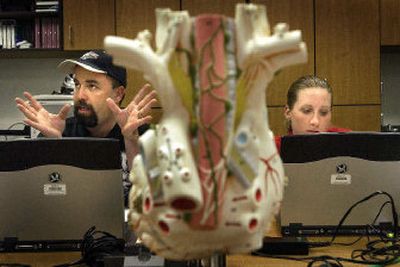 A lot of Washington residents have bachelor's degrees, compared to the rest of the country.
It's just that a lot of us didn't get them in Washington universities.
That dynamic – something Columbia University professor Thomas Bailey calls the "Colorado paradox" – means that the state essentially imports college graduates to fill jobs. Employers say they have difficulty hiring workers with training beyond the high school level. Bailey suggests a variety of changes to the state's higher education system, including allowing community colleges to grant four-year degrees.
"You've got a highly educated population," Bailey said Monday, "but you're not educating them."
Most of Bailey's points don't come as news to people in higher education, and the state's master plan for higher education contains many of the same goals.
"It sounds like Professor Bailey's been reading our master plan," said Jim Sulton, executive director of the state Higher Education Coordinating Board.
Bailey, the director of the Institute on Education and the Economy at Columbia, made his recommendations during a presentation last week at a University of Washington conference. His summary paints a portrait of a state that does not meet the demand for post-secondary education, with university enrollments exceeding state funding and state support plummeting over the last 30 years.
Bailey said Washington's system of higher education lacks cohesion – two-year schools and four-year schools don't coordinate curriculums, administrations, procedures or data. Creating more coordination could help move more students from community colleges into universities – helping address what he sees as the shortage of bachelor's degrees.
"The four-year systems don't usually share their information with the two-year systems," he said. "They're not linked to the K-12 system. … There isn't an overall umbrella that unifies the two-year and the four-year systems."
Administrators at universities in Eastern Washington agreed with many of Bailey's points – particularly the criticism of statewide coordination – and noted that efforts are under way to address some of the goals.
Brian Pitcher, chancellor at Washington State University-Spokane, said he'd like to see a statewide "K-20" model for education, coordinating things from the ground floor. He and other higher education leaders in the Spokane area meet with members of the business community quarterly to improve coordination and listen to the needs of the work force in the community.
"We're working on speaking with a common voice in education," he said.
Gary Livingston, the CEO/chancellor of the Community Colleges of Spokane, said that he hears similar concerns about work force training and employers having difficulty hiring trained workers.
In high-demand fields like nursing, auto technicians and plumbing, he said, "We can't produce them as fast as the industry needs them."
Like states around the country, Washington has begun exploring the possibility of allowing community colleges to either grant some specific bachelor's degrees or create partnerships with universities to do so. Some university officials worry about that approach, saying the state should focus on expanding slots for bachelor's degree students at four-year schools and satellite campuses.
"The risk there is that (community colleges) begin to lose their mission," Pitcher said. "The community colleges' core mission is really associate's degrees and helping to train people well for those trade and professional areas."
Bailey's presentation notes that Washington ranks 11th nationally for the number of bachelor's degrees per capita, but far lower – 43rd – in its rank for the percentage of higher education students earning bachelor's degrees. When adjusted for inflation, he said, the state's investment in higher education per $1,000 of personal income has gone down 53 percent since 1976, which is among the steepest declines in the country.
"What those numbers show is that Washington has lost some competitive advantage," Pitcher said.
Sulton, executive director of the HEC Board, said the board's plan for the future focuses on expanding the number of bachelor's degrees granted – "growing our own" – and exploring partnerships among two- and four-year schools is a part of that.
The board has a three-part plan – still unfunded – to help improve the ability of community college students to transfer to universities, Sulton said. The plan would create course equivalency between institutions, establish transfer programs and create electronic transcripts.
Last academic year, 11,600 students transferred from two-year to four-year schools, according to the State Board of Community and Technical Colleges. While the University of Washington turned away some transfer applicants earlier this year, officials say that circumstance was limited to the UW and that students attempting to transfer to other universities in the region have not had trouble getting in.
While Bailey focused on the idea of producing more bachelor's degrees, he notes that more than 60 percent of Washington employers say they've had trouble finding qualified candidates at all education levels beyond high school. Livingston said he's heard similar concerns from employers.
"Probably 70 percent of the jobs don't require a baccalaureate degree," he said, "but they do require some post-secondary education."
Local journalism is essential.
Give directly to The Spokesman-Review's Northwest Passages community forums series -- which helps to offset the costs of several reporter and editor positions at the newspaper -- by using the easy options below. Gifts processed in this system are not tax deductible, but are predominately used to help meet the local financial requirements needed to receive national matching-grant funds.
Subscribe now to get breaking news alerts in your email inbox
Get breaking news delivered to your inbox as it happens.
---