News > Spokane
Camp launches interest in science
Fri., July 22, 2005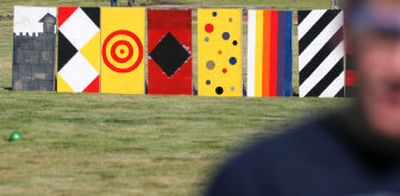 MOSCOW, Idaho – The maiden voyage of Gnar Kill was a little rocky.
But that's the life of an engineer, medieval or modern.
Gnar Kill was the name of one of eight trebuchets – modern versions of an ancient castle-storming device – built by high school students at an engineering camp at the University of Idaho this month.
Students spent last week designing the trebuchets, kind of a cross between a catapult and a large slingshot. This week, they built and began test-firing them at a "wall" on campus.
First up was Gnar Kill, which repeatedly lobbed a three-pound medicine ball about halfway to the target. The four team members adjusted the counterweight, the release pin and sling. They even worked on their countdown chants.
"Let's do 'Fire in the hole,' " said Justin Shook, a 17-year-old from Idaho Falls.
All four: "Fire in the hole!"
That didn't work, either. But that was OK. The real goal of the Junior Engineering Math and Science program at Idaho is not to produce working trebuchets – it's to encourage more students to go into engineering studies.
"This is part of the engineering and design process," said Jean Teasdale, program director. "Test and build. Test and build. Test and rebuild."
The camp is a 37-year-old summer program at UI, which brings high school juniors and seniors to campus to learn more about engineering disciplines – and to entice them into UI's programs. The two-week camp is sponsored in part by the NASA Idaho Space Grant Consortium, an organization made up of the universities, museums, science organizations and some businesses.
Teasdale said camp organizers attempt to come up with something fun and hands-on to engage the students. A couple of years back, the students designed bridges for a trail system in Moscow. This is the first year they tried trebuchets, though the construction and use of the devices have been used as a learning project elsewhere.
The PBS show "Nova" aired a program on trebuchets in 2000. Its Web site refers to them as "one of the most fearsome weapons of medieval times." Trebuchets were used to hurl huge stones at castles – and sometimes to cast dead animals or dung into the fortresses, in an effort to spread disease.
"During peacetime," the Nova Web site says, "castle commanders used trebuchets to launch roses at ladies during tournaments."
No dung or roses were flung at UI. The student trebuchets were designed to pitch medicine balls 75 feet, each on a $75 budget, said April Christenson, camp coordinator. The teams each used different materials for supports, the arms that cast the projectile and other parts of the trebuchet. Each also decorated their weapon.
"Ours," Shook said, pointing to the spray-painted chaos on Gnar Kill, "definitely has the most character."
During the first week of the program, students used computer design programs to calculate launch angles, force, counterweight mass and other issues. Like a catapult, a trebuchet has a large swinging arm used to throw an object – but the object is in a sling at the end of a rope connected to the arm. When the counterweight is dropped, the arm swings upward, whipping the object forward in the sling.
At least, it is hoped the object will go forward.
On Wednesday, as the students tested their newly built hurlers at the Dan O'Brien Track on campus, one group's trebuchet sent a ball flying well over the fence around the field – straight backward.
It was just one of the glitches that students were working through in preparation for a demonstration today for family and friends, when the medicine balls will be replaced with cantaloupe.
The members of Gnar Kill – who say the name doesn't have a particular meaning – thought they would try to come up with a heavier counterweight to throw the ball farther.
Lauryn Harriman, a 17-year-old from Twin Falls who's interested in studying for a career in architecture, said the two-week camp had been a lot of work.
"It's kind of disheartening that it's not going as far as we wanted it to," Harriman said.
She laughed.
"Not nearly as far."
Local journalism is essential.
Give directly to The Spokesman-Review's Northwest Passages community forums series -- which helps to offset the costs of several reporter and editor positions at the newspaper -- by using the easy options below. Gifts processed in this system are not tax deductible, but are predominately used to help meet the local financial requirements needed to receive national matching-grant funds.
Subscribe now to get breaking news alerts in your email inbox
Get breaking news delivered to your inbox as it happens.
---