News > Spokane
His present is work for future
Mon., July 25, 2005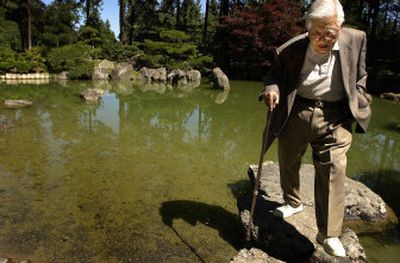 It is a symbol of friendship: an intricate wooden bridge with the arch of a rainbow, built over the pond in Spokane's Japanese Garden.
Traditional Japanese gardens tend to be somber and austere with few splashes of color except the blossoms of springtime.
But Ed Tsutakawa wanted something joyful to epitomize the relationship between Spokane and the Japanese city of Nishinomiya – two communities that raised the money to build one of the Inland Northwest's most-renowned landmarks.
So he asked the architects to design a physical structure to show the connection between Spokane and Nishinomiya, a sign of amity between two distinct cultures.
"It's at the top of the bridge, in the middle – that's where they meet," explained Tsutakawa, who helped establish Spokane's first sister-city relationship and was one of the key figures in the creation of Manito Park's Nishinomiya Japanese Garden. "It's a testimonial to our friendship."
In many ways, Tsutakawa is just like that distinctive bridge.
Since he made Spokane his home more than six decades ago, the 84-year-old has served as a link between many individuals and organizations. Through his art, his volunteer work and his efforts to link the Inland Northwest with Japan, Tsutakawa has helped connect people of different backgrounds, cultures and generations.
"Whatever I do, it's for the future," he said during a recent interview from his office at Spokane's Mukogawa Fort Wright Institute, a school for Japanese women that Tsutakawa also helped establish. "I want to leave this life with something to help future generations."
Like many Japanese-Americans of his generation, Tsutakawa has a hard time talking about himself. It's not part of his upbringing to boast about his life and accomplishments. When asked about his role in establishing the sister-city relationship between Spokane and Nishinomiya in 1961, Tsutakawa laughed and replied: "I was just the delivery boy for the mayor."
Those who know him, as well as others who lived in Spokane at the time, know that Tsutakawa was a lot more than a simple emissary sent to Japan by the late Mayor Neal Fosseen. Nishinomiya, after all, was the city of Tsutakawa's youth, the place where his parents sent him to study from age 6 until he turned 15. He also shared Fosseen's vision of making Spokane a more diverse city with economic and cultural ties to places all over the world.
Close friends say it was Tsutakawa's connections in Japan, in addition to his diplomatic style, that facilitated the sister-city program, which eventually grew to include partnerships between Spokane and cities in Ireland, South Korea and China.
"Ed has had a huge impact on the Spokane community, but much of it has gone below the radar," explained Elsa Distelhorst, Whitworth College's director of development and a longtime diversity advocate and community leader. "He's a quiet trailblazer – never for himself, but for other people. … He has a real heart for the people of the world."
"
Tsutakawa was born in Seattle on May 15, 1921, the oldest of four children. His parents – originally from Japan's Okayama Prefecture – worked in the import-export business along with their relatives who established Uwajimaya, now the largest Asian grocery and gift market in the Pacific Northwest.
When he was 6, his parents sent him to school in Nishinomiya City, located in the southeastern part of Hyogo Prefecture between the cities of Kobe and Osaka. He returned to the United States when he was 15 and ended up graduating from the old Broadway High School on Seattle's Capitol Hill.
He started off at the University of Washington pursuing a degree in pre-med, but he soon switched to his true vocation: art.
World War II, however, halted his studies and changed the course of his life.
The Tsutakawas and other Japanese-Americans on the West Coast were forced to sell their homes and properties for as little as 8 cents on the dollar. According to articles published in the Spokane Chronicle, they were imprisoned for two months in the horse stables at the Western Washington Fairgrounds in Puyallup before they were hauled in August 1942 by train to Minidoka, an internment camp behind barbed wire in the dusty Idaho desert near Twin Falls.
Through his art, Tsutakawa depicted the guards, watchtowers and barracks of Minidoka. He stayed there for about nine months before he was drafted into the military to become a translator and to teach Japanese.
It was a painful time for Americans, and not just those of Japanese ancestry, he said. While some in the camps were angry, most realized that their best option at the time was "to be patient and prove that we were worthy of our citizenship," Tsutakawa said. Still, he once told Dorothy Powers, now retired after years as a columnist for The Spokesman-Review, that Minidoka "was the lowest point in my life."
His experience in the internment camp, however, fueled his zeal to serve the community, as well as foster relationships between the people of the United States and Japan.
"I decided that after the war I really wanted to establish myself as a Spokane citizen all the way – to get involved in the city's political, business, social and public service activities," he told Powers in 1986. "I wanted to be part of my community. I wanted to help it in all the ways I could."
"
Twice, Tsutakawa received notice that he would be called up for active military duty, he recalled, but the orders never came.
In 1944, he ended up in Spokane, where he fell in love with the "small-town" feel and the friendliness of the people, he said. He worked for a local printing firm and also freelanced much of his artwork to advertising agencies.
In 1946, his wife of less than two years, Tama, died of an intestinal disorder. He was the single father of a little girl, Nancy, until he remarried in 1949. He had met Hide, his second wife, during those internment days in Minidoka. They've been married now for 56 years and have three children – Nancy, Margaret and Mark – and four grandchildren.
Tsutakawa established Litho-Art Printers Inc. in 1954. For the next three decades, he would be known as a businessman and the designer of hundreds of trademarks and logos, including the 1981 Spokane Centennial logo and a crest that appeared on Spokane City Hall stationery for many years. He also dedicated his time to numerous boards and organizations, including the YMCA, United Way, Spokane Housing Authority, the Japanese-American Citizens' League and the Expo '74 world's fair.
Besides the sister-city relationship with Nishinomiya and the Japanese Garden at Manito Park, another Tsutakawa legacy is evident every day in the numerous exchanges that take place between Spokane residents and the students of Mukogawa Fort Wright Institute.
In 1989, Tsutakawa helped facilitate the purchase of Fort George Wright College – 30 buildings on 72 acres that was once an Army post and later a small liberal arts school owned by the Sisters of the Holy Names. Mukogawa Women's University in Nishinomiya bought the campus for $3 million, then spent another $4.8 million renovating it as an American branch campus.
A year later, the first group of 110 women from Nishinomiya arrived in Spokane for classes. Tsutakawa also became the institute's vice president.
In the last 15 years, more than 7,000 women from Japan have studied at Mukogawa Fort Wright Institute, said Tsutakawa. They not only add cultural diversity to the Spokane community, many say, but also pump millions of dollars into the local economy. A survey conducted in 1998 by the Spokane Regional International Trade Alliance (SRITA) showed that 382 students studying at Mukogawa Fort Wright that year spent nearly $6 million in Spokane.
"I can't tell you how much Spokane has benefited from Ed's wisdom and work," said 85-year-old Nobi Oka, who first met Tsutakawa during their time in the internment camp. "He does so much good for everybody, not just the Japanese community."
"
Six months ago, Tsutakawa changed his title at Mukogawa from vice president to senior adviser.
He started suffering from kidney failure two years ago and has been in and out of the hospital for the last few months. He has lost 100 pounds. His legs are weak, and he sometimes uses a cane. He also has kidney dialysis twice a week, which leaves him feeling frail.
But Tsutakawa remains active, coming to work every day dressed casually as though he were about to play a round of golf. His hair, which has turned from gray to white, is groomed so carefully that you can easily see the comb lines. He smiles often and has plenty to talk about.
"When are you going to retire?" people often ask him. Tsutakawa tells them he's not ready to even contemplate retirement. During this week's Sister Cities conference, for instance, he will be working with the youth.
"This is one way I can serve," he said. "I have no wish to be rich or famous, but I hope people see me as someone who works for the future."
Local journalism is essential.
Give directly to The Spokesman-Review's Northwest Passages community forums series -- which helps to offset the costs of several reporter and editor positions at the newspaper -- by using the easy options below. Gifts processed in this system are not tax deductible, but are predominately used to help meet the local financial requirements needed to receive national matching-grant funds.
Subscribe now to get breaking news alerts in your email inbox
Get breaking news delivered to your inbox as it happens.
---