News > Nation/World
Aid slowly trickling into Niger
Tue., July 26, 2005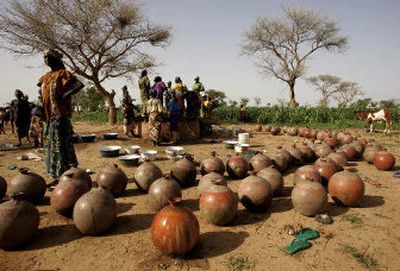 DAN MALLAM, Niger – The thatched-roof huts where villagers store grain for the lean season are empty. The only meal of the day is acacia leaves boiled into a thick paste, eaten in the evening in hopes it will lull the children to sleep.
After months of repeated pleas from the United Nations, international aid is starting to trickle into this West African nation ravaged by drought and locusts. But it has yet to reach villages like Dan Mallam, where the hungry can do little but wait for help and the next harvest.
"Everything that the stomach can contain, we eat … anything that can calm the hunger," said Ibrahim Koini, whose gray beard and emaciated frame make him look much older than his 45 years. "We've come to eat the same leaves we give our cows."
The diet of acacia and other leaves is taking a toll on children, whose malnourished state is clear from their swollen bellies and heads that appear too big for skeletal bodies.
Acacia leaves provide some nutrition, but are inadequate because they lack iron, zinc, magnesium and protein. Adults can get by on the calories such a diet provides, but calories alone are not enough for children, UNICEF says.
Many children in the village 400 miles east of the capital, Niamey, have stayed home from school because they are too weak to concentrate on their studies.
Thirteen-year-old Yacoumba Mati, described by his teacher as a bright student, managed to make it through his final exams. He wants to become a doctor – and he hopes to leave Niger one day. "Because here there is nothing to eat," he said.
Most villagers sold their cows and goats to avoid losing them to the drought. Milk, flour and meat are too expensive. Niger's government offers millet at $18 for a 220-pound bag, but that is just as out of reach for most people as the unsubsidized price of $54.
An international aid group has set up a feeding center and clinic just 30 miles away in the town of Maradi, but Dan Mallam's villagers can't afford the trip. Adults are left watching their children's energy, muscles and weight dwindle away.
"I cannot afford to leave the rest of the family behind to take the little one to hospital," said Ibrahim Fakirou, fanning flies from the face of his son Mouhamou, a 2-year-old wobbling on spindly legs. "I have to plow my farm to feed the children, and my wife is seven months pregnant. I just cannot leave."
Niger's 11.3 million people regularly rank among the world's poorest, and drought and a locust invasion last year have put some 3.6 million of them on the verge of starvation.
The world has been slow to react. The United Nations first appealed for help in November and got almost no response. Another appeal for $16 million in March brought in about $1 million. An appeal May 25 for $30 million has received about $10 million, U.N. officials say.
But donations have jumped dramatically in the last week because of increased media attention and TV images of starving children, U.N. humanitarian chief Jan Egeland says.
Local journalism is essential.
Give directly to The Spokesman-Review's Northwest Passages community forums series -- which helps to offset the costs of several reporter and editor positions at the newspaper -- by using the easy options below. Gifts processed in this system are not tax deductible, but are predominately used to help meet the local financial requirements needed to receive national matching-grant funds.
Subscribe now to get breaking news alerts in your email inbox
Get breaking news delivered to your inbox as it happens.
---