News > Spokane
Bobcat recovering from burns
Sat., July 30, 2005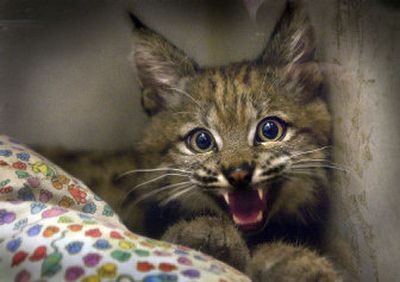 PULLMAN – A bobcat kitten burned in a slash fire near Omak is resting comfortably – chewing her litter box and batting her large paws – after a pair of life-saving surgeries at Washington State University's Veterinary Teaching Hospital.
In some ways, the story of Amber, a 12-week-old kitten who looks like a powerful house cat, resembles the famous tale of a bear cub who became the face of the government's campaign against forest fires.
"I think she could be the new Smokey Bear story," said Darin Watkins, a spokesman with the WSU College of Veterinary Science.
Like Smokey, Amber is now destined for a life among people – either in a zoo or some other educational program. It's possible she could be used in other wildlife rehabilitation programs, acting as a kind of surrogate mother for other injured bobcats.
"Without our intervention, she becomes food for something else," said Charlie Powell, also a spokesman for the college. "Now she becomes an educational tool for generations of human beings."
The kitten was found over the Memorial Day weekend during a planned burn of timber slash piles on the Colville Indian Reservation. Workers heard the kitten crying near the fire and discovered her badly burned over the back third of her body. No other bobcats were found in the area.
The cat was taken to Jean Gulbransen, an Omak veterinarian and wildlife rehabilitator, for treatment, and then brought to WSU's Exotics and Wildlife Department several weeks later when she needed surgery.
The department treats a wide variety of animals found injured around the region. Though Amber was burned in a planned fire, as forest fire season heats up it's not uncommon to see all kinds of burned creatures, said Angela Teal, a licensed veterinary technician.
Because the kitten was burned on the rear part of her body, the scarring as she healed made it impossible for her to defecate. The surgeries at WSU corrected that, and Amber is healing in a glass cage at the exotics and wildlife department – a small home with a litter box, a carpet toy, a small log and a plate of her special moist food.
"She's been in captivity since she was 3 weeks old, so she's pretty imprinted with people. She won't run away," Teal said. "She'd walk right up to a farmer's house and take a chicken."
That's why Amber won't be returned to the wild – it would be trouble for her, with dulled competitive instincts, and dangerous for people, too. Teal said Amber will be returned to Gulbransen, and efforts will be made to find a placement for the cat.
The question of wildness – and the effect of human intervention – comes into play with the other animals the department treats, as well. Powell said the top three causes of injuries they see are gunshots, poisoning and being hit by cars. Without treatment, the animals might die, but the treatment itself may make it impossible for them to return to the wild.
Earlier this week, the wildlife workers released a great horned owl that was found with a broken radius – kind of like a wristbone – on the side of Highway 195 between Colfax and Pullman. The break was healed in a splint, and the bird was released Tuesday near where it was found. That bird could return to the wild because it had a healthy fear of humans established.
WSU veterinarian Nikol Finch, Teal and volunteers are treating a variety of other animals now, from a red-tailed hawk to a bald eagle to baby woodpeckers to tiny flammulated owls – which stand about 5 inches, tip to tail.
"They're very common," Powell said. "People just don't see them."
Often, Teal said, when people find animals in the wild – baby owls out of a nest or young fawns – it can be best to leave them alone. Even if animals seem hurt or safe, they can still hurt people, and sometimes they're not in any trouble that's not typical for wild animals. She said people ought to call the department – (509) 335-0711 – or other wildlife officials before attempting to rescue a wild animal.
In the wild, bobcats are stealthy and fast, with sharp teeth and claws to help them prey on smaller animals. Even as infants, the kittens' charismatic cuteness can be disarming. Teal said Amber occasionally bites and scratches and tends to have the typical bobcat's aggressive demeanor.
"The first day she did get one of the students," Teal said. "They forget that these guys are wild – even if they look cute and cuddly."
Local journalism is essential.
Give directly to The Spokesman-Review's Northwest Passages community forums series -- which helps to offset the costs of several reporter and editor positions at the newspaper -- by using the easy options below. Gifts processed in this system are not tax deductible, but are predominately used to help meet the local financial requirements needed to receive national matching-grant funds.
Subscribe now to get breaking news alerts in your email inbox
Get breaking news delivered to your inbox as it happens.
---