News > Spokane
Not their father's training camp
Sat., July 30, 2005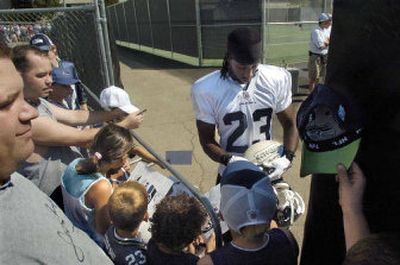 The thread count on the sheets is in the 300 range. The towels, as one insider described, are "the nice stuff … not your run-of-the-mill."
Tonight's dinner menu features fried catfish, collard greens and gumbo – comfort food to homesick Southeasterners.
Welcome to summer camp, Seattle Seahawks style, a million miles removed from summer camps of the musty cabins, murky lake and marginally healthy food variety.
At this three-week NFL training camp, held at Eastern Washington University in Cheney, accommodations cover the whole nine yards. Friday was the first day as 93 players and coaches began two-a-day practices in the morning.
"They are here to play football," said Ron Sperber, liaison between EWU and Seahawks summer camp. "The coach (Mike Holmgren) wants good fields, good training equipment rooms, a place for them to rest. That's all they're asking for."
Ask, and they shall receive.
From a training room that's stocked with all types of sunscreen under the sun, to extra-long beds brought into the cozy dorm rooms, the personnel are indeed looked after.
Sperber, who retired from Eastern after 20 years and has been the go-between for three years, said the planning begins in April with monthly meetings. The Seahawks pay the university $330,000 to use the facility.
The heavy lifting begins after spring quarter when EWU students clear out of Pearce Hall and Dressler Hall. The players stay in Pearce and many of the coaches and staff live in Dressler.
The Seahawks also rent 10 townhouses west of the training fields near EWU'S Red Barn. They're occupied by Holmgren and top front-office personnel. The townhouse next to Holmgren's is empty and used "as a buffer" Sperver said.
"TVs, DVDs, lamps, big chairs, rocker recliners, love seats, beds, chest of drawers are all brought in," Sperber said.
The furniture is rented. A 46-inch LCD television was delivered to Holmgren's townhouse. The seven-year coach also has televisions in his two offices on campus.
Sperber said Cheney Cable also stores 70 televisions during the team's 11-month "off-season" and hooks them up when players arrive.
Sperber said there are about 15 dorm rooms with two beds and no air-conditioning, undoubtedly designated for the long shots.
But life is good for the stars and free agents. California king-sized beds, disassembled and stored in the dorms' basements, are moved into the players' rooms. Air-conditioning units are installed.
Forget to pack toothpaste and deodorant? The equipment room is stocked with toiletries. Have a favorite soda or sports drink? There's a good chance that one of the coolers, which seem to be set up around every corner, will have it.
Concerned about injuring an ankle on the practice field? So are the Seahawks. And they have lawn doctors for just that reason.
"When I took this job," Seahawks project/field manager Brent Hanson said, "I was told, next to the athletes, the fields are the most important things we have."
Hanson's crew and the EWU groundskeepers are out at 5 a.m. cutting, grooming and walking "every inch of the field," which is eight acres. The grass, a blend of Kentucky bluegrass and rye, is watered two to three times a day, depending on the temperature and wind conditions.
"We have multimillion-dollar athletes out here," Hanson said. "If one of them turns an ankle, it all comes back to us."
When the Seahawks return home to Kirkland, Wash., on Aug. 20, the Eastern Eagles football team will take over the manicured fields. The working relationship between the Seahawks and the college runs as well as a finely tuned team, but the Seahawks leave little behind when they break camp.
"They've donated shoulder pads in the past, because they get new ones every one to two years," Eagles football coach Paul Wulff said. "We keep ours for 10 years and repair them."
Local journalism is essential.
Give directly to The Spokesman-Review's Northwest Passages community forums series -- which helps to offset the costs of several reporter and editor positions at the newspaper -- by using the easy options below. Gifts processed in this system are not tax deductible, but are predominately used to help meet the local financial requirements needed to receive national matching-grant funds.
Subscribe now to get breaking news alerts in your email inbox
Get breaking news delivered to your inbox as it happens.
---