News > Spokane
Large historic district proposed
Wed., June 1, 2005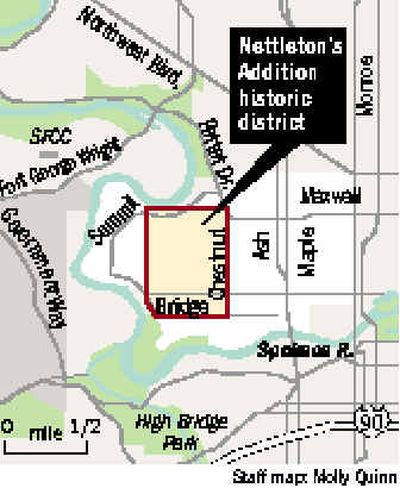 Residents of Nettleton's Addition in West Central Spokane have struggled for years with poverty, crime and drugs.
Turn-of-the-century housing offers plenty of affordable rents.
But Nettleton's Addition is also home to a core of involved residents who see the history and charm of the neighborhood as an asset.
They are seeking to have a 39-block area designated as a national historic district. If approved, it would be Washington state's largest.
"I believe in this neighborhood," said Connie McGavran, who along with her husband, Howard, is restoring the 1895 home of "Dutch" Jake Goetz, a self-made mining man who owned the former Coeur d'Alene Hotel in downtown Spokane.
The McGavrans moved into the home at 2420 W. Gardner in 1991 after purchasing it at a sheriff's auction for $3,600. The property, which had been divided into apartments and was a biker hangout, had reverted to the county following condemnation, Connie McGavran said.
She believes West Central Spokane is misunderstood by many people because of its reputation.
"People are wrong," she said. "It's a quiet little area that's gotten a bum rap."
A nomination to create Nettleton's Addition Historic District is scheduled for consideration next month by the Governor's Advisory Council on Historic Preservation. The council will meet on June 24 in Spokane at the Northwest Museum of Arts and Culture.
The state council could place the district on the Washington Heritage Register and then forward the nomination to the National Park Service for potential listing on the National Register of Historic Places.
If approved as expected, it would become the 16th national historic district in Spokane.
"It's a neighborhood that deserves the national register recognition for its architecture and historical significance," said Teresa Brum, Spokane's city-county preservation officer.
The area contains nearly 1,600 homes and garages. Of those, 912 are considered "contributing properties," a term used to identify historic properties within a district.
Michael Houser, the state's architectural historian, said Nettleton's Addition, as a working-class area, is similar to the North Slope Historic District in Tacoma, currently the state's largest historic district with 909 contributing properties.
Nettleton's Addition is named for William Nettleton, a key figure in the westward expansion of the Northern Pacific Railroad, which began operating through Spokane in 1883, according to a press release from Brum.
Nettleton moved to Spokane with the rail expansion after working to establish the eastern terminus for the Northern Pacific along Lake Superior in Minnesota, according to research for the nomination by Diana Painter of Painter Planning and Preservation.
Nettleton collaborated with John Sherwood and William Pettet, co-founders of the former Washington Water Power Co., to develop streetcar lines into the neighborhood, and it was among the earliest streetcar suburbs catering to an emerging middle class in the early 1900s. More than 70 percent of the housing stock was built by 1912.
Nettleton moved into a home at 2605 W. Maxwell and died in 1905 in Spokane.
Most of the homes in Nettleton's Addition are one- and two-story Craftsman bungalows typified by big front porches with roof piers or columns; the use of stone or brick for accents; exposed rafter ends; elaborate dormers; and construction details such as brackets.
Ballard Plannery, which provided architectural designs, and Chamberlin Real Estate and Improvement Co. were predominant in construction.
George Chamberlin, president of the company, occupied a home at 2627 W. Gardner, and E.A. Chamberlin, secretary, lived at 2410 W. Boone.
The proposed historic district is bounded by Mission Avenue on the north, Chestnut Street on the east, Bridge Avenue on the south and A Street on the west.
McGavran said she remembers walking by the apartment building that is now her home years ago when she and her husband were living at another location nearby. She said it appeared as if drug addicts were living there before the city condemned the property and boarded it up.
"In my mind, I didn't see what there was, but what could be. I wanted to save it," McGavran said.
The couple spent tens of thousands of dollars on restoration, including new heating, plumbing and electrical systems.
Despite decades of dedication by homeowners like the McGavrans, the neighborhood is still home to plenty of poverty.
Holmes Elementary School, in the heart of the subdivision, has one of the city's highest rates of children qualifying for free- and reduced-price lunches. More than 90 percent of students qualified for the federal nutrition program last school year.
But Nettleton's Addition offers amenities other neighborhoods lack. It is close to downtown and the Spokane River and is served well by public transit. There is quick access to trails and natural areas along the river.
The southern edge of the neighborhood is also undergoing real estate speculation in advance of a proposed development of a large urban village on vacant land north of the river and west of Monroe Street.
In other cities, older neighborhoods like Nettleton's Addition have been undergoing what's often called "gentrification" as upwardly mobile homeowners seek out less expensive homes with historic charm and undertake restoration.
"I don't think people recognize this is a little gem right in the heart of the city," McGavran said.
Local journalism is essential.
Give directly to The Spokesman-Review's Northwest Passages community forums series -- which helps to offset the costs of several reporter and editor positions at the newspaper -- by using the easy options below. Gifts processed in this system are not tax deductible, but are predominately used to help meet the local financial requirements needed to receive national matching-grant funds.
Subscribe now to get breaking news alerts in your email inbox
Get breaking news delivered to your inbox as it happens.
---