Sports
Heat hang in without Wade
Fri., June 3, 2005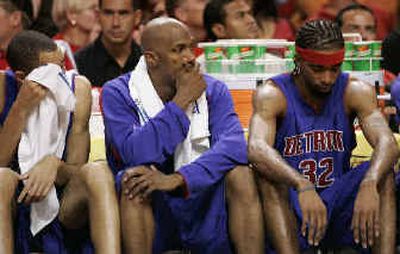 MIAMI – With their star guard watching the final 10 minutes from the locker room, the Miami Heat moved within one victory of the NBA Finals.
Whether Dwyane Wade can help them take the final step remains to be seen.
Wade sustained a rib muscle injury in the third quarter, and the pain was too much for him to take when he returned early in the final period of Miami's 88-76 victory over the defending champion Detroit Pistons on Thursday night in Game 5 of the Eastern Conference finals.
Wade was uncertain of his availability for Game 6 at Detroit on Saturday night.
"It's very, very painful," Miami coach Stan Van Gundy said. "It feels like he's being stabbed when he breathes. We'll just have to wait and see."
Wade scored 15 points and Shaquille O'Neal had 20 for the Heat, who received significant contributions from several players – from some savvy freelancing by point guard Damon Jones in the first and third quarters to two timely turnaround jumpers by Rasual Butler in the fourth quarter – to move as close as the franchise has ever been to making the championship round.
But to get there, they'll have to win one final time against a Detroit team that has shown time and again that it's able to take its game to a higher level when circumstances start to turn dire.
And they might have to do it without Wade.
"I couldn't move in either direction, I could only go straight," said Wade, who pulled the muscle while executing a crossover dribble midway through the third quarter. "Hopefully, me being young, I can recoup real quick and be ready for Game 6."
Miami's Udonis Haslem had his best game of the series with 14 points and 13 rebounds, helping make up for a sub-par offensive effort from Eddie Jones (seven points). Butler contributed 12 points off the bench, including seven in the fourth quarter, and Damon Jones scored 15.
"Their energy was a lot greater than ours," Pistons coach Larry Brown said. "In Game 4 our big guys got four or five dunks on the break. We didn't see any of that tonight. They just played a lot better."
Chauncey Billups had 21 points and Richard Hamilton added 19 for the Pistons. Rasheed Wallace was held to two.
Wade went to the locker room after taking a charge from Wallace with 5:08 left in the third period. He returned for the start of the fourth quarter, then motioned to the bench that he needed to come out less than 2 minutes into the period.
"I took the charge because I couldn't move," Wade said. "I wanted to stop play anyway."
Miami took control in the second quarter by holding Detroit to six field goals and forcing six turnovers in the period.
An 11-0 run to close the first half left Miami up 53-39. Detroit trailed by double digits the rest of the way.
In NBA history, the winner of Game 5 in a series tied 2-2 has gone on to win it 106 of 126 times.
Damon Jones and O'Neal each started 4 for 4 in the first quarter, O'Neal getting his within Miami's halfcourt sets while Jones got his through freelancing. An ill-advised 3-point attempt early in the shot clock ended Jones' 4-for-4 streak late in the period, and he toned down his act through the remainder of the first half and helped keep the Heat steadily in front.
Heat 88, Pistons 76
Detroit (76) – Prince 5-11 0-0 11, R.Wallace 1-3 0-0 2, B.Wallace 4-8 1-3 9, Billups 7-15 3-5 19, R.Hamilton 7-18 7-8 21, McDyess 2-7 0-0 4, Arroyo 2-8 0-0 4, Hunter 2-7 1-2 5, Campbell 0-0 1-2 1, Dupree 0-1 0-0 0. Totals 30-78 13-20 76.
Miami (88) E.Jones 3-8 1-2 7, Haslem 6-8 2-3 14, O'Neal 9-15 2-6 20, D.Jones 7-12 0-0 15, Wade 4-9 7-8 15, Butler 5-10 0-0 12, Mourning 2-3 1-4 5, Dooling 0-3 0-0 0, Laettner 0-1 0-0 0. Totals 36-69 13-23 88.
| | | | | | | |
| --- | --- | --- | --- | --- | --- | --- |
| Detroit | 26 | 13 | 21 | 16 | – | 76 |
| Miami | 28 | 25 | 20 | 15 | – | 88 |
3-Point Goals–Detroit 3-11 (Billups 2-5, Prince 1-3, R.Wallace 0-1, R.Hamilton 0-2), Miami 3-8 (Butler 2-4, D.Jones 1-4). Fouled Out–None. Rebounds–Detroit 49 (McDyess 9), Miami 49 (Haslem 13). Assists–Detroit 16 (R.Hamilton 5), Miami 17 (D.Jones 6). Total Fouls–Detroit 23, Miami 22. Technicals–Detroit coach Brown, R.Wallace, Miami Defensive Three Second. A–20,225. (19,600).
Local journalism is essential.
Give directly to The Spokesman-Review's Northwest Passages community forums series -- which helps to offset the costs of several reporter and editor positions at the newspaper -- by using the easy options below. Gifts processed in this system are not tax deductible, but are predominately used to help meet the local financial requirements needed to receive national matching-grant funds.
Subscribe to the sports newsletter
Get the day's top sports headlines and breaking news delivered to your inbox by subscribing here.
---