News > Nation/World
Life-saving strategies get results
Fri., June 3, 2005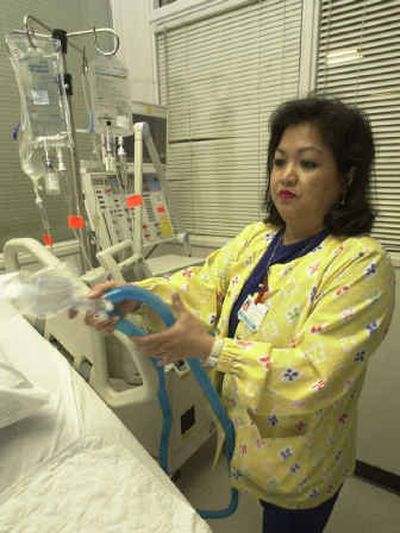 TRENTON, N.J. – For 13 straight months at Newark Beth Israel Medical Center, not one patient on a ventilator has developed pneumonia.
Not impressed? Maybe you should be. Typically there is a case of pneumonia every week among ventilator patients at busy ICUs, and up to 40 percent of these patients die.
The Newark hospital is among hundreds nationwide that are drastically curbing in-house infections. Stung by repeated reports that hospitals make preventable mistakes that kill tens of thousands of patients each year, hospitals are ratcheting up efforts to improve care.
"There are people walking around their communities that wouldn't have seen their daughter's graduation, that wouldn't have seen their next birthday" but for these efforts, said Dr. Thomas G. Rainey, chairman of the ICU care project at the Institute for Healthcare Improvement.
The Boston-based institute is six months into its "100,000 Lives Campaign," which has signed up about one-fifth of the nation's 5,500 hospitals. It aims to save that many patients each year by focusing on six problem areas, including medication errors.
In one of the most comprehensive reports on the problem, the Institute of Medicine estimated in 1999 that 44,000 to 98,000 Americans die annually because of medical mistakes.
Besides saving lives, preventing complications gets patients home faster and saves money. Patients on ventilators, which make it easier for bacteria or vomit to get into the lungs, spend nearly an extra week in the hospital if they get pneumonia, for example.
His group and officials with Johns Hopkins University have been showing hospitals in New Jersey and Michigan how to prevent pneumonia and blood infections in intensive care patients, among other things. Dr. Peter Pronovost of Johns Hopkins is negotiating similar projects in nine other states.
Already, Pronovost said, about 80 hospitals in Michigan and New Jersey have virtually eliminated ventilator-associated pneumonia and blood infections from neck and groin catheters, which take very potent drugs straight to the heart. "Morale seems to be way up at hospitals doing this," he said. "Now we're expanding it out to the OR, to the ER, to the other floors."
Pronovost and Rainey also are targeting complications such as sepsis, a common blood infection that usually strikes feeble patients, killing 42 percent on average. At 19 hospitals Pronovost has been working with on another project, the sepsis death rate is down to 13 percent.
Local journalism is essential.
Give directly to The Spokesman-Review's Northwest Passages community forums series -- which helps to offset the costs of several reporter and editor positions at the newspaper -- by using the easy options below. Gifts processed in this system are not tax deductible, but are predominately used to help meet the local financial requirements needed to receive national matching-grant funds.
Subscribe now to get breaking news alerts in your email inbox
Get breaking news delivered to your inbox as it happens.
---