News > Business
Toyota, Chrysler boost productivity
Fri., June 3, 2005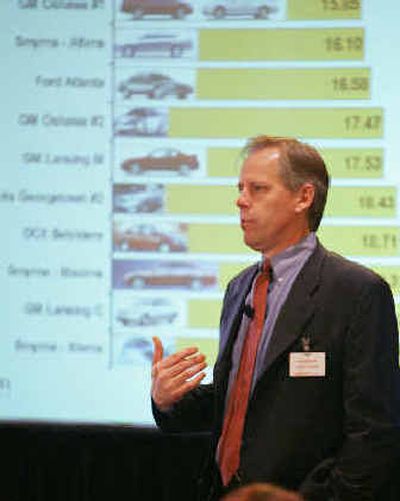 DETROIT — Japanese manufacturers continue to outperform the domestic Big Three in automotive productivity, but the gap is narrowing, according to a report released Thursday.
The Harbour Report, which is closely watched by manufacturers, said Japan's Toyota Motor Corp. spends the fewest hours per part or vehicle in its North American plants, at 27.9 hours. Ford Motor Co., based in Dearborn, Mich., spends the most, at 36.9. The nine-hour difference is down from a 16-hour difference between the two companies in 1998, the report said.
Japan's Nissan Motor Co. was second at 29.4 hours, and Honda Motor Co. was third at 32 hours. Detroit-based General Motors Corp. was fourth, at 34.3 hours, a substantial decline from the 46.5 hours the automaker spent in 1998. DaimlerChrysler AG's Chrysler Group was fifth at 35.8 hours.
"This part of the business is not the huge difference it used to be," said Ron Harbour, president of Troy-based Harbour Consulting. "Unlike past downturns in the early '80s and '90s, manufacturing is not the problem."
The report, first published in 1989, measures productivity at assembly, stamping and engine and transmission plants. It calculates how many hours it takes to produce one vehicle or part and divides that by the number of units produced.
Toyota and Chrysler Group, based in Auburn Hills, Mich., made notable gains. Toyota improved its overall productivity by 5.5 percent in 2004, the best of any automaker. Harbour said Toyota plants make hundreds of small improvements each year to increase productivity, and he praised the company for continuing to do so even though they're already on top.
"It's a tribute to their process and their mentality," he said. "They have convinced themselves that they're paupers."
Chrysler has improved its productivity by 19 percent in the last three years, the most of any automaker in that time period.
"We will continue applying best practices across all of our plants to build on the initiatives that have led to this level of improvement," Chrysler vice president of manufacturing Frank Ewasyshyn said in a statement.
GM had the most productive assembly plant. Workers at the Oshawa, Ontario, plant spent 15.85 labor hours per vehicle, overtaking perennial winner Nissan and its assembly line in Smyrna, Tenn. The Smyrna plant set a new industry standard in 2003 at 15.3 labor hours per vehicle, but that rose to 16.1 in 2004.
Harbour said that was partly because Nissan had a heavier lineup of new vehicles in the past year. But he also said GM has made great strides in productivity. GM improved productivity by 2.5 percent over 2003.
"Our manufacturing productivity is a critical piece of our ability to compete in today's fierce marketplace," GM vice president for manufacturing Guy Briggs said in a statement.
Local journalism is essential.
Give directly to The Spokesman-Review's Northwest Passages community forums series -- which helps to offset the costs of several reporter and editor positions at the newspaper -- by using the easy options below. Gifts processed in this system are not tax deductible, but are predominately used to help meet the local financial requirements needed to receive national matching-grant funds.
Subscribe now to get breaking news alerts in your email inbox
Get breaking news delivered to your inbox as it happens.
---