News > Nation/World
Africa's hunger needs urgent
Sat., June 4, 2005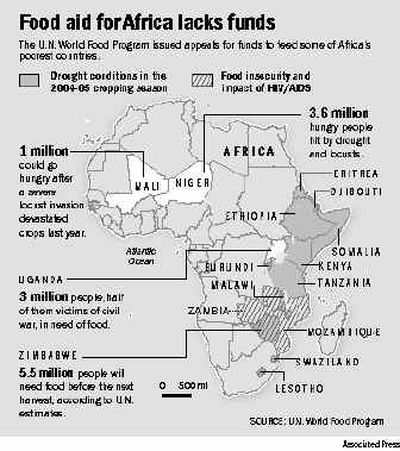 DAKAR, Senegal – From Africa's locust-devastated western dust bowls to the conflict-ridden central jungles and the AIDS-struck south, aid officials calling for urgent hunger relief say a lack of money is making it increasingly difficult to help the continent's most vulnerable.
Much of the world's poorest continent is entering its annual "lean season" – the months leading up to harvest when food stores dwindle and hunger worsens among the most impoverished.
"We're hungry, help us," read signs carried by hundreds who marched Wednesday in Niger's capital, Niamey, demanding free food. The country has been hit by drought and locusts.
The U.N. World Food Program has made urgent appeals this year for food aid to Mauritania, Mali, Niger, Uganda, Sierra Leone, Guinea and Liberia. In Zimbabwe, the United Nations now estimates more than 5.5 million people will need emergency food aid before the next harvest.
But funding shortfalls and endemic strife are hampering humanitarian efforts.
"Essentially, we are really concerned because of drought, lack of harvest, civil war, or insecurity in general; it all comes down to a deadly cocktail of need," said Caroline Hurford, a spokeswoman for the U.N.'s World Food Program, which is suffering serious funding shortfalls.
"People are slipping away in the dusty villages of Malawi or Sudan," she said from the agency's headquarters in Rome. "We need to sound the alarm now."
While the majority of sub-Saharan Africans have plenty to eat and live in democracies where famine is all but unheard of, those inhabiting conflict zones, harsh climes or hard-to-reach areas are increasingly going hungry, aid officials say.
"I used to have a good garden in my home before I was displaced," said Betty Acan, 32, a married mother of three who is staying with her family at the Lapai Nak refugee camp a few miles outside Gulu in Uganda's restive southeast. "I used to sell some of the crop produce, especially beans and chicken, from my farm and earned school fees for my children. Now I am no more."
She said the family lives on corn, beans and cooking oil provided by the World Food Program.
A refugee at a different camp near Gulu, Martin Odongo, said his family of nine also survives on WFP handouts.
"I cannot cultivate food anywhere because if we venture out, we can be killed by the rebels," said Odongo, 45.
Aid workers say the plight of Africa's hungry has been overshadowed by the devastating losses in the Asian tsunami.
And with no African famine raging, pictures of dying babies are not being broadcast on television sets around the world.
One in three sub-Saharan Africans do not get enough nourishment each day, the U.N. says.
In Uganda, the U.N. made an urgent appeal Wednesday for food worth $45 million to help more than 3 million people, half of them victims of a 19-year civil war.
In nearby eastern Congo, people fleeing strife are hiding in jungles where aid workers cannot reach them. When hunger overcomes fear, they emerge with cheekbones protruding on gaunt faces.
The U.N. says 70 percent of Congo's 60 million people are undernourished.
In the country's war-ravaged capital, Kinshasa, Baron Konke says he is one of them. Lacking steady work, he lives with his parents and 12 siblings.
"We say we only eat two times per week, because we consume during three days what represents, in calories, the intended nourishment of one day," he says.
Konke, 32, says the clan can afford to spend the equivalent of only 50 cents a day per person for food: "Each member of my family eats one piece of yam bread and a piece of frozen fish."
Food aid programs for refugees have been curtailed in Congo, Liberia, Guinea and Sierra Leone due to lack of funds, and shortfalls are looming in southern Sudan.
Worldwide, the World Food Program said last month it urgently needs $315 million to meet the needs of 2.2 million refugees sheltering in camps, 75 percent of whom are in Africa.
Twenty years after the Live Aid concerts in London and Philadelphia raised $40 million for poverty relief in Africa, organizer Bob Geldof is planning new concerts to help the continent on July 2. The free Live 8 concerts featuring music superstars are meant to pressure leaders of the world's richest countries, the G8, to cancel Africa's unpayable debts and double aid for the continent.
Geldof said this week that Africa has only become poorer since his relief effort two decades ago.
In a 1990-1992 study, 170.4 million sub-Saharan Africans were hungry. Ten years later, the figure stood at 203.5 million, U.N. figures show.
In southern Africa, where HIV/AIDS is ravaging populations, some crops are failing because farmers are sick and cannot plant their fields. Without proper nourishment, AIDS claims its victims ever quicker.
Similarly, development schemes meant to help bolster African economies and break a dependence on international aid are undercut by hunger and its corollary, disease.
Zimbabwe said Thursday it did not ask for and does not need the food aid the U.N. has promised for between 3 and 4 million Zimbabweans amid a humanitarian crisis rooted in politics. But Social Welfare Minister Nicholas Goche said Zimbabwe welcomes any that comes.
In West Africa, yellow locusts flitted through blue skies last year, delighting children but devastating crops across an area just south of the Sahara desert known as the Sahel. Crops salvaged for this year are being used up – and new harvests are still months away.
Mali is struggling to make up a cereal deficit of 350,000 tons that is putting 10 percent of the country's 11 million inhabitants at risk, officials said. So far, they have received only a fraction of what they need.
The U.N. appealed last month for $16.2 million in food aid for some 3.6 million people in Niger.
Local journalism is essential.
Give directly to The Spokesman-Review's Northwest Passages community forums series -- which helps to offset the costs of several reporter and editor positions at the newspaper -- by using the easy options below. Gifts processed in this system are not tax deductible, but are predominately used to help meet the local financial requirements needed to receive national matching-grant funds.
Subscribe now to get breaking news alerts in your email inbox
Get breaking news delivered to your inbox as it happens.
---