News > Spokane
Feds to open third probe of schools
Sat., June 4, 2005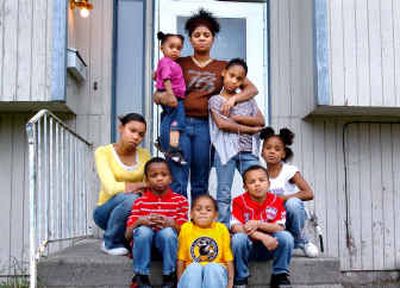 A Spokane woman who is calling for the resignation of Spokane Public Schools superintendent Brian Benzel has triggered the the third federal investigation this year into discrimination in the district.
Virla Spencer received notice this week that the U.S. Department of Education's Office for Civil Rights has agreed to look further into her complaints alleging racial discrimination.
Benzel said that he's pleased there will be an independent examination into the facts.
Spencer alleges that grade-school black children, including her own, were denied a chance to go to the bathroom while in class, but white students were allowed.
Spencer also alleges that her children were called racial slurs and harassed on a school bus and officials did nothing about it. She said she didn't even know about the bus incident until she requested district school records on her daughter, who's in the third grade at Arlington Elementary.
She made other claims, but the Office for Civil Rights said there was not enough information to pursue the other matters.
Spencer, who works for a bill collection company in Spokane, has expressed her discrimination concerns to the school board three times. Last week, she asked for the resignation of Benzel for not dealing with her complaints to her liking.
In an interview this week, Spencer said she wants the district to own up to having a racial discrimination problem and then fix the issues. She also wants the district to require diversity training for employees and then pay her an as-yet-undecided cash settlement for the pain and suffering of her children.
"I haven't yet determined how much," Spencer said.
She is the biological mother of four children, two in grade school and two in pre-school, and she also has three nieces and nephews in her care. Her complaints are focused on her 9-year-old daughter and her 7-year-old nephew.
The Office of Civil Rights is a neutral fact-finder that strives to resolve complaints. The federal agency does not act as an advocate for either party.
Spencer said that before she filed the complaint she had met with several district officials at numerous meetings who told her they wanted to work through the process. At the school board meetings, she has claimed repeatedly that no one will help her.
Spencer said this week she once crumpled up a letter and tossed it in the face of an administrator during a meeting. She also said she brushed past an office assistant and thrust open the door to Benzel's office.
"I pushed my way right in there," Spencer said.
Benzel doesn't recall it that way.
"I met with Mrs. Spencer once. I invited her into my office," Benzel said. That was 15 minutes before a school board meeting, and she was clearly upset.
"She didn't force her way into my office," Benzel said.
At the school board meeting last week, Spencer equipped her friends and children with signs listing her accusations. As she addressed the board during the public comment section of the meeting, her backers stood up in the audience to brandish their signs.
When asked if there was a discrimination problem in Spokane Public Schools Benzel said, "That's a huge question. We've got 4,000 employees. To say it never happens, I couldn't say that. I don't think The Spokesman-Review could say that. I don't think any institution can say that."
Benzel said he has worked well in diverse environments in his long education career. From 1998 to 2001 he worked as the chief operations officer for the Seattle Public Schools, and from 1988 to 1997 was superintendent in the Edmonds school district.
"When questions arise (about discrimination issues), we are at the forefront of institutions in this community. We have both a commitment to the policy and personal level to address these issues," Benzel said.
Benzel said he has a deep personal commitment regarding these issues. He also has no intention of resigning.
Numbers provided by the Department of Education showed that between Oct. 1, 2002, and April 7, 2005, 174 out of 445 state complaints made to the Office of Civil Rights were investigated.
Since January, four federal investigations have been opened in the greater Spokane area.
The first investigation began in March when Kiondra Bullock claimed that her daughter, who is black, was called racial slurs daily by a special-education student last fall at Sacajawea Middle School. The mother said school officials mishandled the incident.
In the second ongoing investigation, Kitara McClure, a Spokane mother, said that her 10-year-old son was called racial slurs by other students at Davenport Elementary School. The mother said Davenport School District officials did not adequately address the matter. She said they offered her son a chance to give cultural presentations to other classes, which she declined. In May, Tia Griffin claims that officials at Spokane Public Schools and Bemiss Elementary are treating her and her family differently from other students, and that the district mishandled racial slurs.
Local journalism is essential.
Give directly to The Spokesman-Review's Northwest Passages community forums series -- which helps to offset the costs of several reporter and editor positions at the newspaper -- by using the easy options below. Gifts processed in this system are not tax deductible, but are predominately used to help meet the local financial requirements needed to receive national matching-grant funds.
Subscribe now to get breaking news alerts in your email inbox
Get breaking news delivered to your inbox as it happens.
---