News > Voices
Pure sound
Sat., June 4, 2005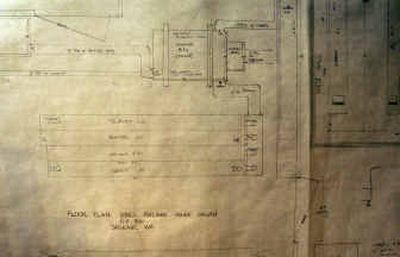 Here's a tale of two pipe organs. While the stories of these towering instruments in separate Spokane Valley homes take different twists, both involve owners who are passionate about pipes.
"Every one of these pipes speak, so it's like having a chorus in front of you of people singing," said Judy Temple, who fit an 1899 pipe organ into her Greenacres home.
"The music is acoustical. It's not sound coming from one source. It's sound that surrounds you."
Vince Roland built one piece-by-piece in his basement with a discarded console and the pipes he acquired from a retiring hobbyist in Oregon. He took a different approach, wiring his organ together with electronics and computers. This allows him to download programs to play pipe organ music.
The placement of 10 ranks of pipes and wiring took time.
"About 10 years and lots of Saturdays," Roland said. He also enjoys the pure sound that his 550 pipes of varying sizes make. "There's not a way to duplicate it."
"Each pipe is its own source of sound. The wind's being forced through each one. An electronic organ is limited to sound that is sort of blended because there are just so many speakers the sound can come out of."
Temple bought her organ in 1993. She and her husband, Bob, had a special room built for it during a remodel. The organ was shipped from Maine by moving van.
"The house was getting a little tight anyway because the kids were growing," said Temple, who gives piano and organ lessons and plays the pipe organ for Our Savior's Lutheran Church and other churches. She practices her Sunday repertoire at home.
"Vince and I have two completely different organs. Vince got his in pieces. I bought an intact organ and made room for it. The insanity might be in common."
Temple's organ, with about 460 pipes assembled in eight ranks, is all manual controlled except for an electric blower.
Roland began by acquiring an organ console from St. Paul's Catholic Cathedral in Yakima for free. "They were going to throw it away because they bought a new pipe organ and the dealer didn't want the old one."
After that, he worked on finding pipes. "This was where I've met so many people who are doing this or helped me, many in Spokane, builders in Portland, hobbyists, pipe organ supply companies. I started going to pipe organ builder conventions for the pros."
"That's another thing I liked about it. Pipe organ-making is an ancient art."
Roland designed a pipe chamber as a separate basement room, having a carpenter build a wall with a built-in screen. Behind the screen and grillwork are swell shades that open to regulate the pipes' volume. A blower is kept in another side room.
"This blower must be 80 years old. You have to have the air pressure carefully regulated or the pipes will go out of tune. (The) bellows regulate the air pressure. The first pipe organs had to have the air pumped by hand."
"Pipes – they're very temperamental. Dust can get in them and get them out of tune. They can be affected by temperature."
Some pipes rest horizontally, too tall to stand vertically. In both organs, a few pipes are bent in a way that doesn't affect the pipe's sound, a practice called mitering. The metal pipes are made with a combination of zinc, lead, nickel and tin. Wood pipes in square and rectangular shapes are also part of the mix.
"Most people want to know where the largest pipe is," said Roland. "The longest is 8-inch square by 9 feet long."
"I actually did all the assembly and placement of the wind chest, running of the wind sources and the wiring," he said. An expert who does maintenance on St. John's Cathedral's pipe organ refurbished Roland's pipes and designed a layout. Roland and his wife, Carla, are St. John's members and in the choir.
Roland's pipe arrangement takes up about a third of his basement, including the console and a computer just outside the wall. His wife, a voice music teacher, enjoys hearing the organ, Roland said, and it slightly vibrates the upstairs floor. "You can hear it upstairs but it doesn't get out of the house."
Temple got her organ through her sister, also an organ player in Maine. About 1990, St. Matthews Church in Maine was to be demolished along with the pipe organ as the church rebuilt elsewhere. Temple's sister bought the organ, but discovered she couldn't add on to her home, so Temple purchased it from her and started planning.
"We needed about 15-and-a-half feet from floor to ceiling," said Temple, to accommodate the tallest pipes.
A roof line prevented going up. "So the only way was to drop the floor. It wasn't until we reassembled it that we knew whether we had enough height. We had forgotten about the pipes on the side that were taller and it ended up we cleared those only by two inches, just barely."
"Once you've got the organ in place, it weighs 3,500 pounds. You don't move it."
The Temples flew in an expert from Maine to help them reassemble the organ. Temple also traced her organ's history with the help of an original shipping label varnished to the back with, "James Cole Church Organ Builder" and shipment to Augusta, Maine.
"It was built originally for a Masonic hall," she said. "It was built to be in a corner so one side is all open, which makes repairs a lot easier. We have to run a humidifier to make the wood happy."
Most of Temple's organ with a built-in keyboard is original. She added five pipes and a concave-shaped pedal board so she could play a fuller repertoire of organ music. The electric blower is stored in the basement, connected with a wind tube leading up to the upstairs into the organ's bellows.
"The air has to come through in a steady stream," Temple said. "We set the pressure using large rocks on top of the bellows for even pressure. It gives new meaning to 'Rock of Ages.' "
Both Roland and Temple said their common interest is not that unusual.
"Why do people restore old cars?" asked Temple, who was fascinated as a youth by her church's pipe organ and took lessons. "It's just something that resonates with you. I love the sound of it. I love teaching people about the pipe organ and to play."
Roland also referred to his enjoyment of tackling a project.
"It's no different than guys who put together model trains," said Roland, an engineer at Agilent Technologies. "It's toys and gadgets. This one has a lot of electrical components, computers."
He added two computers, one inside the console and another in the chamber that sends signals to the pipes. A third computer interfaces with these to download pipe organ music. He demonstrated by queuing up Bach's "Tocatta & Fugue in D minor."
"Sort of like a piano roll. It's the new and the old."
Roland plays his organ some but enjoys hearing professional players at its controls. His first exposure to pipe organs was through the Bay Area's Pizza & Pipes restaurants where he listened to people play organs originally from silent movie theaters.
After moving to the Spokane Valley, he met two people with home pipe organs, including a former co-worker. "There were examples of guys who crammed these organs into their basements and they were getting really good sound."
"Pipe organs can last over 100 years. There may be parts you have to refurbish. They require space and they need a good tuning about once a year."
Temple had her organ tuned last week by a Seattle professional who sees regional clients about twice a year. She has to do some of her own maintenance. "When something breaks, I don't have a repair person here. It's not like Sears."
Both she and Roland recommend that fans look up a local chapter of the American Guild of Organists that arranges public organ recitals.
"Members are organists or enthusiasts like me," said Roland. "At Christmas, we have a big party here or at the Temples. We take turns playing and we have a blast."
Local journalism is essential.
Give directly to The Spokesman-Review's Northwest Passages community forums series -- which helps to offset the costs of several reporter and editor positions at the newspaper -- by using the easy options below. Gifts processed in this system are not tax deductible, but are predominately used to help meet the local financial requirements needed to receive national matching-grant funds.
Subscribe now to get breaking news alerts in your email inbox
Get breaking news delivered to your inbox as it happens.
---