News > Spokane
'Something rotten' or 'proof of nothing'
Sat., June 4, 2005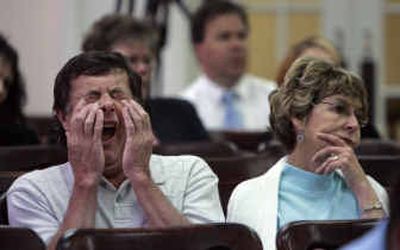 WENATCHEE – Democrats and Republicans wrapped up their two-week legal tug-of-war Friday by painting wildly different pictures of November's gubernatorial election.
Republican attorneys said the vote, which Democrat Christine Gregoire won by 129 votes, was marred by "shocking" and "disturbing" errors.
"The results are worse, I think, than anyone could have imagined," GOP attorney Harry Korrell said. "So far, it appears that there are around 3,000 illegal votes cast in this election."
Worse, he said, some of those errors show a pattern: In five precincts where extra votes seem to have been counted in King County, four were strong Gregoire precincts. When ballots seemed to be missing in half a dozen other King County precincts, five happened to favor Republican candidate Dino Rossi.
"That is disturbing, and it begins to look sinister," Korrell told Judge John Bridges. "I think we can be forgiven for thinking that something was rotten in King County with this election."
Democrats acknowledge there were some errors. But they say there were nowhere near the thousands that Republicans allege. And Democratic attorney Jenny Durkan bristled at the allegations of a "sinister" pattern.
"It is proof of nothing," she said, adding that Republicans ignored conflicting data from many other precincts. "It is the equivalent of the grassy knoll."
Durkan said it's ludicrous for Republicans to imply an election plot in King County. This was the same county, she noted, that early on wrongly ignored 700 ballots that favored Gregoire.
"If this was a big fraudulent conspiracy, somebody forgot to tell King County not to make mistakes that hurt Christine Gregoire," Durkan said.
Bridges will rule Monday morning at the Chelan County auditorium, where the unusually large trial is being held. Other than some self-effacing humor, the judge hasn't publicly telegraphed much about his personal feelings in the case. The closest he's come was to sharply question King County's top elections official about when the county intended to fix its ongoing election problems.
Republicans are staking their claim to the governor's mansion on evidence – some of it sketchy – of thousands of illegal votes in the race, the nation's closest-ever gubernatorial election.
With so many errors and such a slim margin, Korrell said, the judge "must conclude" that the mistakes affected the outcome. The Republicans want the judge to nullify Gregoire's victory and either declare Rossi the victor or lay the groundwork for a new election.
The Republicans and their allies say they found evidence of 2,820 illegal votes:
" 789 cases of voting by felons, dead people or double votes.
" 785 provisional ballots improperly fed into vote-counting machines without being checked first to see if the voter was legitimate.
" 216 ballots from polling places in which the number of ballots exceeds the number of people who signed in as voters.
" 155 other errors.
" 875 more absentee ballots in King County than the number of people whom clerks credited with voting.
In addition, 171 ballots were found after the election but never counted. Most were in King and Pierce counties, although eight were in Spokane.
Republicans and their statisticians say that if all the alleged illegal votes are subtracted – and if the voters voted like their neighbors did – then Rossi would gain 382 votes. He'd win the election.
"We recognize the magnitude of what we are asking you to do," Korrell told the judge. But he said that voter confidence demands that Gregoire be tossed out of office.
"There has been a complete loss of trust in the election system," Korrell said. "Things are not going to change by giving King County a stern talking-to."
Democrats say that Republicans are basing their whole case on assumptions, cherry-picked data and a "wildly inflated" number of errors.
Of all the alleged illegal votes, Republicans haven't shown that a single one was actually cast for Gregoire, Durkan said. Without that evidence, she said, the GOP's lawsuit "is more sound bite than legal theory."
Republicans didn't put those illegal voters on the stand and ask them how they voted, she said. They didn't even try to predict voting patterns based on the felons' age, sex or other data. Simply showing election errors isn't enough to void an election, she said.
"Unless those errors change the result, the mess is not for this court to fix," she said.
She also blasted Republicans for "a disturbing pattern of using phony math" and insinuating widespread fraud without solid evidence. Election officials repeatedly said on the stand that it's misleading to assume illegal votes simply because the number of ballots doesn't match the number of voters that clerks later credit with voting.
"In the end, all of these attacks are sound and fury signifying nothing," Durkan said. In their months-long attacks on the election system, she said, Republicans are hurting public trust in a system that's highly accurate.
"Your honor, there's a saying that any fool can burn down a barn," she told the judge. "This case will only help public trust and confidence if at the end of this case the barn is still standing."
Local journalism is essential.
Give directly to The Spokesman-Review's Northwest Passages community forums series -- which helps to offset the costs of several reporter and editor positions at the newspaper -- by using the easy options below. Gifts processed in this system are not tax deductible, but are predominately used to help meet the local financial requirements needed to receive national matching-grant funds.
Subscribe now to get breaking news alerts in your email inbox
Get breaking news delivered to your inbox as it happens.
---