News > Spokane
Leaving a new EWU
Sun., June 5, 2005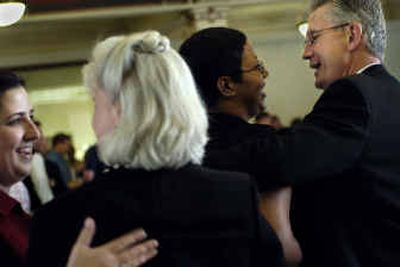 When Stephen Jordan pulls out of Cheney this month, he'll leave behind a very different Eastern Washington University than he found when he pulled in.
Record enrollments have replaced a steady decline. The number of students who live on campus has more than doubled. A withering commuter school with "an institutional inferiority complex," as one retired professor put it, has been replaced with a growing residential university.
"It's a totally different place," said Bill Stimson, a longtime journalism professor at Eastern.
Many on campus give a lot of credit to Jordan, who is leaving after Saturday's graduation to take over as president of Metropolitan State College in Denver. A search committee has been formed to help find a replacement, but a new president isn't likely to be in office until the new year at the earliest.
When professors and administrators talk about the qualities they want in a new president, they sometimes sound as if they're describing Jordan: a good communicator who is clear and forceful, an entrepreneurial mind who tries to mold the university into the community at large, and a personable leader who is a visible presence on campus.
"He was the epitome of a strong leader," said Paul Schmidt, Cheney's city administrator and a master's graduate from EWU. "And it was just what the university needed at the time."
Time and time again, Jordan's admirers relate stories that make up a kind of lore – examples of his skill, approachability and regular-guyness. There's the story about Jordan's first day on the job, when he spontaneously took a driving tour of campus in a pickup with a university courier. The time he interrupted a barbecue at the president's house to help a student whose pipes had burst. The trip he took with the men's basketball team to the NIT in 2003, when the team's bus got stuck in a Denver snowstorm.
"It was stuck in 4 or 5 feet of snow," said athletic director Scott Barnes. "He was one of the guys behind the bus, pushing and digging."
The lore tends to omit the bumpier parts of Jordan's ride, including the controversy over his cancellation of a speech by Ward Churchill, a University of Colorado professor who compared World Trade Center victims of the 9/11 attack to "little Eichmanns," suggesting they were indirectly responsible for American abuses of power abroad.
Critics said Jordan buckled to political pressure and failed to stand up for free speech, a central value for higher education. But even that criticism was sometimes muted – "We're not criticizing his decision, but we are concerned about the consequences of his decision," United Faculty President Tony Flinn said at the time.
Some faculty members also say the increase in students has not been matched by enough faculty members, and say Eastern – like universities all over the country – is turning more and more to part-time instructors and crowded classrooms.
Brian Levin-Stankevich, who will serve as interim president, said that while the university's student-teacher ratio has gone up in recent years, recent legislative funding will help the school hire more faculty.
Jordan's supporters say his general popularity and effectiveness helped him get through rough patches and disagreements with less controversy than another president might have had. People describe him as action-oriented and forthright – if sometimes brusque and forceful.
"Being gun-shy was not something Steve ever suffered from," said Jeff Gombosky, a former state legislator who now works as a lobbyist for EWU.
Gombosky graduated from Eastern in 1994, and he remembers a campus attitude of apathy and disinterest.
"The difference between the campus today and the campus my last year in college is night and day," he said. "There's much more attachment that the students have to the university than 10 years ago, and you have to give credit for that to Stephen Jordan."
Moving in
Arriving on campus in 1998, Jordan and his wife, Ruth, decided that if they wanted students to live on campus, they ought to live there, too. They moved into University House and canceled plans for a larger, grander president's home.
"That was very symbolic to the university and to the community," Schmidt said. "The previous 10 years, the university president was living in Spokane on the South Hill."
The school faced a budget deficit. Enrollment had just gone down for the fifth straight year. Only about 900 students lived on campus, and two dorms had been shut down. Programs had been shifted to Spokane, and the Cheney campus wasn't always friendly to full-time, resident students – the rec center had almost no hours on the weekend, for example, Jordan said.
"No question about it, we were a commuter campus," he said.
A less concrete problem was one of image and morale. Former English professor Don Wall said the university had great teachers and students, but you might not have known it by the school's reputation.
"People were always kind of apologetic for the place," he said.
When Jordan arrived, he was given the mission of turning Eastern into a residential campus and arresting the school's slide.
And he immediately did something that many people say was a crucial catalyst for change: He started talking publicly, and often, in an "unabashedly laudatory" way about the school, Wall said.
At an annual faculty breakfast right after his arrival, he declared that Eastern's "crisis has ended." He went out into the community and talked up the school's quality. EWU began to aggressively market itself in high schools and communities around the state. The school discounted the cost of dorm rooms, in an effort to get more students living on campus.
Jordan offered buyouts to more than 40 longtime faculty members, and hired about 70 new instructors, which he said infused the school with new ideas.
He was also aggressive about forming relationships with the communities around the university and attempting to match university resources with community needs.
One example of that is the Washington State Patrol crime lab recently completed on the Cheney campus. The lab will provide resources for Eastern professors and students who study forensic science, as well as high-tech research to solve crimes from around the state.
That kind of collaboration is part of what Jordan calls the "mosaic" – a big-picture view that considers the way universities fit into the larger community.
"It's not just to see things as what happens here (on campus), but to take your capabilities and say … how can we take our capabilities and respond to this need in the community?" he said.
Half full
Things began changing rapidly after Jordan's arrival. The first freshman class of his administration – built by efforts that preceded him – was the largest in school history.
Then, "Steve had the kind of personality to be able to really gel the campus behind that," said Levin-Stankevich, who served as provost under Jordan. "He's certainly a glass-half-full kind of guy – very optimistic, very confident that we could get done anything we set our minds to, and that spread to faculty and staff."
In 1997, Eastern's enrollment had reached a low point, with about 7,500 students, either full or part time. Jordan quickly set a goal of 9,100 students by 2010.
The university surpassed that figure by 2003, and Jordan reset the goal at 12,000. Since 1997, construction spending on campus has increased more than 70 percent, and includes a new science building, expansion of the library and renovations of dorms, according to university officials.
For his part, Jordan was a visible presence on campus, at university events and representing the university in the community. Stimson, the journalism professor, said that often when he tells people he works at Eastern, they say, " 'Oh, Eastern. I like that new president of yours.' You hear that all the time."
Jordan's tenure hasn't been free of problems. Union negotiations have sometimes been rocky. The school had a $2.5 million shortfall in the 2003-05 budget and lost more than 70 positions.
And the school drew a lot of attention over the February cancellation of the Churchill speech – coupled with the fact that the university welcomed porn star Ron Jeremy shortly beforehand.
Neither Flinn nor Faculty Organization President Patty Chantrill – who signed a statement asking Jordan to reverse his decision – could be reached last week for comment.
Jordan said he considers his handling of the Churchill affair a mistake, in that he should have had a broader, more open discussion about the issues before making his decision. But he still thinks canceling the speech was the right thing to do, given that Churchill had been the subject of death threats. Churchill eventually spoke at the university anyway, brought in by a student group.
"We made our decision based on safety considerations for our students and faculty," said Jordan.
Few and far between
Jordan's return to Denver is a homecoming of sorts – he earned graduate degrees from the University of Colorado and has family in the area.
The process of replacing Jordan – who earns $176,000 a year – will take several months, Levin-Stankevich said. The board of trustees will make the decision, helped by a 17-member search committee, a yet-undetermined search firm, and a detailed interview process.
A hiring decision isn't likely until late this year or early next, and it's possible that the successful candidate wouldn't be able to start until summer 2006, he said.
Jordan said his replacement needs to consider the mosaic – the university in relation to the community – and look for ways to continue improving academic programs.
Others offer a range of wished-for characteristics: the ability to build good relationships with policy-makers, communicate well and collaborate with faculty and staff, focus on hiring more full-time faculty, and be creative in managing to get state funding and raise money.
Stimson was asked what qualities he thought the new president needed.
"The qualities I just told you Jordan had," he said. "Those are the ones."
"The people who have all these qualities – to be able to raise money, to be able to understand what's a real contribution to scholarship, to be able to deal with an upset 19-year-old and deal with the Legislature – those people are few and far between."
Local journalism is essential.
Give directly to The Spokesman-Review's Northwest Passages community forums series -- which helps to offset the costs of several reporter and editor positions at the newspaper -- by using the easy options below. Gifts processed in this system are not tax deductible, but are predominately used to help meet the local financial requirements needed to receive national matching-grant funds.
Subscribe now to get breaking news alerts in your email inbox
Get breaking news delivered to your inbox as it happens.
---