News > Spokane
Anti-tax activist still trying
Thu., June 9, 2005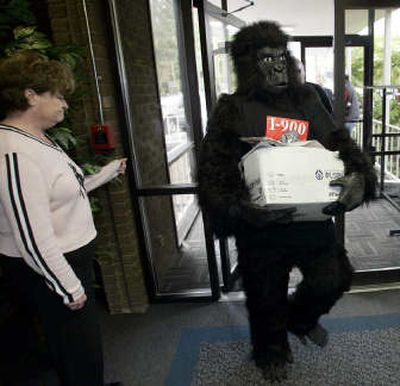 OLYMPIA – Dressed in an ape suit, initiative pitchman Tim Eyman on Wednesday turned in thousands of signatures supporting his "900-pound gorilla" idea: performance audits of state and local government agencies.
Initiative 900 is the latest offering from the Mukilteo watch salesman, who rose to fame in the late 1990s and early 2000s as the architect of one anti-tax proposal after another.
"I think voters appreciate the fact that we're out there swinging the bat, trying to hit the ball," Eyman said.
Perhaps, but Eyman's recent batting average makes even the Mariners look good. Of the four statewide measures he's tried to pass since 2002, three didn't get enough signatures to get on the ballot. The one that did – last year's proposal to allow slot-style machines in bars, bowling alleys and restaurants – was torpedoed by voters.
This year, Eyman's found a financial savior: a Woodinville investor named Michael Dunmire. According to campaign finance records filed with the state Public Disclosure Commission, Eyman has raised about $415,000 for the initiative. Of that, Dunmire and his wife have contributed more than $314,000.
"I'm excited about it," Dunmire said of the measure. "Other states like Texas and California have initiated performance audits and over a period of five or 10 years have saved multi-billions of dollars. For an organization like Washington state, which hasn't had a performance audit in 40 years, I'm sure there are inefficiencies that have crept in."
The state auditor's office routinely checks the books of state agencies and local governments. But performance audits measure agencies' effectiveness and results.
"State and local governments spend over $40 billion every year, and there's no way for taxpayers to know whether we're getting the biggest bang for our multi-billion-dollar bucks," Eyman said. "That's dumb."
Without Dunmire's money, Eyman would be politically crippled, his critics say.
"Without Dunmire, Eyman's nothing," said Andrew Villeneuve, chairman of Permanent Defense, a group that has opposed many of Eyman's measures. "Dunmire is what stands between Eyman and obscurity."
Still a political player
Eyman stunned many of his grass-roots backers in 2002 when he admitted that he secretly paid himself more than $200,000 in donations – which was legal – while publicly denying it, which was not. After a tearful confession and a months-long state investigation, Eyman ended the scandal by paying the state a $50,000 settlement and agreeing to a lifelong ban on doing his own political bookkeeping.
But three years later – and despite repeated political obituaries in newspapers – Eyman remains in the game. And it irks his critics that he continues to draw attention and money. After Eyman spoke Wednesday, a TV reporter borrowed his gorilla mask and did a live standup outside, wearing the mask.
"It's ridiculous that things like this get him on the news," Villeneuve said of Eyman's ape-suit stunt. "It was idiotic."
In the wake of the scandal, several recent failed initiative attempts and last year's pro-gambling measure, Eyman's lost much of his populist appeal, Villeneuve said. The number of donations continues to fall, he said.
"He's been losing steam for years," Villeneuve said. "The only thing that keeps him alive is that wealthy backers keep propping him up."
Eyman himself called the gorilla costume idiotic and a "cheap stunt." But he said he'll do anything to draw attention to his initiatives.
"We're really hopeful that our supporters will take this idiocy as an inspiration to go out there and ask people to sign this petition," he said.
He and supporters, including Spokane father and son Jack and Mike Fagan, said they turned in 226,411 signatures Wednesday. The state requires about 225,000 to get a measure on the November ballot, but initiative veterans assume that about 20 percent of the signatures will be invalid. So Eyman and the Fagans called on supporters to send them any remaining petitions. Eyman estimated that there are more than 40,000 petitions out there.
This year, state lawmakers beat Eyman to the punch, approving a bill to allow performance audits of state agencies, subject to oversight by a citizens' committee. Eyman says his version allows the state auditor to be completely independent, permits audits of local government, and steers millions more dollars a year into the effort.
"I think (the lawmakers' version) is a chimp, compared to our gorilla," Eyman said.
Villeneuve said it's absurd to have state investigators out there trying to measure how well little cemetery districts are doing their jobs.
"This is a waste of the state's money," he said. "Why do we need this?"
State Auditor Brian Sonntag said that as a state official, he's not allowed to promote any initiative. But he's long pushed for performance audits, he said. He called the Legislature's version "a good first step."
"They wanted this citizens' board to exist as a check against a rogue auditor," he said. "In a perfect world, it wouldn't be there. In a practical sense, I don't believe it would be a hindrance."
Local journalism is essential.
Give directly to The Spokesman-Review's Northwest Passages community forums series -- which helps to offset the costs of several reporter and editor positions at the newspaper -- by using the easy options below. Gifts processed in this system are not tax deductible, but are predominately used to help meet the local financial requirements needed to receive national matching-grant funds.
Subscribe now to get breaking news alerts in your email inbox
Get breaking news delivered to your inbox as it happens.
---