News > Home
Be a hassle-free, stunning host
Thu., June 9, 2005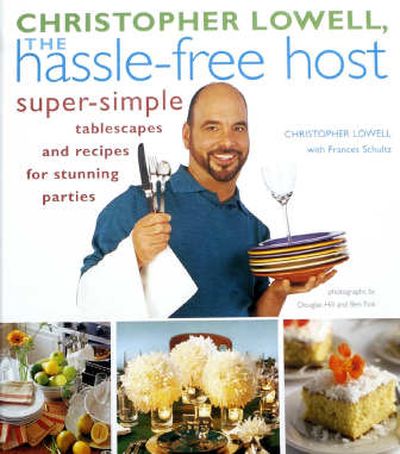 When it comes to exuberance, not many can beat Christopher Lowell. Lowell, who brings the same high-energy antics to television audiences that Richard Simmons dished out, charms his audiences with comedy – those goofy sketches of Lowell in drag – as well as useful, and affordable tips for decorating.
Now he's giving advice for those who are intimidated by the thought of hosting a party.
His new book, "Christopher Lowell, The Hassle-Free host: Super-Simple Tablescapes and Recipes for Stunning Parties," outlines easy, stress-free themes and "tablescapes" (he claims to have coined the word) for entertaining.
He uses ordinary items to decorate and style themed parties, and advocates taking shortcuts whenever possible.
"Our humorous but practical 'cheat where you can,' and 'let's not and say we did' attitude makes this book not only a great resource but also a great read," Lowell writes.
From a serene Zen dinner party to a picnic served in galvanized tin containers, to a fireside dinner for two served on the ottoman, Lowell mugs for the camera in photos, tosses off common sense advice, and includes coy editorial corrections: (Oops, we put the napkin on the right. What were we thinking?)
There is even a food section with tips and recipes for making pizza, fondue, and main dishes like shrimp and artichoke casserole.
All in all, it's a fun read packed with useful information and tips worth trying.
Local journalism is essential.
Give directly to The Spokesman-Review's Northwest Passages community forums series -- which helps to offset the costs of several reporter and editor positions at the newspaper -- by using the easy options below. Gifts processed in this system are not tax deductible, but are predominately used to help meet the local financial requirements needed to receive national matching-grant funds.
Subscribe now to get breaking news alerts in your email inbox
Get breaking news delivered to your inbox as it happens.
---