News > Business
Despite cost, Americans are using more gasoline
Thu., June 9, 2005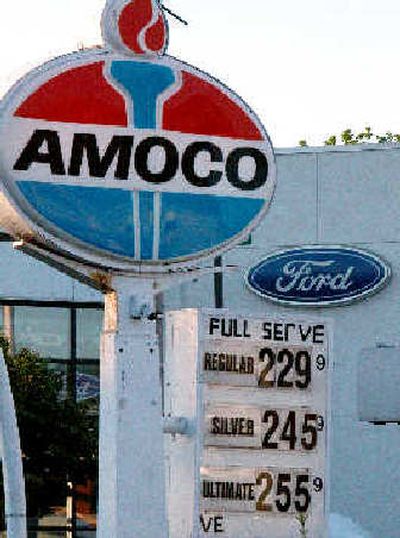 WASHINGTON — U.S. drivers are using more gasoline despite near-record prices, a trend that could lead to even higher prices at the pump in coming weeks.
The four-week average for U.S. gasoline demand was up 2.9 percent from a year ago last week, which included Memorial Day, the unofficial start to the summer driving season, the Energy Department said Wednesday. That's the strongest year-over-year increase in four months and the sixth-consecutive weekly gain. Gasoline supplies could grow tight and prices rise if the trend continues, Alaron Trading oil analyst Phil Flynn says.
"Right now, supplies are adequate, but we are seeing warning signs that things could be changing," he says. Flynn notes that in addition to stronger gasoline demand in the United States, China continues to have a strong appetite for oil, and some U.S. refiners are switching some of their gasoline production to heating oil to cash in on an unexpected rise in prices in that market.
"We're still in a very volatile situation," Flynn says.
The increase in gasoline demand from a year ago comes somewhat as a surprise, given that prices are higher. When gasoline prices rose in October, for example, demand declined for four-consecutive weeks from the same period a year ago.
American Petroleum Institute chief economist John Felmy says the current trend of increasing demand likely can be attributed to better weather, which encourages more car trips, and a strengthening economy, which leads consumers and businesses to drive more.
Motorist club AAA said the average U.S. price for a gallon of regular unleaded gasoline was $2.118 Wednesday, up from $2.114 Tuesday and up 9 cents from a year ago. Although off from the record high, not adjusted for inflation, of $2.276 hit nearly two months ago, gasoline prices have risen every day for nearly a week, according to AAA. The increases have come as oil costs, which account for half the price of gasoline, rose in recent weeks in a roller-coaster market.
The price of light sweet crude fell $1.22 to $52.54 a barrel Wednesday after rising swiftly earlier in the trading day. It was the third-consecutive daily decline but still left prices slightly higher than a month ago and only about $5 off the record high hit in April.
Local journalism is essential.
Give directly to The Spokesman-Review's Northwest Passages community forums series -- which helps to offset the costs of several reporter and editor positions at the newspaper -- by using the easy options below. Gifts processed in this system are not tax deductible, but are predominately used to help meet the local financial requirements needed to receive national matching-grant funds.
Subscribe now to get breaking news alerts in your email inbox
Get breaking news delivered to your inbox as it happens.
---