News > Voices
Determined to succeed
Thu., June 9, 2005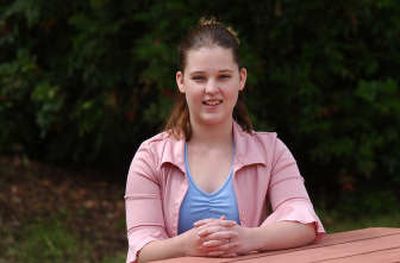 Charlene Van Belle is immune to ordinary high school angst and anxiety.
"I would tell the students just starting out in high school not to get too worried about it all," the graduating West Valley High School senior said. "It's just high school. Enjoy the experience and have fun."
Van Belle has a unique perspective on what is and isn't worth worrying about.
Doctors discovered an astrocytoma tumor in her brain when she was 15 months old, and she's been undergoing therapy for it as long as she can remember.
Surgeons have operated on the tumor, but because of where it is, they cannot remove it.
"I've had three surgeries," she explained. "I've had radiation and 14 months of chemo just since I've been in high school.
"I missed one day a week (during chemo), but I kept up a 3.0 (grade-point average). I just did my best to keep up with my school work and my teachers were very understanding."
Understanding is putting it mildly. Inspired by her determination would be more accurate.
Terra Davidson, Van Belle's geometry teacher, is both moved and inspired by her pupil.
"Over the past two years, I have had the joy of teaching and getting to know Charlene Van Belle and I truly believe she has taught me just as much, if not more, than I have her," Davidson wrote to The Spokesman-Review. "She is probably the hardest working student I have ever encountered in five years of teaching. She is patient with her learning and always sticks with it until she completely understands. I only wish I had half her perseverance."
"She's just this unbelievable kid," senior counselor Tami Henry said. "Her work ethic, even with all the obstacles that have been put before her, has been incredible. She wants to do everything. She wants to be involved in school activities. Every one of her teachers would respond the same way (Terra Davidson) did."
To put it simply, the tumor slows down Van Belle's ability to process information.
"It takes Charlene a little longer to get things done," Davidson explained. "The tumor does slow her down. Her speech is a little slower than average, and it takes her a little longer to grasp a concept, but once she does, she has it cold."
There was concern about Van Belle tackling a subject like geometry, which covers a number of abstract concepts – concepts her doctors thought might be a problem.
"They tried to discourage her from taking the class," Davidson said. "Her doctor went over the book that we use and thought it might be too much."
Van Belle just laughed.
"It is difficult for me to grasp abstract concepts, but the book we use is very good," she said. "And my teacher is very helpful. We work in small groups and talk through the problems, and that helps me a lot."
"And Charlene is not shy about saying 'Wait a minute – can you go over that one more time? I don't quite understand,' " Davidson said.
Telling Van Belle that something is beyond her capabilities only serves to make her that much more determined to succeed.
"That's very true," she said, a smile of accomplishment spreading across her face. "That would be true of my whole high school career."
Henry has had a chance to observe Van Belle's determination more than most.
"My daughter is a volleyball coach here and Charlene played freshman volleyball," she said. "After that, because of her tumor and her (chemotherapy) treatment, which started her sophomore year, she became the manager and managed the past three years."
Van Belle also managed the school's tennis team, and decided this year that she wanted to follow in her sister's footsteps.
Michelle Van Belle was West Valley's Lilac Princess three years ago. When it came time for the school to begin its selection process, Charlene wanted in – despite efforts to dissuade her or cushion the potential disappointment – and she became the school's Lilac Ambassador.
Van Belle insists on being open with students and teachers. She makes a point of explaining her condition and its complications to each new class and each new set of classmates.
Seizures are an everyday occurrence, and Van Belle does not want her peers to be upset when they happen.
"I can feel them coming on and they really aren't a big deal," she said. "But I understand how someone else could be freaked out by it a little bit. I want them to know that it's OK."
Van Belle graduates with a cumulative g.p.a. of 3.4, and is set to enroll at Spokane Falls Community College in the fall to study business.
In the meantime, there are further procedures scheduled to treat the tumor.
"Right now, it's under control," Van Belle explained. "It shrunk during chemotherapy, but they want to do another surgery. They took an EEG (electroencephalogram), and they think they can locate the focal point of the tumor, the spot where it's growing from, and they want to see if they can remove that focal point.
"It's a scary procedure because I will have to be awake while they're doing it."
Local journalism is essential.
Give directly to The Spokesman-Review's Northwest Passages community forums series -- which helps to offset the costs of several reporter and editor positions at the newspaper -- by using the easy options below. Gifts processed in this system are not tax deductible, but are predominately used to help meet the local financial requirements needed to receive national matching-grant funds.
Subscribe now to get breaking news alerts in your email inbox
Get breaking news delivered to your inbox as it happens.
---