News > Home
From the mailbag: erasing a dog's damage
Thu., June 9, 2005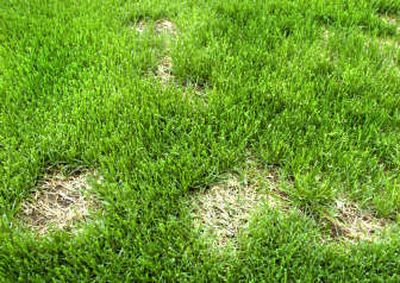 Many readers contacted us last week asking what to do about the brown spots on their lawns, caused by dogs relieving themselves.
Brown-spot damage results when dogs, particularly females, dump a large amount of urine in one spot. Urine is high in nitrogen and it is concentrated enough to burn the grass as though you had put too much fertilizer on the lawn.
There are a couple of things you can do:
•Set a sprinkler in the area the dog uses, so that the urine is diluted quickly after it has been deposited. For this to work, you'll have to do so every day while the grass is actively growing.
If a large area has been killed by urine, it may be necessary to re-sod the area and then start the watering routine.
•Another option is to train the dog to do his/her business in one area that is designed for it, sort of like a doggy toilet. A space covered with pea gravel or some other material would work well, and it could be hidden by a couple of bushes in a corner of the yard.
Here is a Web site with a very good piece on how to work with your dog to get it to go in one place.
http://www.american-lawns.com/problems/dogs.html
Pat Munts
Local journalism is essential.
Give directly to The Spokesman-Review's Northwest Passages community forums series -- which helps to offset the costs of several reporter and editor positions at the newspaper -- by using the easy options below. Gifts processed in this system are not tax deductible, but are predominately used to help meet the local financial requirements needed to receive national matching-grant funds.
Subscribe now to get breaking news alerts in your email inbox
Get breaking news delivered to your inbox as it happens.
---