News > Voices
He found his purpose
Thu., June 9, 2005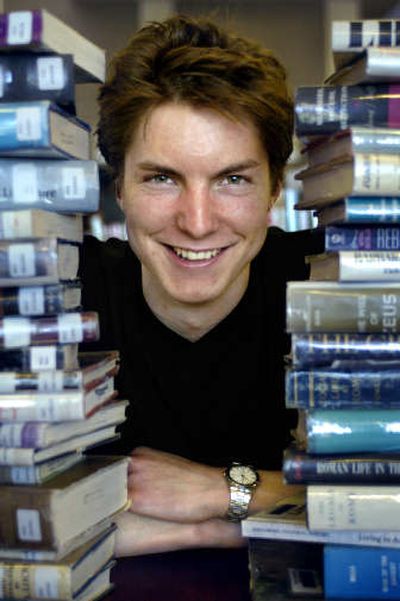 It took John Handwerk a while to find his motivation.
Why he needed to study the prescribed curriculum was never immediately apparent. It wasn't that the course work was too difficult. It's just that no one could ever explain why it was important.
"I had a grade-point average of about 0.9 my junior year and a 1.81 my sophomore year," Handwerk said. "I just wasn't motivated. For example, I would do the homework for a class and feel that I had accomplished all I needed to accomplish and then not turn in the assignment. Or I would take a test and not really care enough to fill in the answers.
"This year I just decided to turn it around and I've done a lot better."
The well-spoken, fifth-year senior at University High School posted a 3.7 his first trimester this year, following that up with a 3.8 second trimester.
It took a while, an extra year of high school, for Handwerk to begin to find answers.
"Through a lot of my high school career I never saw a purpose to the whole school thing," he said. "I didn't really know why I needed the schooling. I never saw a career where I needed all of that schooling. I guess I wasn't aware of what careers needed a lot of school. You could say that I never saw the goal at the end of the tunnel."
It took a while for Handwerk to find something that truly challenged him. Not having a goal, he said, made it even more difficult.
"I was generally bored in class," he said. "I like to learn about difficult concepts – the higher-minded stuff. I guess I don't find other things all that interesting.
"I guess what I always wanted to learn was something profound – something sacred or untouchable. Something that really takes some thinking, some challenge and some independent thought to really figure out.
"Deep thinking is something that I enjoy and I didn't get a whole lot of that."
A chunk of Handwerk's turnaround came when he discovered Will Durant's book, "The Story of Philosophy: The Lives and Opinions of the World's Greatest Philosophers."
"I read that book and was really excited about it," he said. "Especially after reading what he had to say about Plato."
That led him to a copy of "The Republic," which he pored over during his summer vacation.
"I was just amazed by the things that Plato had to say and by how relevant so much of it is to today," Handwerk said. "That got me thinking and it got me interested."
With his newly discovered interest in philosophy, the reasons for school began to become more apparent, he said. The varied classes began to look like a chain, with each link attached to another.
"I started to see how all these different subjects, all these different courses were tied together," he said. "I could see how mathematics were tied together with science and all these other subjects, and how understanding one thing helped you understand another. It was all pretty exciting."
Getting to this educational epiphany was no easy journey. After four years of high school, he found himself far short of the required credits needed to graduate. There was much soul searching, much self-evaluation that went into navigating this road. It wasn't the only time he considered turning his back on school.
"I came pretty close a couple of times," he said. "My parents really wanted me to stay in school.
"Looking back, I'm really glad that I came back for the extra year and can graduate. And it's been a lot of fun to work hard and achieve a higher g.p.a. I guess I needed to prove to myself that I could do it."
Handwerk now has his sights set on a full-blown academic pursuit.
"I want to go on and study law," he said. "I want to be a lawyer. I like the whole concept of the law and what it means."
He's got his application in at the University of Idaho, but hopes to find a school in-state.
"I would love to go to an in-state school," he said. "That's important to me.
"At the same time, I understand that my record isn't all that stellar, but I hope this last year will kind of make up for that a little bit. I hope I've redeemed myself a little bit and that they'll take a chance on me."
Local journalism is essential.
Give directly to The Spokesman-Review's Northwest Passages community forums series -- which helps to offset the costs of several reporter and editor positions at the newspaper -- by using the easy options below. Gifts processed in this system are not tax deductible, but are predominately used to help meet the local financial requirements needed to receive national matching-grant funds.
Subscribe now to get breaking news alerts in your email inbox
Get breaking news delivered to your inbox as it happens.
---