Sports
Now or never for Tyson
Thu., June 9, 2005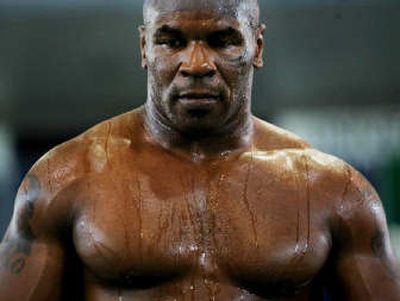 WASHINGTON – Kevin McBride barely had a chance to utter what seems to be the only phrase he knows when Mike Tyson told him how it was going to be.
This wasn't the new charming Mike Tyson. In fact, it sounded suspiciously like the Iron Mike of old.
"I'm going to gut you like a fish," Tyson told McBride.
Those were fighting words, and Tyson will have a chance to back them up when he launches the latest comeback of his turbulent career Saturday night at the MCI Center against the unheralded Irish heavyweight.
Tyson hasn't shown in recent years he can fight like he used to. But for a few moments at Wednesday's final pre-fight press conference he sure sounded like he did in the days he was terrorizing the heavyweight division.
Of course, it's easy to sound tough when the opponent is McBride, the so-called Clones Colossus who seemed afraid to even be at the press conference, much less in the ring against Tyson.
"I'm a contender, not a pretender," McBride kept repeating, as if to convince himself that he does have a chance against Tyson in the scheduled 10-round fight.
A lot of fighters have a chance with the 38-year-old Tyson these days, as Danny Williams found out when he stopped Tyson in their fight last July in Louisville. McBride, who has been going to a hypnotist to get himself ready for the fight, doesn't appear to be one of them, however.
McBride got the fight because he was willing to work cheap – $150,000 to the $5 million Tyson will make – and because Tyson's handlers figure he'll be easy to hit and go down a lot easier than Williams did in his aborted comeback fight.
At the press conference at Howard University, McBride was nearly ignored until the end by a town enjoying its lovefest with Tyson.
Even the member of the Washington, D.C., boxing commission sitting on the dais, Arnold McKnight, had to tell Tyson that he loved him.
"I love you too, brother," Tyson replied.
McBride might have something to worry about since the same commission appoints the referee and judges for the fight, but few think the judges will have much to do with the outcome anyway. McBride may be big, but he's slow and easy to hit, and has never beaten a heavyweight of any consequence.
About the only good thing anybody can say about McBride is that he's 6-foot-5, 275 pounds and holds the Irish heavyweight championship.
"A tomato can," is how Tyson described him.
While McBride may not be much, Tyson hasn't exactly looked like the baddest man on the planet lately, either.
He's been stopped in two of his last three fights, and once again has to be packaged as a reborn fighter who has rededicated himself to his craft to make people believe. He's got a new trainer in Jeff Fenech, said he has stopped smoking marijuana and wants to be the heavyweight champion once again.
"I'll go back and take what the people owe me," Tyson said.
Tyson was at his amiable best for most of the press conference, posing for pictures, making jokes, hugging the promoter and clapping for all speakers. He even applauded his ex-wife, Monica, who is serving as a business manager of sort and will get $750,000 herself from the fight as part of Tyson's bankruptcy reorganization plan.
Tyson is making a $5 million purse, but he owes nearly $40 million to various creditors and will likely see only about $250,000 or so after he gets done making payments under a court ordered bankruptcy reorganization plan.
Tyson is in desperate need of a win, both to resolve his financial problems and to keep his career going. His purses are already shrinking from what they used to be, and a loss to another unheralded fighter would likely spell the end of his career.
Although Tyson has been in tough times lately both in and out of the ring, he still remains as probably the biggest draw in boxing. Washington promoter Marty Wynn said some 13,000 of the 17,300 tickets for the fight have been sold and said he expected to near a sellout by fight time.
Wynn said he had options for Tyson's next two fights, with one scheduled for November assuming Tyson wins.
"People call this a circus and some reporters call it a fiasco," Tyson said. "But you have to understand that these people aren't here because I'm a circus. They're here because I'm an icon, an international star."
McBride apparently thought so as well, saying that it had always been his dream to fight Tyson and his dream was coming true. That dream actually could have come true last year when McBride was offered the fight at similar money, but his manager turned it down because it wasn't enough.
"When the Tyson fight came up this time I grabbed it with all my hands," McBride said.
Local journalism is essential.
Give directly to The Spokesman-Review's Northwest Passages community forums series -- which helps to offset the costs of several reporter and editor positions at the newspaper -- by using the easy options below. Gifts processed in this system are not tax deductible, but are predominately used to help meet the local financial requirements needed to receive national matching-grant funds.
Subscribe to the sports newsletter
Get the day's top sports headlines and breaking news delivered to your inbox by subscribing here.
---