Sports
They looked behind mask
Thu., June 9, 2005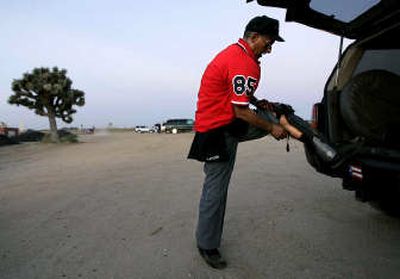 LANCASTER, Calif. – Sunday morning in baseball's high desert, so quiet you can hear a life drain.
One player smoking behind a tree. Another player changing his pants in a dugout. One fan in the hot metal bleachers, sleeping under a cap.
There is no scoreboard, no public address system, no concession stand; there are no names on the backs of nondescript adult-league players.
Yet nothing as invisible as Nelson Acosta.
He's the home-plate umpire. He's the guy who spends the entire game with his back to the crowd, crouched in the dust, covered in armor, a disfigured prop.
He is never cheered, only booed, even after a lifetime of service, which these days makes Nelson Acosta wonder.
For 34 years, he has been the buoy of reason in a sea of absurdity, umpiring youth league games with the outdated notion of trying to make them fun.
For 34 years, he has taught children the beauty of baseball, while shielding them from the ugliness of their parents.
He has stopped fights, dried tears, cured swings, quieted coaches, and been the only man in town with enough guts to finally tell that loudmouth behind home plate to leave the property, sir, now.
Yet for 34 years, people have mostly addressed him only by a single color – "Hey, Blue!" – and, yeah, he wonders.
Do they not know his name? Do they not recognize his voice? Do they never peer inside the mask to see his face?
Acosta has long contended that the best umpire is the one nobody notices, but lately, he has been thinking. Does that mean the best umpire is the one who never knows if he is loved? If the best umpire rarely displays anger, does that mean he can also never feel embraced?
He calls them as he sees them, and, times like these, calling balls and strikes in a nearly empty park for old guys with baggy pants and blank stares, he sees that he's alone.
"This is, by nature, a lonely job," he says. "Sometimes I wonder if people even know."
He thinks nobody sees the lump in the bottom of his yellow nylon shirt – it's a chemotherapy pack.
He thinks nobody knows he is moving slowly – it's from the pain.
He thinks nobody knows that he is dying of four types of cancer, the grand slam from the Stage 4 kind in his esophagus to the wrecking kind in his pancreas.
After 34 years, he wonders, if this is his last season, will anybody remember him?
"I have no idea what people think," he says before slipping on the mask and burrowing back down into the murky clouds of his life.
He's right. He has no idea.
Strike one.
"That was outside!" shouts the woman seated behind home plate.
Strike two.
"That wasn't close!" shouts the woman.
Strike three.
"That was terrible!" shouts the woman.
"That's enough!" shouts Acosta, turning finally to address his tormenter, wagging his finger and warning her for several long minutes before turning his back and returning to work.
If confronting her makes Acosta a good umpire, refusing to throw her out of the park makes him a great one.
The struck-out batter is his son, Christopher.
The irate woman is his wife, Theresa.
"If I ran her, I would have had to walk home," he says.
Such has been the good sense that has guided Acosta, 54, through years of umpiring everyone from crying children to budding pros.
He's built like a weak-hitting shortstop, his voice is as raspy as cleats on a baseline, he even wears glasses, but don't be fooled.
"The job of a youth league umpire is to protect the safety of the children, to protect fair play, to make sure kids have a good time without people jumping all over them," Acosta says. "Anybody who stops kids from having fun, I will deal with them."
Acosta once threw out an entire family of four, one by one, two sons and a dad and a mom, all for arguing a simple call on the bases.
"Adults really want to test the umpire," he says. "But it's not about them. It's about the kids."
Acosta was once one of those kids, a youth league star in New York, but he spent too much time on the streets and, in 1971, his father sent him to live with his sister in Los Angeles.
He became an airplane painter by trade, and an umpire for life.
"I loved the game and always regretted not having a chance to continue playing," he says. "I wanted to make sure other kids had that chance."
Acosta treats the players with the kindly care that he treats his own children, Christopher, 17, and Angelina, 8.
He is the sort of umpire who will throw up his hands, call a balk, then change it to a warning because the pitcher doesn't understand the rule.
"I'll walk out there and we'll talk about it," he says. "It's not the end of the world."
While other umpires try to rush games, Acosta will slow them down to adjust a hitter's stance, correct a catcher's position, or simply tell a tiny whiffer that he'll get 'em next time.
These days, it is Acosta who needs a little extra help. After a recent Sunday morning game, while others headed to various breakfast spots in the area, Acosta drove to Denny's for a different reason.
He needed the privacy of its bathroom to fix the pouch that constantly pumps his body full of chemo.
"I'm not going to wait for that sucker to take me out," he says. "I won't do that. I won't let it beat me. And if it does, it's going to have a hell of a fight."
His problems began in January 2004. He suddenly had difficulty swallowing. Ever the tough arbiter, he refused to have it examined for a year.
By that time, he could barely eat, often forcing himself to vomit when a piece of food became stuck in his throat.
"He's tough and stubborn like that," Theresa says, shaking her head. "He thinks he can get through anything."
After undergoing a battery of tests in January, he learned otherwise. There was an inoperable tumor in his esophagus, the cancer had spread to three other parts of his body, and who knew how long he would live?
He refused to retire from umpiring – "When he's behind the plate, nothing's wrong," his wife says – so doctors figured out a way he could receive the chemo while making out and safe calls.
He didn't want to tell anyone about his illness, but he finally informed league officials only after the schedule came out.
While recent tests indicate the chemo has shrunk some of the tumors, his burden increases.
He works only home plate because he's worried that, if he runs too much, the chemo tube will fall out of his chest.
He gets so tired after some games that he sleeps the entire next day.
His raspy voice is even more mottled by the tumor, so sometimes his trademark strikeout call is barely above a whisper.
He wonders, does anybody notice his voice? Does anybody see his weariness?
The phone rings. It's his longtime mechanic. The car is ready. The air conditioner had been fixed and the oil had been changed.
When Acosta arrives, the mechanic gives him the keys and tells him it is free.
"For all you've done for our children," he says.
The phone rings. It's the longtime jersey embroiderers. They want to deliver cans of Ensure nutritional supplement drink, which is one of the few things Acosta can stomach.
"How did you know I needed it?" says Acosta.
"Everybody knows," they say.
It's happening. The great umpire never saw the pitch coming, but here it is, sailing from the good hearts of the high desert folks to the weakened one of their cornerstone.
Do people know Nelson Acosta? As he has slowly discovered, they not only know him, they love him.
Melanie Goulet, a mom, rushes to his side between innings of a game at Quartz Hill, shouting for someone to bring him water.
"He's the one umpire who will talk to our children," she says. "He has no idea what that means to us."
The Quartz Hill officials make an interesting decision about their season-ending barbecue. It is going to include a tribute to Acosta.
"Nelson has no idea how much impact he has had on this community," says Mike Rizzo, who owns the embroidery store with wife Robin. "He has no idea he is loved by so many."
Dawn Martinez, another parent, shares a tradition with Acosta.
"He has a great butt, so every time I'm behind home plate, when he goes down for a pitch, he'll shake it for me," she says with a laugh.
They laugh, and then they cry, these people who supposedly never understood.
In the stormy world of youth league baseball, who doesn't understand someone who gives your children the calm that you cannot?
Who doesn't understand someone who saves you from yourself?
They have begun finding him after games and praying with him on the bleachers.
They have started reaching their hands between the metal fence and grasping his fingers between innings
And he wondered if they only knew him as a color?
They know him as a believer.
"He's the one umpire who treats me like an equal, who tries to help me get better," says Dee Ritz, long the lone female player in the Lancaster adult league.
They know him as a role model.
"He is a firm mountain amid an earthquake," says David Wallin, lawyer and dad.
They know him as a giant.
"A huge man in a small body," Dawn Martinez says.
Local journalism is essential.
Give directly to The Spokesman-Review's Northwest Passages community forums series -- which helps to offset the costs of several reporter and editor positions at the newspaper -- by using the easy options below. Gifts processed in this system are not tax deductible, but are predominately used to help meet the local financial requirements needed to receive national matching-grant funds.
Subscribe to the sports newsletter
Get the day's top sports headlines and breaking news delivered to your inbox by subscribing here.
---