News > Business
Computers are taking notes
Mon., June 13, 2005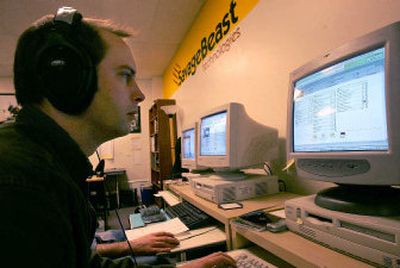 OAKLAND, Calif. — In a computer-crammed space at Savage Beast Technologies, divergent melodies seep softly from headphones worn by young men and women who listen to music with the intensity of submarine sonar operators.
Their job is to discern and define attributes in tunes by artists as diverse as teen diva Hilary Duff and jazz legend Miles Davis.
The listeners classify hundreds of characteristics about each song, including beat, melody, lyrics, tonal palette and dynamics, then plug the data into a music recommendation engine — software designed to find songs that share similar traits.
The goal is to help retailers suggest new music to consumers based on what they already like.
"It's about understanding someone's music taste," said Savage Beast founder Tim Westergren. "Why does somebody like a piece of music?"
Employees go through weeks of training before they can recognize such song attributes as the degree of vibrato in a singer's voice, a trait that could represent the difference between a song by Karen Carpenter or Mariah Carey.
Westergren, who previously played in bands and worked as a composer, compares the concept to isolating the spices, sauces and other ingredients that might go into a given meal and determining which will appeal most to the consumer.
While he doesn't believe his company can fully decipher musical taste, Westergren argues that his system comes closer than models that recommend songs based on what other music fans have bought.
Savage Beast's customers include AOL Music, Best Buy Co. and Borders Group Inc.
AOL says its music section traffic has increased by 20 percent since it began using the program in February. BestBuy uses it at listening stations in 14 stores; Borders uses it at 12 stores, Westergren said.
A similar company, San Francisco-based Siren Systems, also takes songs apart before they're placed in a preference database.
Siren Systems users access its recommendation engine through the Soundflavor.com Web site. Users can search its Web site by artist, song or album to receive suggestions for similar music. They can also search other computer users' playlists.
Run from a basement office that's adorned with CDs dangling from sprinkler heads, Siren also licenses its engine to businesses such as MediaSpan Group, which builds Web sites for radio stations and other firms.
Like Savage Beast, Siren trained and tested its roughly 20 song taggers, who include part-time musicians, for several weeks to recognize its array of song attributes like "horizontal density" — a measure of many musical elements are packed into a song.
"The point of our recommendation technology is not necessarily to identify the new hit, it is to help you to be a good editor" of song collections, said Siren chief executive Steve Skrzyniarz.
The recommendation engines' choices can seem hit or miss.
Clothing merchandiser Jaime Parilla, 36, found most of the Savage Beast-picked selections at a listening station at BestBuy in West Hollywood were on the mark, but others were just strange .
The suggestions led him from vocalist Amerie to Vanessa Williams and Latin singer Thalia. Williams' music seemed to have the same mood as Amerie, but he was puzzled at the suggestion of Thalia.
A search for U2, returned 1980s balladeer Richard Marx, David Bowie and Eddie Money, among others. The Marx suggestion might not seem like much of a match beyond the fact that U2's Bono and Marx both sported mullets in the 1980s.
Another search, looking for tracks similar to Madonna's 1980s pop hit "Like a Virgin," turned up "Talking Back to the Night" by singer Joe Cocker.
The midtempo pop number, which is laden with electronic keyboard and other production touches, is not typical of the crooner's better known soulful fare.
But it does share many elements with the Madonna classic.
"One thing we're trying to do is not think of an artist in terms of how they might be labeled in terms of the marketing of music, and be true to the recording itself," Westergren said. "That means we might match up artists that intuitively might not be musical neighbors."
Local journalism is essential.
Give directly to The Spokesman-Review's Northwest Passages community forums series -- which helps to offset the costs of several reporter and editor positions at the newspaper -- by using the easy options below. Gifts processed in this system are not tax deductible, but are predominately used to help meet the local financial requirements needed to receive national matching-grant funds.
Subscribe now to get breaking news alerts in your email inbox
Get breaking news delivered to your inbox as it happens.
---