News > Spokane
Statue honors fallen hero
Mon., June 13, 2005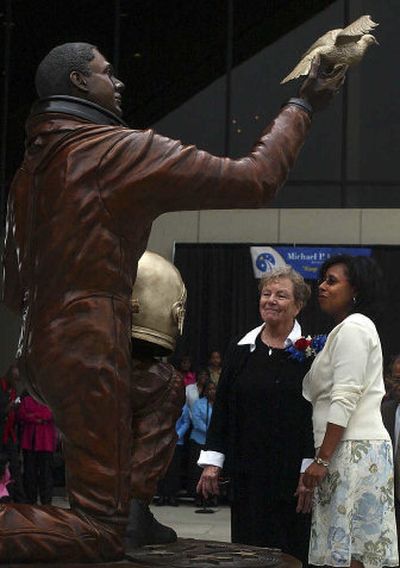 Spokane astronaut Michael P. Anderson has been eulogized as a humble, deeply religious and inspirational man who lived out his dream.
For the past year, local artist Dorothy Fowler has used those descriptions to help her create an 8-foot-high, 600-pound bronze statue of Anderson. Her work was unveiled Sunday afternoon in the breezeway between the Opera House and Convention Center.
"It's beautiful," Anderson's widow, Sandy, said after the one-hour dedication ceremony. "She did a really good job capturing the spirit of my husband."
Anderson, a Spokane native and 1977 Cheney High School graduate, was one of seven crew members killed when the space shuttle Columbia exploded upon re-entry on Feb. 1, 2003. He was 43.
"I'm in awe of your artistry, your humbleness and your giftedness," Sandy Anderson, a 1974 Ferris High graduate, said to Fowler at the dedication.
About 300 people attended the dedication, including Anderson's daughters Sydney and Kaycee, who flew in from Houston with their mom; parents Bobbie and Barbara of Spokane; and brothers and sisters.
Several members of his NASA family, such as deputy director Frederick Gregory and Lt. Gen. Jefferson David Howell of the Johnson Space Center, flew in for the afternoon. Sen. Maria Cantwell, D-Wash., and U.S. Rep. Cathy McMorris, R-Wash., both sent representatives who read messages from the politicians. Spokane Mayor Jim West and some City Council members also attended but did not address the crowd.
"We're not going to let a little rain rain on our parade today. This is wonderful," Anne Marie Axworthy of Avista Utilities said to the crowd as a light sprinkle dampened the gowns of the Chanteuse Choir of University High School. "This memorial truly belongs to the community."
Fowler, who also sculpted three sets of bronze doors at the entrance to Spokane's Cathedral of Our Lady of Lourdes, said the statue's pose was determined after she talked to the family and met with the committee. Anderson, in space uniform, is kneeling with his helmet in one hand and a dove in the other. The words "Keeping this Dream Alive" are molded on the base. Thirty white doves from Spangle were released when the family uncovered the statue.
The pose signifies three things, Fowler said.
"The kneeling position – humility; the uplifting arm and heavenward gaze – faith; releasing a dove of peace – inspiration."
Fowler went on to say, "President Bush said this about Anderson at the memorial service: 'Michael told his minister, "If this thing doesn't come out right, don't worry about me, I'm just going on higher." '
"Those words spoke to my heart and inspired my work."
The statue, which cost $125,000, was made possible through ambitious fund-raising. More than 70 percent of the money was donated by private citizens. Sacred Heart Medical Center, Avista, Washington Trust Bank and the Harriet Cheney Cowles Foundation were major donors.
The plan is to move the statue into a science center in Riverfront Park to be called Mobius at Michael P. Anderson Plaza. Construction won't begin for at least two years and hinges on successful fund-raising.
Joe Bruce, director of children's ministries at Hamblen Park Presbyterian Church, was one of the many Anderson admirers who stood throughout the program to pay his respects. A space enthusiast and instructor of a youth space program, Bruce said he met Anderson after he served on his first space flight in 1998. Anderson came to Spokane and visited four schools with Bruce.
"He was inspirational to the kids," Bruce said. "Our job is to keep students interested in science and math. The first person who will walk on Mars is in school today."
Local journalism is essential.
Give directly to The Spokesman-Review's Northwest Passages community forums series -- which helps to offset the costs of several reporter and editor positions at the newspaper -- by using the easy options below. Gifts processed in this system are not tax deductible, but are predominately used to help meet the local financial requirements needed to receive national matching-grant funds.
Subscribe now to get breaking news alerts in your email inbox
Get breaking news delivered to your inbox as it happens.
---