News > Nation/World
Cargo plane crashes, 5 injured
Tue., June 14, 2005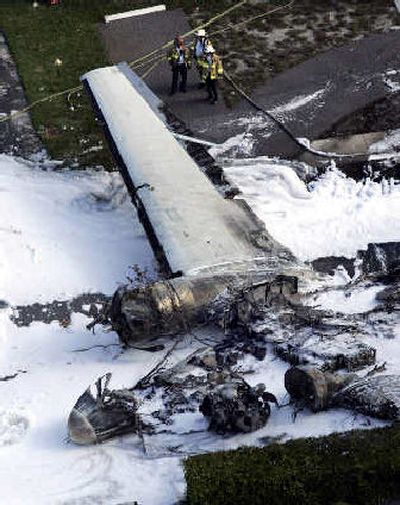 FORT LAUDERDALE, Fla. – A World War II-era cargo plane crashed and burned Monday in the middle of a street in a residential neighborhood, authorities said. All three people on board survived.
The three, though hospitalized, were "sitting up and talking on their cell phones" hours after the crash, hospital spokeswoman Maria Soldani said. Two people on the ground were also hurt, one seriously.
The DC-3 cargo flight en route to the Bahamas crashed about three miles east of Fort Lauderdale Executive Airport shortly after takeoff, said Greg Martin, a Federal Aviation Administration spokesman.
The co-pilot told firefighters a fuel line broke and one of the plane's two engines was in flames before the crash, said Stephen McInerny, assistant chief of operations for Fort Lauderdale Fire Rescue.
Pilot Charles Riggs, co-pilot Charles Wirt and passenger Hector Espinoza were in fair condition at Holy Cross Hospital. The two people injured on the ground were also hospitalized, including one in serious condition, McInerny said.
Espinoza told emergency room personnel that "he jumped from the cockpit and landed on the concrete," physician Seth Marquit said.
Some residents were evacuated and the Red Cross offered shelter for the night.
Jay Huber said he was in his backyard when he heard a "terrible engine noise. … This plane was just pancaking, nose up, engines going like hell, like it was trying to stay up, and it was only about 150 feet in air."
Another witness, Mark Davis, said he watched from about a block away as the plane roared overhead, its wings clipping the treetops.
DC-3s are regarded as cheap, reliable aircraft capable of taking off from short runways.
Local journalism is essential.
Give directly to The Spokesman-Review's Northwest Passages community forums series -- which helps to offset the costs of several reporter and editor positions at the newspaper -- by using the easy options below. Gifts processed in this system are not tax deductible, but are predominately used to help meet the local financial requirements needed to receive national matching-grant funds.
Subscribe now to get breaking news alerts in your email inbox
Get breaking news delivered to your inbox as it happens.
---