News > Nation/World
Evidence was 'not enough' for Jackson jury
Tue., June 14, 2005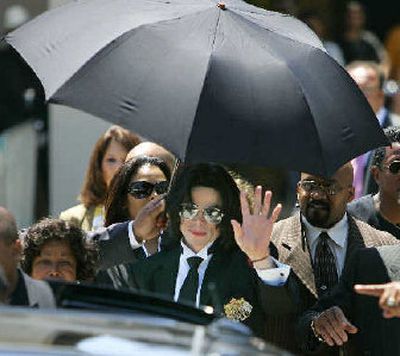 SANTA MARIA, Calif. – For Michael Jackson, the verdict was a total victory.
For Santa Barbara County District Attorney Tom Sneddon, the verdict marked the second time in 12 years that an attempt to put Jackson behind bars went awry.
For the eight women and four men on the jury, the verdict climaxed a diligent four months of hearing the evidence and finding, in the end, that there was reasonable doubt that the family accusing Jackson was telling the truth.
"We have a closet full of evidence that made us always come back to the same thing: It was not enough," said Juror No. 10, an unemployed woman, at a news conference with other jurors and alternates after the verdict. Jurors identified themselves only by their juror numbers, not their names.
"In a case like this," said Juror No. 1, a civil engineer, "you're hoping that maybe you can find a smoking gun or something you can grab onto. … In this case, we had difficulty finding that."
Sneddon started the wheels of justice turning against Jackson in July 2003, when a 13-year-old Los Angeles boy first told sheriff's detectives that the singer had molested him at his Neverland Valley Ranch about four months earlier. Sneddon had been forced to scrap a 1993-94 investigation into molestation complaints by two other boys. The investigation stopped after Jackson paid their families about $25 million to settle their claims.
From the beginning of the trial on Feb. 28, the central problem for Sneddon was the believability of the boy, now 15; his 14-year-old brother; their 18-year-old sister; and their 37-year-old mother.
Jackson's defense lawyer Tom Mesereau told jurors in his opening statement that the family had a history of lying under oath.
On the witness stand, the mother asserted her Fifth Amendment privilege against self-incrimination to avoid questions on whether she'd committed fraud to get welfare benefits. Defense witnesses said she had lied – and had coached her kids to lie – in a personal-injury lawsuit that J.C. Penney settled by paying the family $152,500 in 2001.
The mother was the linchpin of the conspiracy count of the 10-count felony indictment: a charge that Jackson conspired with aides to hold the family hostage – with a plan to hide them in Brazil – to force them to tape interviews rebutting a damaging British-made TV documentary.
On the other nine counts – child molestation, an attempt to commit that crime and administering alcohol to enable a felony – the alleged victim and his brother were the star witnesses.
To bolster their testimony, Sneddon labored to come up with corroborating evidence. Under a California law that helps the prosecution, he called one of the young men involved in the 1993-94 investigation to testify that Jackson molested him. Former Neverland employees testified to witnessing sexual misconduct with four other boys in the 1990s.
Also introduced as evidence: surveillance tapes of the alleged victim's family made by a private investigator for Jackson after they had left Neverland. There were also magazines containing pictures of naked women seized from Jackson's bedroom, one containing fingerprints of Jackson and the alleged victim's brother. In all, the jury had 684 exhibits with them in the deliberations.
At the news conference, the jurors said they began their deliberations with the conspiracy count, couldn't agree, moved on to other charges and returned to the conspiracy charge at the end.
When considering the four counts of child molestation, at least one juror found a serious problem with the "timeline" in the case. The indictment said that the four alleged incidents happened near the end of the children's five-week stay at Neverland – as the British documentary was causing a media uproar and sparking official investigations. It didn't make sense that Jackson would choose that time to abuse the alleged victim, Mesereau said during the trial.
Juror No. 3, a woman who trains horses near Neverland, said the timeline was a "concern." Jurors took copious notes during the trial and were able to construct and evaluate their own chart of events, she said.
The jurors' questions about the timing of alleged events brought them back to the accusing family's overall credibility, some of them said. They found the family highly suspect.
The thought that the family might be grifters out to frame Jackson to win money in a later lawsuit "was definitely there," Juror No. 10 said. "You couldn't help but wonder … just the way things on the timeline … didn't add up."
Juror No. 8, a special education aide, said it seemed that the mother had tried to set up Jackson through lies by her children. "The values and stuff that she has taught them, that they've learned, is something that's really hard for me to comprehend," the juror said. "Because I wouldn't want any of my own children to lie for their own gain."
The mother made an irritating witness, several jurors said. "I disliked it intensely when she snapped her fingers at us," said Juror No. 5, a widow.
Juror No. 8 blamed the mother – and also blamed two other mothers who testified – for putting their children into a dangerous situation with Jackson.
"What mother in her right mind would allow that to happen, just freely volunteer your children to sleep with someone – not so much Michael Jackson, but 'any' person, for that matter?" the juror asked.
No single piece of evidence made the difference, jurors said.
Although Juror No. 1 said he had unspecified "personal feelings" about Jackson's conduct, he was guided by the judge's instructions to consider only the 10 counts against the defendant, not whether he slept with boys or kept girlie magazines in his home.
Jackson's superstar status made no difference to them, jurors said. "One of the first things we decided was … to look at him as just another individual, not as a celebrity," said Juror No. 2, the jury foreman.
"Even though he's a superstar, he's a human," Juror No. 8 said. "Watching him throughout this trial, he's a normal person. … It made him real, in my eyes."
Local journalism is essential.
Give directly to The Spokesman-Review's Northwest Passages community forums series -- which helps to offset the costs of several reporter and editor positions at the newspaper -- by using the easy options below. Gifts processed in this system are not tax deductible, but are predominately used to help meet the local financial requirements needed to receive national matching-grant funds.
Subscribe now to get breaking news alerts in your email inbox
Get breaking news delivered to your inbox as it happens.
---