News > Nation/World
Jackson fans react joyfully
Tue., June 14, 2005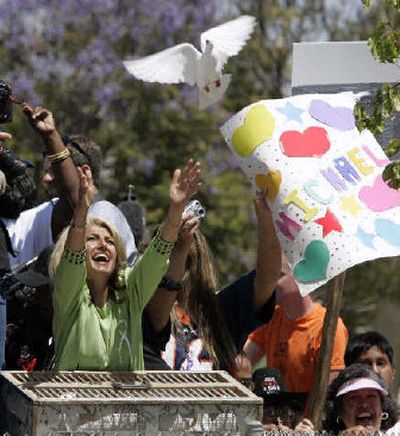 SANTA MARIA, Calif. – Jubilant fans of Michael Jackson erupted in chants of "innocent" and strewed confetti outside the courthouse Monday as the pop star was cleared of child molestation and other charges. One fan freed white doves.
"This proves that justice can prevail in America," said Tara Bardella, 19, who came from Arizona two weeks ago to wait for the verdicts. "We love you, Michael!"
More than 1,200 people had waited outside for the verdicts, and screams of joy rang out from the throng. Fans jumped up and down, hugged each other and threw confetti into the air in celebration. A female fan released a white dove as word of each acquittal was heard.
As Jackson left the courtroom, more than a dozen white balloons were released. The musician blew kisses and waved to the exultant crowd before departing for Neverland.
"I'm shaking," said Emily Smith, 24, of London, who was among the few lucky fans who got courtroom passes. "I believe justice has been done today."
Karen Manning, 50, of Las Vegas, who sat in court for two months in support of the pop star, said she hoped the verdict would send a signal to him: "He needs to grow up now."
Lifelong fan Raffles Vanexel, 29, of Amsterdam, Holland, said he "cried like a little baby" when the verdicts were read.
"I feel like I was reborn," said Vanexel, who claimed he helped lift Jackson onto an SUV for his notorious rooftop dance after his arraignment. "The best is yet to come for Michael. This time around, the world owes him something."
In Jackson's hometown of Gary, Ind., neighbors and residents walked past the former family homestead to express their support. Renee Tribble carried a sign that read "Framed/Not guilty." Others drove past blaring their horns.
"I knew he didn't do it," said Franklin Reese, who pulled his pickup truck in front of Jackson's onetime home, blaring the song "Beat It" from the stereo.
In Times Square, a few hundred people gathered to watch the verdict on a big screen between Broadway and Seventh Avenue on 43rd Street. Shouts rang out at each not-guilty pronouncement.
"I thought he was going to be found guilty, so I am happy for him," said Jacqueline Ingram, 30, of Winston-Salem. "I really thought it was going to be impossible for Michael to get a fair trial."
"He's a person who comes off as off-the-wall, but I think he means well, and I think the jury got it right," said Ron Lavergne, 61, who was visiting New York from Ottawa.
The verdict was closely watched around the world. Arab news channels al-Jazeera and al-Arabiya cut to live footage of the Santa Maria courthouse as Jackson arrived for the verdicts.
In Britain, Jackson's friend, psychic Uri Geller – who helped set up the TV interview in which the singer said he sometimes shared a bed with children – was relieved.
"I'm trembling, this is so important. He did not let down his fans, and all the people that love him," said Geller. "He went through hell, and now the nightmare is over."
In Germany, several news channels carried the verdict live, and the top-selling Bild newspaper quickly posted the headline "Acquittal!" on its Web site.
Martin Stock, the founder of a Jackson fan club in Germany who stayed up past 11 p.m. to watch the outcome, said he was overjoyed, even though he had expected his idol's acquittal.
"The whole trial was laughable, and Michael was treated inhumanely. I think people were trying to throw him into prison to get at his money," Stock said.
Around the courthouse in Santa Maria, police had barricaded the streets. About 40 officers holding batons and riot helmets watched over the swelling crowd.
Authorities said seven people had been arrested outside court since jury selection began Jan. 31. Most involved misdemeanors by Jackson fans.
At least two dozen fans had maintained a daily presence at the courthouse – often screaming at prosecutors and TV reporters they considered biased.
Local journalism is essential.
Give directly to The Spokesman-Review's Northwest Passages community forums series -- which helps to offset the costs of several reporter and editor positions at the newspaper -- by using the easy options below. Gifts processed in this system are not tax deductible, but are predominately used to help meet the local financial requirements needed to receive national matching-grant funds.
Subscribe now to get breaking news alerts in your email inbox
Get breaking news delivered to your inbox as it happens.
---