News > Spokane
West recall effort approved
Tue., June 14, 2005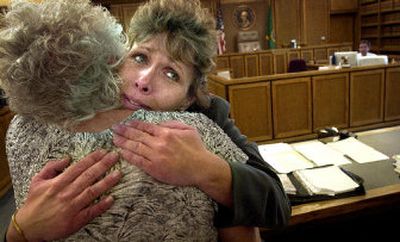 Spokane residents who want to oust Mayor Jim West at the ballot box should get a chance to gather signatures on a recall petition, a Superior Court judge said Monday.
An allegation that West used his office improperly to "solicit internships for young men for his own personal uses" has enough information to move forward to the next step in the recall process, Judge Craig Matheson ruled in an afternoon hearing.
"That is an improper use of the office," Matheson said.
Two other allegations – that West misused his city computer to interact with young men on a gay Web site and that his actions were "hurting the reputation of the city" – were not sufficiently detailed and were dismissed, the judge said.
Shannon Sullivan, who drafted the petition and defended it in court, broke down in tears when Matheson said the recall could go forward. She hugged other recall advocates and smiled as she faced a media mob outside the courtroom.
"I felt that was the strongest" allegation, she said.
Sullivan has no formal legal training and said she knew nothing about recall laws when she filed her petition less than a month ago. But she spent much of the last week studying the law and, with some leeway from the judge because she was acting as her own attorney, won a round against the three lawyers representing West.
Sullivan said she hasn't completely thought out her next step, although she knows an appeal of Matheson's ruling is possible.
In a brief statement issued Monday evening, West said he "respectfully disagrees" with Matheson's ruling on internships, saying he had offered many such positions to men and women "for the experience of working in government and not for any personal reasons." The judge didn't rule the allegation was accurate, West added, only that it met the standard to be considered for a recall.
A decision on whether to file an appeal will be made "in the next couple of days," he said. Such an appeal would go directly to the state Supreme Court.
Sullivan's petition was based primarily on reporting in The Spokesman-Review, which began publishing articles about allegations against West on May 5. Those articles detail contacts West had with young men he met through Gay.com, who were offered gifts, favors and City Hall positions. One of the men was actually a computer expert hired by the newspaper to confirm that the mayor was seeking dates from teenage men over the Web.
The newspaper report also included allegations by two men that West sexually abused them in the 1970s, when they were boys and West was a deputy sheriff and Boy Scout leader. West denies those allegations, but he acknowledged having relationships more recently with young men.
To show that she had some knowledge of the actions listed in the petition, Sullivan submitted copies of different stories or transcripts of Internet conversations published by the newspaper. Matheson took two recesses in the afternoon hearing to read through the articles Sullivan said would bolster her petition.
The law doesn't require firsthand knowledge of an allegation, the judge said.
"You can rely on information gathered by others, but if you have it, I'd like to see it," the judge said at one point in the hearing.
Susan Troppmann, one of West's attorneys, objected to the articles Sullivan was offering, saying it was impossible to defend against "a moving target and the continued supplementing of the record."
All of Sullivan's charges were vague and didn't spell out times, dates and places where the activity supposedly occurred, Troppmann argued.
The mayor has the authority to offer internships, Troppmann added. "She needs to show how it was exercised in a manifestly unreasonable way."
But Matheson emphasized that it wasn't his job to rule on whether any of the allegations were true or false.
Instead, he said the law requires a recall petition to spell out "an identifiable, factual basis" for the voters to make a choice.
He agreed with Troppmann two times out of three. The allegation about West's actions hurting the city didn't list any identifiable actions, and the allegation about the use of city computers didn't have enough in the record to allow "the mayor and the public to debate in a meaningful way," Matheson said.
But the allegation about the internship involved an identifiable fact, and petitioners should be allowed to go to the next stage, he said.
They would need to collect about 12,600 signatures from registered city voters over six months to put the recall to a vote.
Local journalism is essential.
Give directly to The Spokesman-Review's Northwest Passages community forums series -- which helps to offset the costs of several reporter and editor positions at the newspaper -- by using the easy options below. Gifts processed in this system are not tax deductible, but are predominately used to help meet the local financial requirements needed to receive national matching-grant funds.
Subscribe now to get breaking news alerts in your email inbox
Get breaking news delivered to your inbox as it happens.
---