News > Voices
A classy lady
Thu., June 16, 2005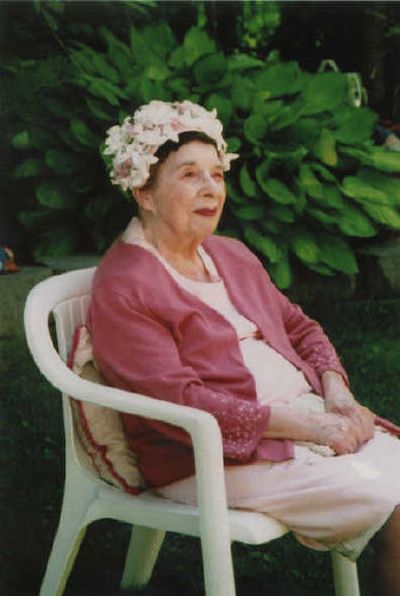 Helen Maywood Iseley Beaver's combination of graciousness and toughness touched the lives of countless students during her five decades as a teacher.
Beaver, who died in April at the age of 101, was a fixture for 19 years in the home economics department at North Central High School until her retirement in 1969. The school's yearbook, the Tamarack, was dedicated to her that year. During her tenure at North Central, she designed and made elaborate costumes for the famous North Central Doll Shop production and taught sewing tailoring, and child development.
"Hundreds of local high school girls received a legacy from Helen," said Dorothy Powers, retired associate editor of The Spokesman-Review and a good friend of Beaver's. "We witnessed a lovely Southern lady bring graciousness to every facet of our lives that she touched as well as to the city she enriched by her citizenship. We will miss her deeply," Powers said.
"As a teacher, she was meticulous and held exacting standards," recalled retired North Central Principal John Rodkey. "She insisted on perfection, yet she was quick to recognize when students were having difficulty. She was very helpful to those kids."
The consummate professional, Beaver always started class promptly when the bell rang and rarely missed a day of teaching.
"If you were ready to learn, she was ready to teach," said Cathy Peden, a former student who made her future husband's sports coat and her own going-away suit for their wedding trip under Ms. Beaver's direction.
Her blend of toughness and warmth was legendary.
"When you were in trouble, you would go to her. She was someone who was truly wise, who would tell you not what you wanted to hear, but what you needed to hear," said longtime friend Susan Harms. "Never would we go somewhere when we didn't run into a student who would tell a story about how Helen had changed her life for the better."
Beaver was born in 1903 in Asheville, N.C., the eldest of three children. She was related to Civil War Governor and famed North Carolina statesman Zebulon Baird Vance. Her early life was marked by tragedy. Her father, John Maywood, a railroad engineer, died in an accident when she was 6. At 9, she lost the sight in one eye when an ember flew out from the fireplace. She was orphaned a year later when her mother, Helen Maywood, died of a ruptured appendix. Her maternal grandmother, a hardworking mother of 10 children, helped raise Helen and her siblings. She also lived with various aunts until she finished high school.
After graduating from Asheville High School, Beaver set off for college at 19, earning a bachelor's and master's degree from the University of Tennessee.
"She was a self-made woman. She knew education was the one thing that could help her, and she went after it," said Jane McLeod, a former student, colleague and friend of Beaver's for more than 50 years. "How she ever sewed like that with only one eye, I'll never know."
Her first teaching job was in Hobucken, N.C., and paid $85 per month. She married her first husband Fred C. Iseley, who had "chased her everywhere she taught," in 1930 and had one daughter, Louise. The marriage lasted briefly. With her characteristic spunk and fortitude, she moved with her daughter to St. Petersburg, Fla., where she headed the home economics department at one of the local high schools.
She raised her daughter while working and going to school.
"I see her as being more liberated than many women today, even though she never learned to drive a car," said Harms. "She lived in a world that wasn't equipped for a mother and little girl alone, yet she made it work, and she never took help from anyone."
Beaver encouraged all of her students to pursue education and become independent so they could take care of themselves.
After receiving her master's degree in 1937, Beaver moved to Pueblo, Colo., to open the home economics department for Pueblo Junior College, which is now Pueblo State University. Under her direction, the department flourished, earning her a listing in Who's Who in Colorado. While in Pueblo, she met and married her second husband Lewis K. Beaver, a railroad engineer.
During her long career, Beaver also was on the faculty of the University of Washington, Seattle, and the University of Montana, before coming to Spokane.
But most of all, it was how she lived her life that set her apart. Her strong sense of values and conviction was apparent to everyone who knew her. "She cared about what was right," said Harms. "She gave a voice to people who didn't have a voice."
Friends and relatives recalled her sense of style and Southern charm. Known for her lovely hats, beautiful self-tailored clothing, and matching spike heels, she was a head-turner when she entered a room. "She was just a real lady," said her daughter, Louise.
She was a marvelous cook and loved to have friends in for dinner. "I was afraid to compete with her cooking, I'll tell you that," said McLeod. She never forgot a birthday card and was always baking bread and cookies for people. She adored her daughter, grandsons, and great grandchild.
Beaver loved taking road trips with friends, and continued to travel well into her 90s, often to Alaska to visit her daughter. She followed politics and current events and "her mind at 100 was as sharp as when she was a girl," said McLeod. "Helen loved people, she loved life, and she had an awful lot of friends."
She was curious and open-minded until the end.
"She went from outdoor plumbing and horse drawn vehicles to fax machines and airplanes and made the adjustment with style," said Harms.
Local journalism is essential.
Give directly to The Spokesman-Review's Northwest Passages community forums series -- which helps to offset the costs of several reporter and editor positions at the newspaper -- by using the easy options below. Gifts processed in this system are not tax deductible, but are predominately used to help meet the local financial requirements needed to receive national matching-grant funds.
Subscribe now to get breaking news alerts in your email inbox
Get breaking news delivered to your inbox as it happens.
---